Classic 1950s TV Christmas #6 – Our Miss Brooks "The Christmas Show"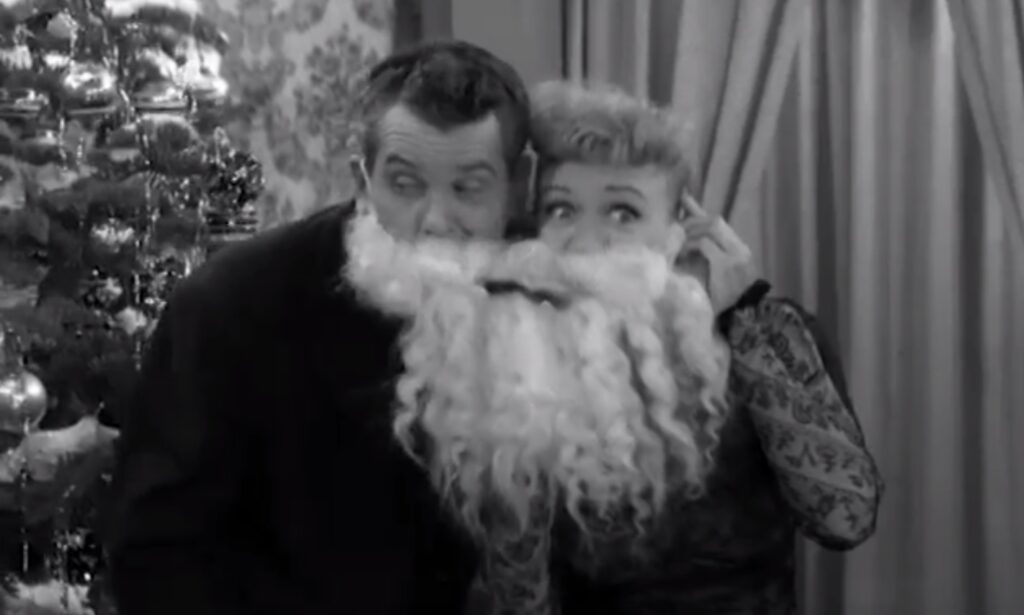 We continue our countdown of my favorite 1950s Christmas TV episodes with 1952's "The Christmas Show" from Our Miss Brooks.
I think that this is the first one of the shows to air in December but AFTER Christmas, as this one debuted on December 27th. Okay, Our Miss Brooks is one of just a handful of radio series that were hits on radio and then transitioned to being hits on television, as well. The crossover really wasn't as common as you would expect, and this was one of the rare examples where the entire radio cast from the 1948 radio series made the transition to TV in 1952, as Eve Arden, who played the star character of teacher Connie Brooks, insisted on it. Richard Crenna, who later became a TV star as an adult, didn't want to continue in his role of the geeky student, Walter Denton, but he was convinced (and, again, Arden's love for her cast was hard to say no to). The only one of the original cast members to not make the transition was Jeff Chandler, who played Brooks' fellow teacher and main love interest, the brilliant biology teacher Philp Boynton (who is blind to Connie's love for him), and that was because Chandler was a movie star at the time and wasn't interested in doing TV (again, the cast's love for each other was so great that even though Chandler had become a movie star while on the radio show, which was a rarity for the time, he kept doing the radio show regardless, for the entire length of his original contract. His TV replacement, Robert Rockwell, also took over the radio show role for the rest of the radio show's tenure on the air, which was actually one year longer than the TV series!).
Anyhow, on to this great first season episode, which was written by the regular writing team of the series, Al Lewis (not the same Al Lewis as Grandpa Munster) and Joseph Quillan, with Al Lewis directing the episode. Lewis and Quillan were excellent writers that I'm honestly shocked didn't seem to have a ton of success outside of Our Miss Brooks. The show was SHARP.
This episode is an example of that sharpness, as Connie is trying to get some extra money to buy Phillip a nice Christmas present. He then surprises her with a bottle of perfume that she loves. She then exchanges the perfume to buy him a pipe, O Henry style. However, their annoying boss (played beautifully by Gale Gordon), Principal Conklin, surprises them with Christmas presents (the same bottle of perfume that Philip got Connie and the same pipe Connie planned on getting Philip). That SHOULD be a nice thing, except Conklin now expects them to give him gifts in return. Connie and Philip then exchange their presents to get Conklin presents, which he then exchanges himself for other items that he prefers instead.
I love how the teachers' relative small salaries are a major part of the series without being DEPRESSING about it.
Throughout the episode, the store manager in charge of returns is continually upset by the three of them constantly coming into her office for exchanges. Well, at the end of the episode, we find out that she is part of a society group that Principal Conklin's wife belongs to and so Connie, Philip and Conklin all try to keep her from recognizing them through the use of a Santa Clause beard one at a time until Connie and Philip use it at the same time.
It's farce, but it's clever, well-supported farce, and it's all based on genuine character emotions. It was a great show.