Classic 1950s TV Christmas #7 – The Danny Thomas Show "Christmas and Clowns"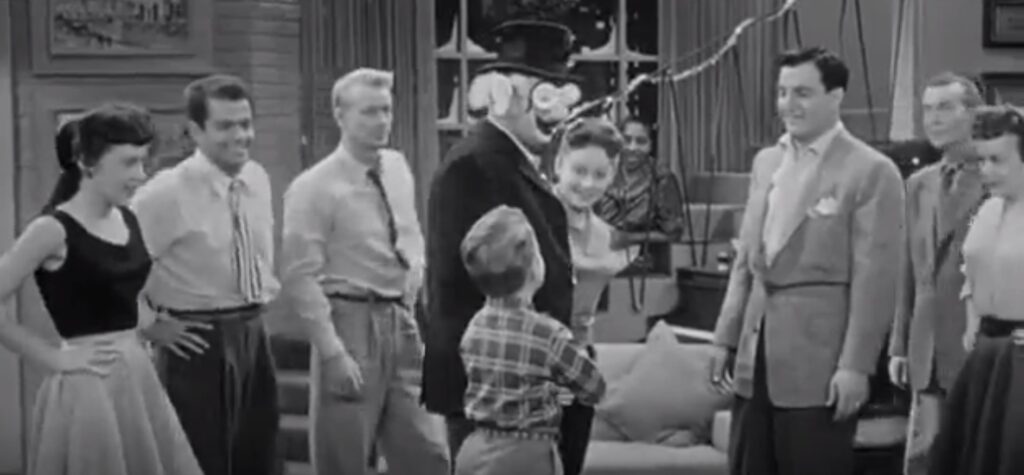 We continue our countdown of my favorite 1950s Christmas TV episodes with 1956's "Christmas and Clowns" from The Danny Thomas Show, also known as Make Room For Daddy.
Here's the weird thing about the Christmas episode of Make Room for Daddy, "Christmas and Clowns," its description on IMDB is, "Anticipating the first Christmas without Margaret, Danny invites a troupe of circus clowns for Christmas dinner to cheer Rusty and Terry" and that just isn't the plot of the episode at all. It's so odd. I don't think I've ever seen a plot description on IMDB be THAT off before.
In any event, as you may or may not know, the show originally co-starred Jean Hagen as Danny Thomas' wife on the show (the concept of the show is that Thomas plays a successful nightclub comedian, Danny Williams, who is always touring, so he rarely gets to spend as much time with his two kids as, Rusty and Terry, as he would like." The show was moderately successful, but Hagen didn't want to do the show any more so she quit after Season 3. Thomas decided to carry on and they made the decision to have Hagen's character, Margaret, die offscreen. They tried Season 4 with a single Danny, but the ratings suffered and they had Danny engaged by the end of the season to Marjorie Lord's Kathy O'Hara, an Irish nurse who came to live with the family when Rusty came down with the measles. The show was then canceled at the end of the season, but CBS picked it up for a fifth season and it became a sensation. It ran another SEVEN seasons, finishing in the top five in Seasons 5-7 and the top 10 in Seasons 9-11 (Season 8 it finished 12th, oddly enough).
Okay, so anyways, this is a Season 4 episode and it is Christmas time, so they were still going with a single Danny. He is too sad to do much of a Christmas celebration, choosing to just spend the holiday with his two children. However, an out-of-work clown delivered their Christmas tree and young Rusty ended up inviting him and his circus friends to have Christmas dinner with them since the clown knew Danny when he was just starting out.
Danny is naturally not happy to have his Christmas plans crashed by a bunch of circus folk, but his son explains that this is the time of the year to be giving and Danny realizes he should be nicer. By the time, the circus folk have actually left, feeling that Danny was "big-timing" them (not knowing that he didn't actually invite them). A cop thought that they were breaking in and brought them by the apartment to see if Danny wanted to press charges, but Danny instead insisted on having them over for dinner and he was super nice to them the rest of the night and the circus folk did a bunch of tricks as their way of saying thanks.
It was a well-written, well-performed episode.