Five Classic TV Theme Songs That Were 'Remixed' For the Show's Final Season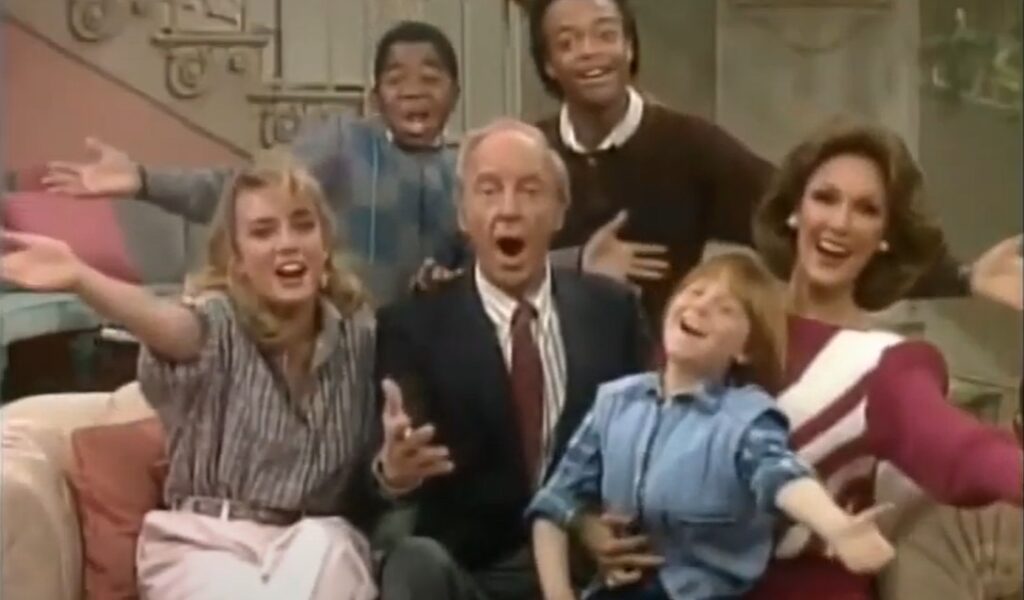 Today, we look at five classic TV theme songs that were revamped for the final season of their show.
In Drawing Crazy Patterns, I spotlight at least five things from pop culture that fit under a specific theme (basically, stuff that happens frequently enough to be worth pointing it out). Note that these lists are inherently not exhaustive. They are a list of five examples (occasionally I'll be nice and toss in a sixth). So no instance is "missing" if it is not listed. It's just not one of the five examples that I chose. You can always feel free to suggest ANOTHER example that fits the theme, if you'd like, but nothing is "missing" from this list.
The amusing thing is that for at the VERY least four of these five shows (I'm not absolutely certain about Roseanne), the intent was not to signal the final season of the series, but as it turns out, when you've been around long enough to think about doing a "remix" of your classic theme song, it is a good sign that you're on the way out the door and that was the case for all five of these series that did a drastic remix of the theme song (so not a NEW theme song, just a reworked version of their famous theme) in what turned out to be their final season.
HAPPY DAYS
This one is interesting in that, of course, the most famous theme song to Happy Days is not the ORIGINAL theme song, which was simply "Rock Around the Clock" by Bill Haley and the Comets, but rather the theme song that started in the SECOND season, the original tune, "Happy Days" (written by Norman Gimbel and Charles Fox and performed by the short-lived rock duo, Pratt & McClain)
In the final season of the series, Scott Baio and Erin Moran had returned to the series after briefly departing for their own short-lived sitcom, Joanie Loves Chachi, and so the reworked theme (sung by Bobby Arvon) accompanied shots of Joanie and Chachi growing up over the course of the series…
Joanie and Chachi marry in the final episode of the series (well, technically they burned off some unaired episodes the summer after the finale, but come on, what was MEANT to be the finale).
DIFF'RENT STROKES
Diff'rent Strokes tried to mix things up in Season 7 by having Phillip Drummond get married to a Southern Belle aerobics instructor named Maggie who had her own cute kid, Sam (Maggie was played by the brilliant Dixie Carter and Sam was played by Danny Cooksey, who was fine), so that Gary Coleman's Arnold would have a kid brother to play off of. The revamp of the show didn't work and NBC canceled it. ABC picked it up for an eighth season that did not do any better and it was canceled after that season (Mary Ann Mobley replaced Carter as Maggie).
The original theme, written and sung by Alan Thicke (along with Al Burton and Thicke's wife at the time, Gloria Loring), was used for Seasons 1-7…
But for Season 8, the Thicke theme was kept, just with a new sort of synth-heavy backing track…
Get ready for more of that.
THE A-TEAM
The A-Team had a brilliant action theme by Mike Post and Pete Carpenter, one of the most memorable parts of the series…
For the fifth season, the A-Team are finally captured by the Army and are sentenced to death, but are freed from prison and now work for a secretive organization led by a dude named Stockwell (played by Robert Vaughn), who is nominally a good guy, but they're still basically forced to work for him, which they are not happy about.
And to signify this revamped set-up, Post and Carpenter butchered their classic theme by making it synth-heavy…
QUANTUM LEAP
My buddy Bill thinks that the theme for Quantum Leap is too generic of a theme and doesn't scream "Science fiction time travel series." He's probably right that it doesn't scream "science fiction," but I still love the Mike Post and Pete Carpenter tune…
Anyhow, the show's ratings were a bit weak, so show creator Donald Bellisario went kind of nuts with ratings gimmicks in the fifth season (including an opening two-parter where Sam Beckett leaps into the life of Lee Harvey Oswald and another one where Sam leaped into the life of Elvis Presley and another where he leaps into the life of Marilyn Monroe's chauffeur ). To go with this new "please watch us!" approach, the show also got a new theme song, as Post and Carpenter once again butchered one of their classic tunes with heavy synth…
All of that pandering and the show was STILL canceled at the last minute.
ROSEANNE
The classic Roseanne theme song involved the family around the table to the tune by Dan Foliart and Howard Pearl (John Juke Logan on harmonica)…
Bill reminded me that the final season saw John Popper, the lead singer of Blues Traveler (and a famous harmonica player) write and perform lyrics set to the original theme…
Why wasn't there any added synth?!?!
Thanks for the suggestion, Bill (I was originally going to go with In Living Color's final season, which remixed the original theme)!
If anyone else has a suggestion for a future Drawing Crazy Patterns, drop me a line at brian@popculturereferences.com!