Five Surprising Rap Performances in Movies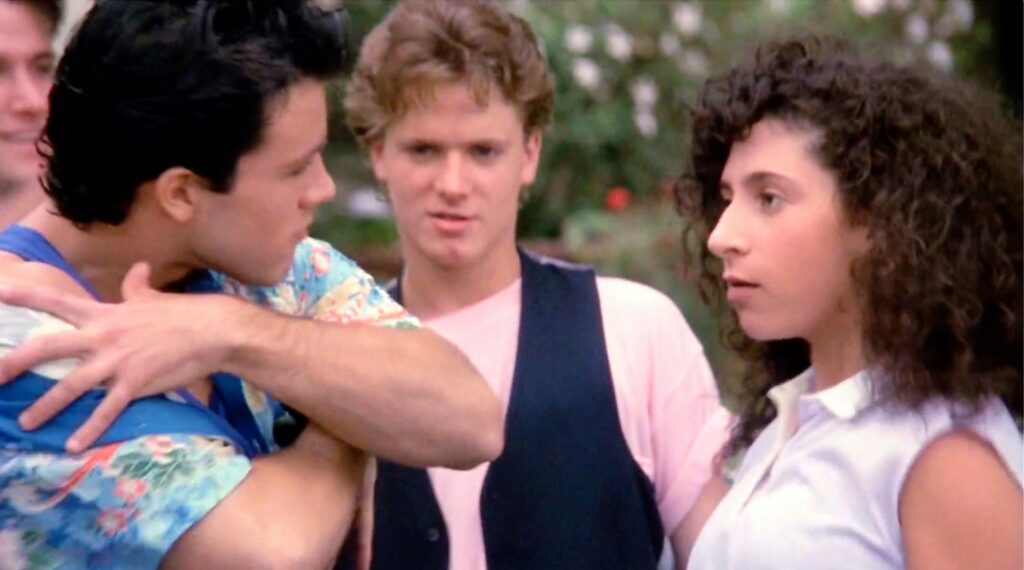 Today, we look at five surprising rap performances in movies.
In Drawing Crazy Patterns, I spotlight at least five things from pop culture that fit under a specific theme (basically, stuff that happens frequently enough to be worth pointing it out). Note that these lists are inherently not exhaustive. They are a list of five examples (occasionally I'll be nice and toss in a sixth). So no instance is "missing" if it is not listed. It's just not one of the five examples that I chose. You can always feel free to suggest ANOTHER example that fits the theme, if you'd like, but nothing is "missing" from this list.
Here, I'm spotlighting five rap performances from actors in a movie that came out of NOWHERE in a film. In other words, obviously you would expect rapping in, say, a movie about Public Enemy. A movie about the Care Bears? A bit less so.
THE CARE BEARS: ADVENTURES IN WONDERLAND
The Care Bears: Adventures in Wonderland was the third Care Bears movie to be released in theaters in the 1980s and it involves the Care Bars being brought into a situation where they have to help find the true Princess of Wonderland before the evil Wizard takes control of the land (they enlist the help of a young girl named Alice who they plan to sort of use as a fill-in…I really don't quite follow the plot).
In any event, the Cheshire Cat in the film raps because, well, of course he does…
Ah, the 80s.
BULWORTH
This is one of those cases where the joke IS that an unlikely character is rapping, so the film is totally in on the joke, but it's still surprising, so it counts. In 1998's Bulworth, Warren Beatty plays a disillusioned politician who feels that he is about to lose his primary and takes out a multi-million dollar insurance policy on himself and then hires someone to assassinate him. However, knowing that he is about to die, he starts speaking the truth in his speeches and becomes immensely popular.
During these speeches, he starts rapping, as well…
Beatty recalled at the time, "I wanted to use rap because it gave me a great comic contrast. Here's this white, middle-aged politician going nuts with a young black rapper's voice coming out of his mouth."
REVENGE OF THE NERDS
As you may or may not know, pretty much everyone in Revenge of the Nerds is a terrible person, whether they are a jock or a nerd.
The only people that you can make a reasonable exception for in the film is the Dean of the school, Wormser (since he is so young, he gets a bit of a pass) and Lamar. You can say that Lamar is at fault for enabling the others, and that's probably fair, but he doesn't do the same actively messed up stuff that the other characters do.
So therefore, we can guiltlessly enjoy the rap that Lamar does in the talent show in the film, which won the Nerds the day…
By the way, it is kind of weird that their entire song is 2:20, right?
THE WEDDING SINGER
In The Wedding Singer, Adam Sandler's character (a wedding singer who has a breakdown after he is stood up at his own wedding) is giving singing lessons to a nice old lady who wants to serenade her husband at their 50th wedding anniversary. His treatment of his elderly neighbor is one of the things that draws Drew Barrymore's character to him in the film.
Ultimately, he has to bail on most of the 50th wedding annivevsrary party to go chase down Drew Barrymore's character (he does it with Rosie's blessing). He gets to see her sing "'Til There Was You" first. Once he is gone, Rosie then raps "Rapper's Delight"…
It's a cute bit, but it's interesting how oversized the impact of the "Rapping Granny" had on the pop culture presence of the movie based on how short her rap sequence is.
TEEN WITCH
Teen Witch was a flop about a teenage girl who gains magical powers, but it has become a cult classic in the years since.
After the initial filming of the movie was done, it was testing terribly, so the studio decided to do some reshoots and add in a scene with a rap song. The main character and her best friend (played by Robin Lively and Amanda Ingber, respectively) see three guys rapping and the teen witch uses her powers to make her friend "battle rap" the guy and it is hilariously silly…
The scene has been parodied many times over the years, but my favorite is a pre-SNL Lonely Island bit where the guys do a "Behind the Scenes" look at the rap group in the scene and how everything fell apart when he was outbattled by a teenage girl…
Good stuff.
If anyone else has a suggestion for a future Drawing Crazy Patterns, drop me a line at brian@popculturereferences.com!