My Problem With Seinfeld's 'Not That There's Anything Wrong With That'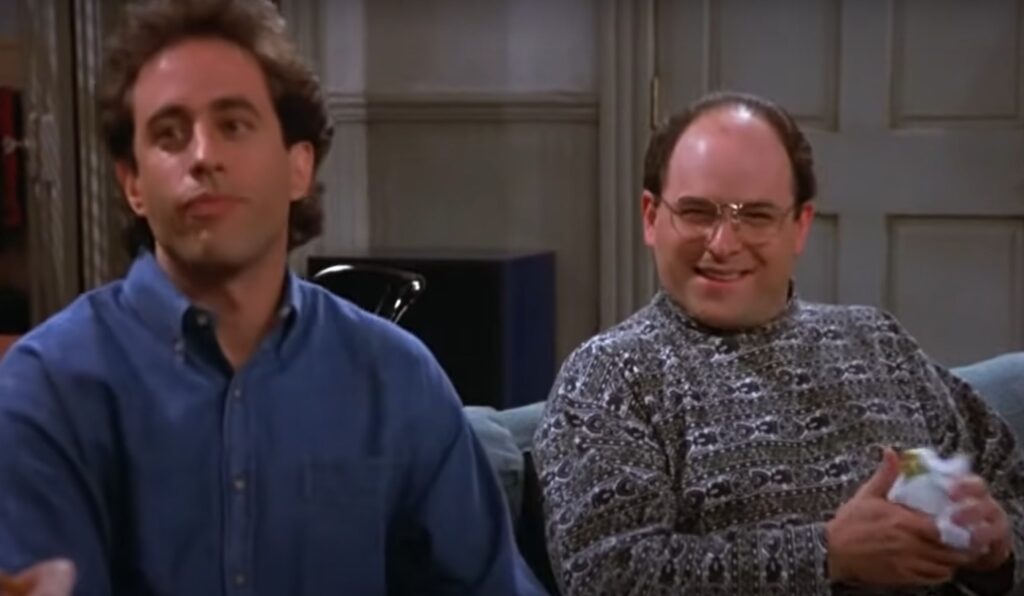 Today, I explain why "Not That There's Anything Wrong With That" has always bugged me.
This is Disgrace Distract and Bother Me, a feature where I just point out minor things that annoy me in pop culture. Basically, think of it like the lowest level of criticism, then Remember to Forget is the middle, where it's like, "Okay, this is bad, but not, like, offensively bad" and finally, Things That Turned Out Bad is for, "This is seriously messed up."
In a particularly famous episode of Seinfeld, Season 4's "The Outing," Elaine, Jerry and George are talking at the diner when a young woman in a booth next to them is clearly listening to their conversation. Elaine decides to play a prank on the woman by pretending that Jerry and George are a gay couple, and the men play along. However, their joke falls flat when it turns out that the woman is a reporter who was there to interview Jerry for her college newspaper.
Throughout the episode, Jerry and George have to convince her that they are not, in fact, gay. Every time they do so, though, they add the now famous line "Not that there's anything wrong with that."
The writer of the episode, the very talented writer and director, Larry Charles, discussed the line with Terry Gross on National Public Radio's Fresh Air:
[W]e tried to think of how we can have people be horrified at the thought of being accused of being gay without being offensive to gay people. And we sat around and we thought about this idea of going – what would allow you to go crazy and be aghast at the thought of being accused of being gay is something to sort of mitigate it. And so the expression, not that there's anything with that, came up. And then we realized we could use that expression over and over and over again. It would allow us to get very comical with the denials as long as we would follow it with, not that there's anything wrong with that.

And so we used it a lot in the script. It seemed very funny. The rhythm of it was very funny also, which is kind of another level of it. Besides the actual verbiage itself, there's kind of a rhythm to it that really makes you kind of laugh almost inadvertently, unconsciously. So, it just wound up having this kind of power to it that we didn't really intend.
First off, let me say that obviously the line worked PERFECTLY for Jerry and George. It fit their personalities to a TEE. So it was totally fine in how it was written for the characters in the episode. However, that's a far cry from it ACTUALLY making Jerry and George's gay panic inoffensive. In fact, I think it actually works better with the characters THINKING that it did while we all know that it did not.
Instead, the show was celebrated at the time for how clever it was for them to avoid being offensive through the use of the phrase. The show practically took a victory lap throughout the media over how well received the phrase was and it is so odd, because it definitely works as what two not-so-great guys would THINK would cover up their gay panic, but not as an actual piece of mitigation. It's basically the gay equivalent of, "I don't mean this to sound racist, but…"
And yet, the fact that the show's creators even went out of their way to TRY to mitigate it at ALL in 1993 was a huge deal at the time and the episode actually won a GLAAD Media Award (Gay & Lesbian Alliance Against Defamation) for Outstanding Comedy Episode.
Think about how sparse the landscape was back then for the depiction of gay people in media that GLAAD gave "The Outing" an AWARD. Then again, a couple of years later, Friends also won a GLAAD award for Best Comedy Series and few 1990s sitcoms ever had quite as many gay panic jokes as Friends did, but the show also had a rare positive portrayal of a lesbian couple in a major TV series, so it really was a case back then where GLAAD had to take its wins where it could find them.
So whenever I hear the line, I get irked thinking of how much fawning there was over the line back in the day (again, it won a GLAAD award!) and yet acknowledging the sad reality that it probably WAS better than most other shows in how it treated gay people.
Anyhow, this column is a bit more on the personal side, but if you want to send in some of your pet peeves, there's a decent chance we share some on in common and I'll use 'em! You can e-mail me at brian@popculturereferences.com.