Playing TV Bingo With Little House on the Prairie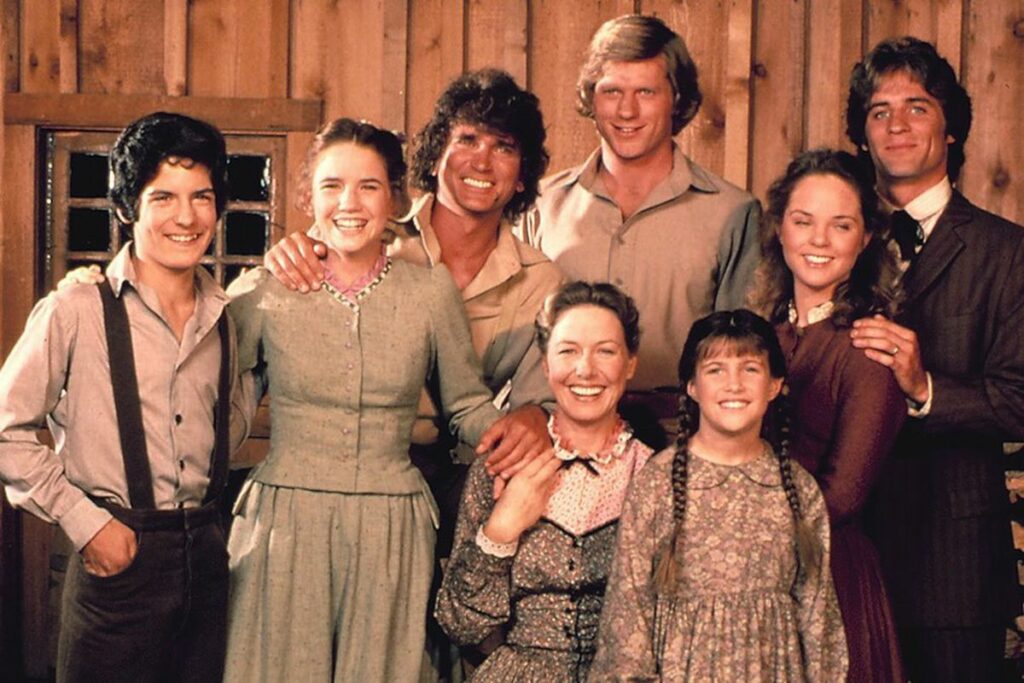 Today, we play TV Bingo with Little House on the Prairie !
You know the concept, I use a TV Bingo card (one for dramas and one for sitcoms) and I'll go through the episodes in order and see how quickly I hit a bingo. In case you don't know how bingo works, the idea is that you mark off a box (in traditional bingo, someone will draw ping pong balls with numbers and letters on them like a lottery machine) and when you check off five boxes in a row (whether left to right, up and down or diagonal) then that counts as a "bingo." Here, we'll be going episode-by-episode and seeing whether they match any of the boxes on our bingo card. When we hit five in a row, that's a "bingo"!
Here is the 1970s-1990s drama card…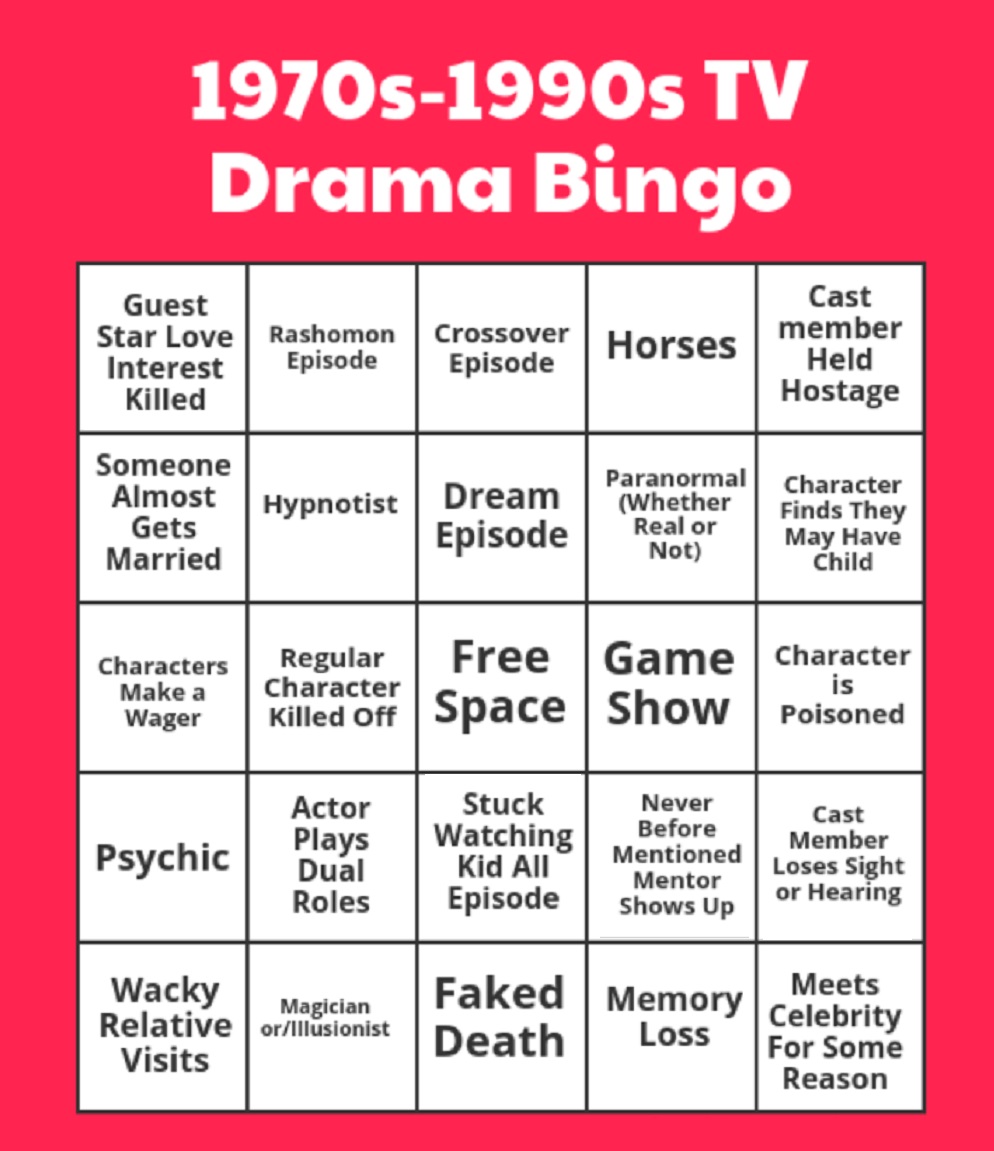 Today's show, based on a suggestion from my wife, Meredith, is the family drama, Little House on the Prairie, about a pioneer family trying to make it in on the frontier in the 1870s.
Let's take a look!
Every episode involves horses, so let's knock that one right off the bat (but honestly, there's also an episode SPECIFICALLY about horses, so we'd get there no matter what).
Season 1's "If I Should Wake Before I Die" involves a town woman faking her own death so she could see her family again.
Season 1's "The Lord is My Shepherd" is the first of many episodes to include some sort of religious supernatural aspect to them (it's almost as if Michael Landon would later go on to star as an angel himself).
Season 1's "Circus Man" involves a magician (who the town thinks is better than a doctor).
Season 3's "The Race" involves a wager, of sorts, between Laura and Nellie.
Season 3's "I'll Ride the Wind" has John and Mary almost get married (Nellie later almost marries in the following season).
Season 4's "My Ellen" has Laura sort of held hostage by a woman who believe Laura is her dead daughter (Mary is taken hostage in a more traditional way a few episodes later in "The Aftermath")
Season 4's finale, "I'll Be Waving as You Drive Away, Part 1 and 2," sees Mary go blind.
Season 5's "There's No Place Like Home: Episodes 2 & 3" has the death of Lars Hanson (soon before the actor who played him, Karl Swenson, died. Swenson actually died before the episode aired).
Season 5's "Harriet's Happenings" has Harriet's cousin come to town to run a crooked newspaper.
Season 5's "The Godsister: Episode 1 & Episode 2" sees Carrie invent an imaginary friend, Alyssa (the twins who played Carrie played Carrie and Alyssa. I think it counts as a dual role).
And that's a bingo!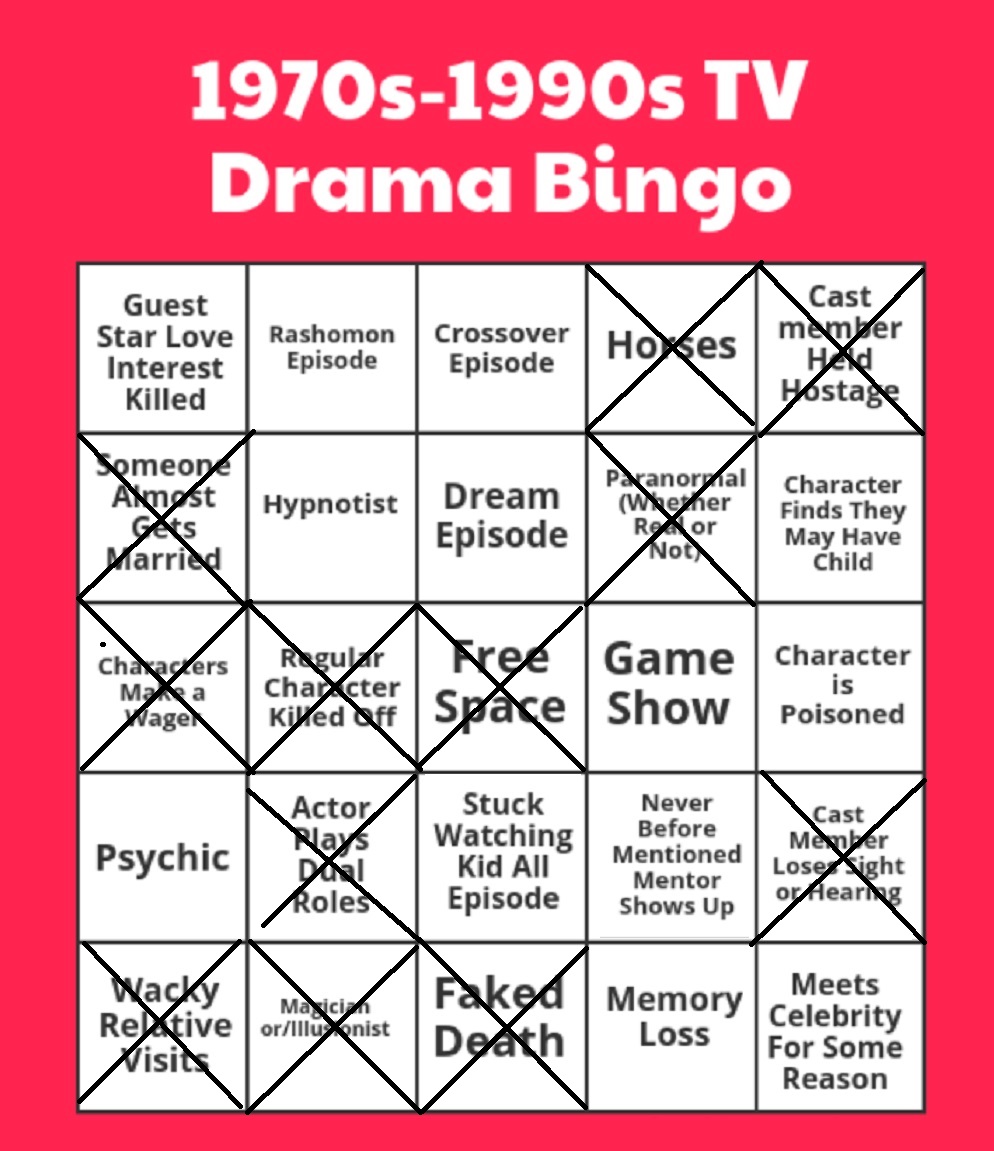 Feel free to make suggestions for other shows you'd like to see me use the current bingo cards for! Just e-mail me at brian@popculturereferences.com.