Playing TV Bingo With The Facts of Life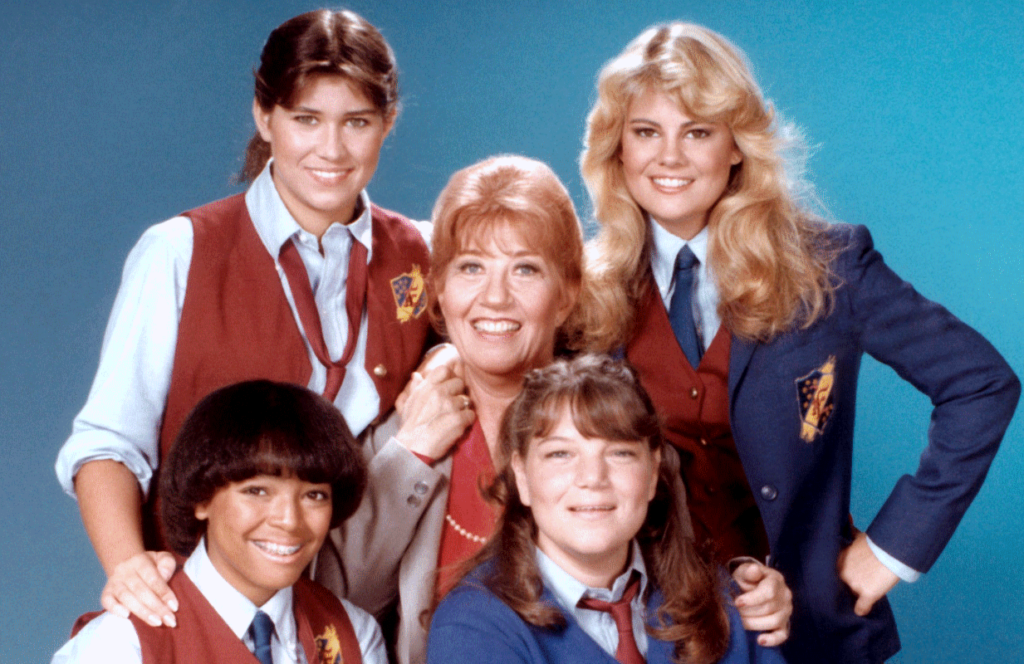 Today, as part of TV Bingo Tuesday, we play TV Bingo with The Facts of Life!
You know the concept, I use a TV Bingo card (one for dramas and one for sitcoms) and I'll go through the episodes in order and see how quickly I hit a bingo. In case you don't know how bingo works, the idea is that you mark off a box (in traditional bingo, someone will draw ping pong balls with numbers and letters on them like a lottery machine) and when you check off five boxes in a row (whether left to right, up and down or diagonal) then that counts as a "bingo." Here, we'll be going episode-by-episode and seeing whether they match any of the boxes on our bingo card. When we hit five in a row, that's a "bingo"!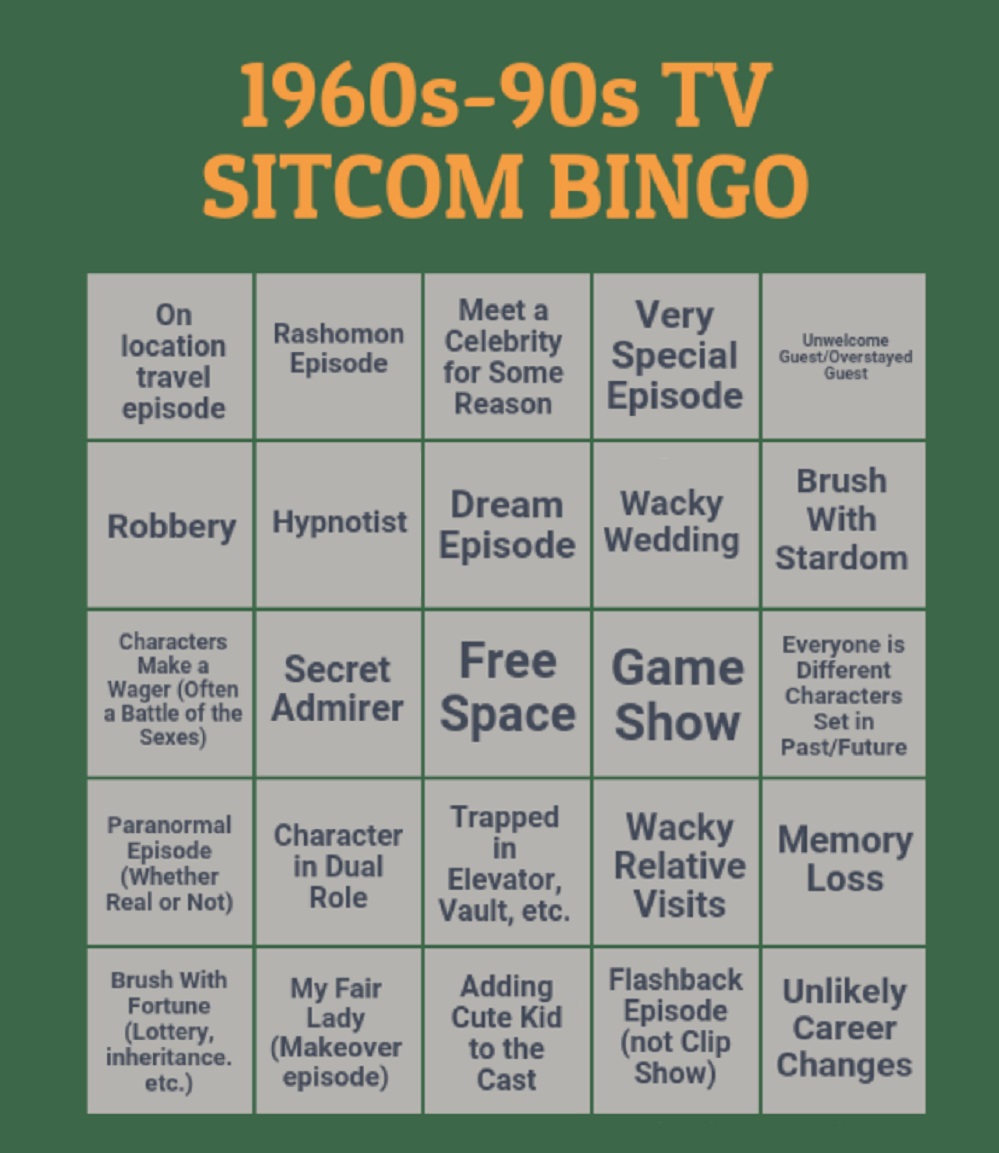 Today, in honor of an episode of the series airing on ABC as part of their Live In Front of a Studio Audience series, we'll be looking at the coming-of-age sitcom, The Facts Of Life, about a group of teen girls at a boarding school and their house mother who ends up becoming their special mentor (even opening up a business with them after they graduate from high school).
Let's begin!
I think Season 1's "Like Mother, Like Daughter" counts as a wacky relative visit, as Blair's much-divorced mother coming to Parent's Night and flirting with the headmaster sure seems like it is an example of that trope.
The Facts of Life was basically a walking "A Very Special Episode," but let's pick Season 2's "Who Am I?" as the first example of "A Very Special Episode."
I'm not counting Season 2's "Shoplifting" as a robbery. Jo steals a shirt. That's not robbery.
Season 2's "Pretty Babies" is a tricky one, but I think it counts as a brush with stardom for Tootie.
I'm counting "Bought and Sold" as a makeover episode, as Blair gives Natalie a big makeover in the episode. It's not REALLY all that applicable, but I'm still counting it.
I think Season 3's "Sweet Sorrow" counts as a secret admirer. Honestly, it's a show about teenagers. Every other episode probably qualified.
Season 3's "Starstruck" sees Tootie meet Jermaine Jackson for some reason.
Season 4's "The Facts of Life Goes to Paris" was an on-location travel episode.
Season 5's "Brave New World" sees Edna opening up her own store. Honestly, this isn't all THAT unlikely of a career change, but enough that I'm still counting it.
Season 5's "The Halloween Show" sees Enda possibly possessed.
Season 5's "Dream Marriage" is a dream episode, naturally. It also is set in the future, but everyone plays themselves, so it doesn't count for that trope.
Season 6's "Me and Eleanor" introduces Andy, the cute new kid for the show.
Season 6's "Concentration" has Blair trapped in an elevator.
And that's a bingo!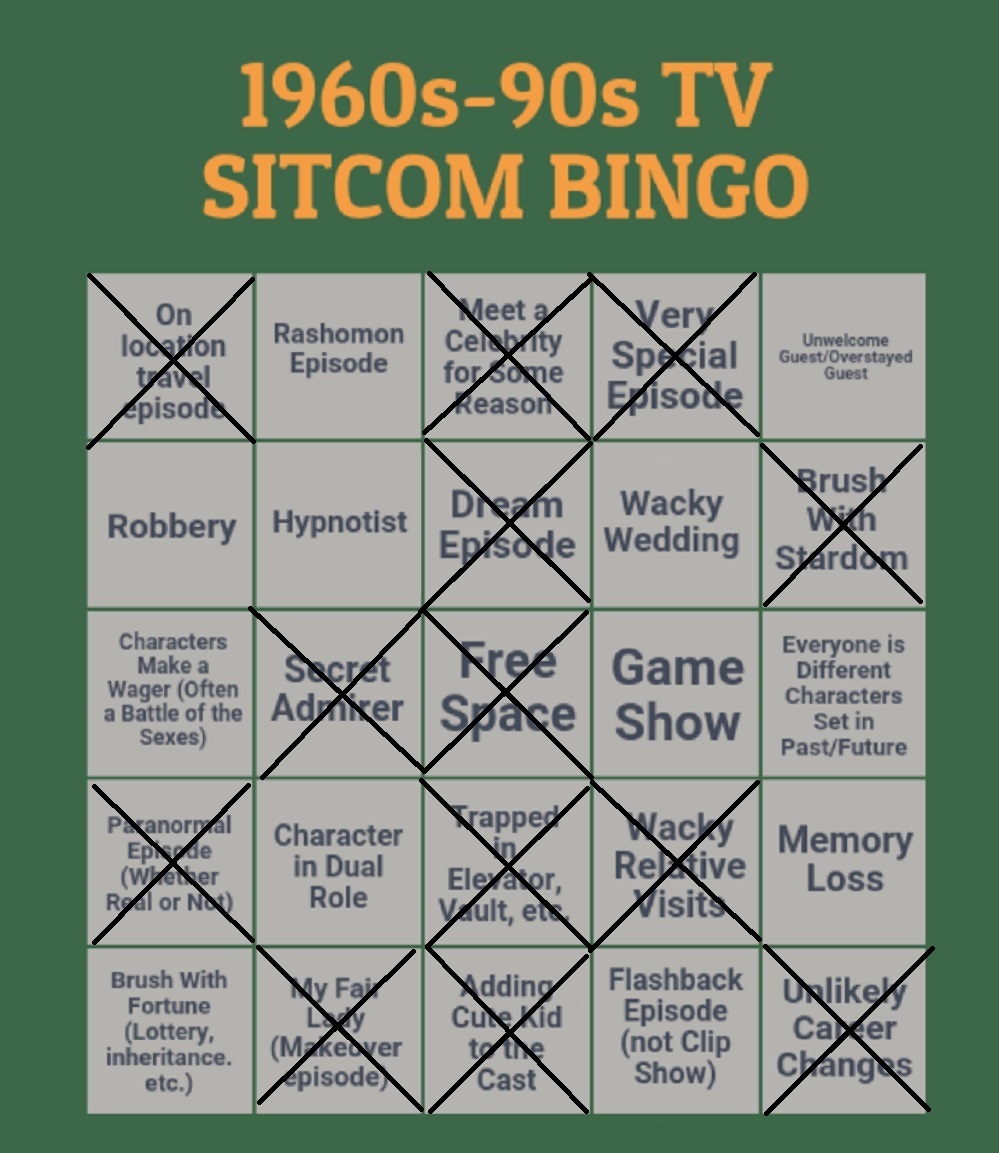 That took MUCH longer than I expected!
If anyone has a suggestion for a future show to play TV Bingo with, drop me a line at brian@popculturereferences.com!