Playing TV Bingo With WKRP in Cincinnati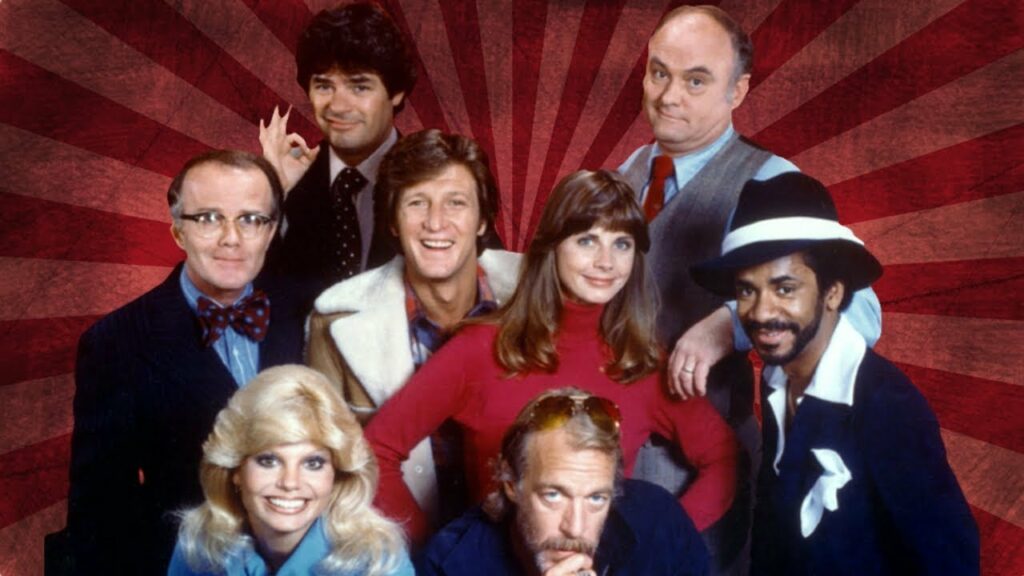 Today, in TV Bingo, we take on WKRP in Cincinnati.
You know the concept, I use a TV Bingo card (one for dramas and one for sitcoms) and I'll go through the episodes in order and see how quickly I hit a bingo. In case you don't know how bingo works, the idea is that you mark off a box (in traditional bingo, someone will draw ping pong balls with numbers and letters on them like a lottery machine) and when you check off five boxes in a row (whether left to right, up and down or diagonal) then that counts as a "bingo." Here, we'll be going episode-by-episode and seeing whether they match any of the boxes on our bingo card. When we hit five in a row, that's a "bingo"!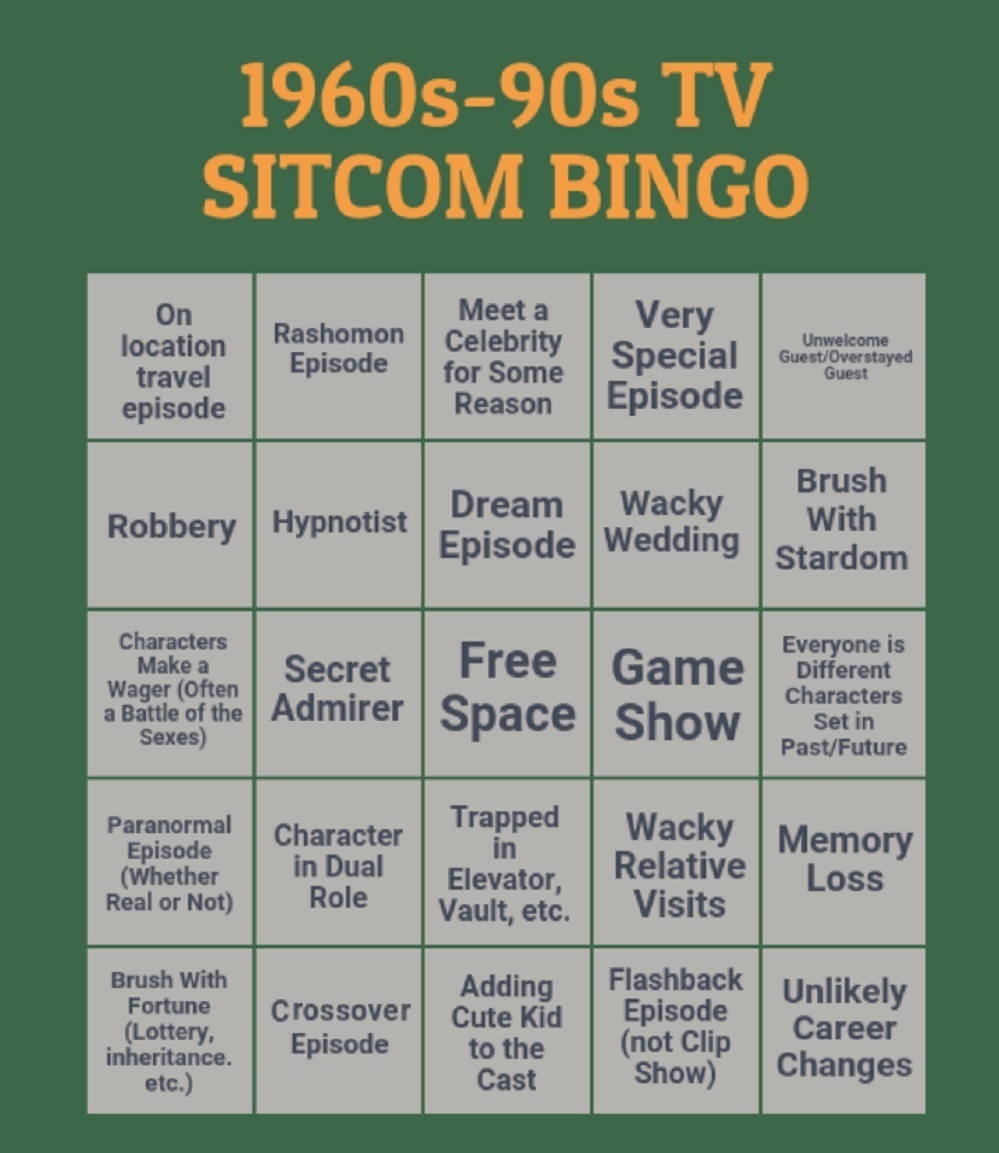 Today's show is WKRP in Cincinnati, the 1970s sitcom starring Howard Hesseman, who we just recently lost. The series followed the attempts to revamp a Cincinnati radio station into a rock music station and the adjustment proved to be quite a problem for the established workers at the station, which had long been an easy listening station.
Let's take a look!
Season 1's "Young Master Carlson" involves Mr. Carlson's obnoxious son visiting.
Season 2's "Baseball" has a wager between WKRP and a rival station over a game of baseball.
Season 2's "Sparky" had Sparky Anderson guest star as himself.
Season 2's "God Talks to Johnny" had Johnny believe that God is speaking to him.
Season 2's "In Concert" was a Very Special Episode dealing with people dying from being trampled to death after a Who concert that the station had heavily promoted (based on a real life tragedy at a Who concert in Cincinnati).
Season 3's "Bah, Humbug" is a Christmas-themed dream episode.
Season 3's "Dr. Fever and Mr. Tide: Parts 1 and 2" see Johnny Fever become a TV star as a new personality, Rip Tide.
Season 3's "A Simple Little Wedding" has a wacky wedding vow renewal between the Carlsons.
Season 3's "Nothing to Fear But…" sees the station robbed.
Season 4's "Fire" sees Herb and Jennifer get stuck in an elevator together.
Season 4's "Circumstantial Evidence" has Tim Reid play dual roles (as Venus and a thief that Venus was falsely accused of being)
Season 4's "The Creation of Venus" shows how Venus came to work at the station.
I don't think the show hits a bingo.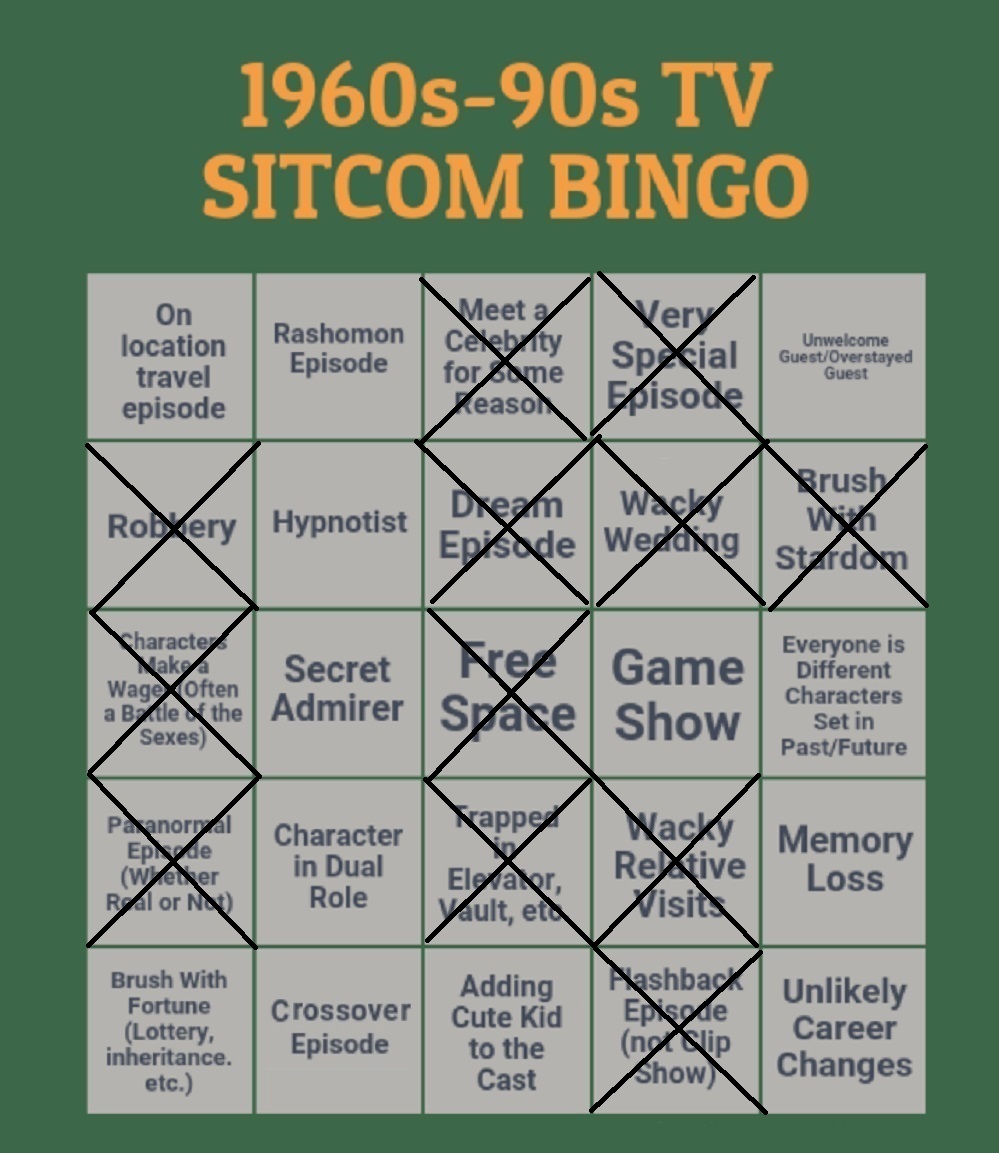 If we added in the revival series, it would, though (I know there was a hypnosis episode, for instance).
Feel free to suggest future shows for TV Bingo! Just drop me a line at brian@popculturereferences.com!