RIP, Robbie Robertson, He Played Fucking Loud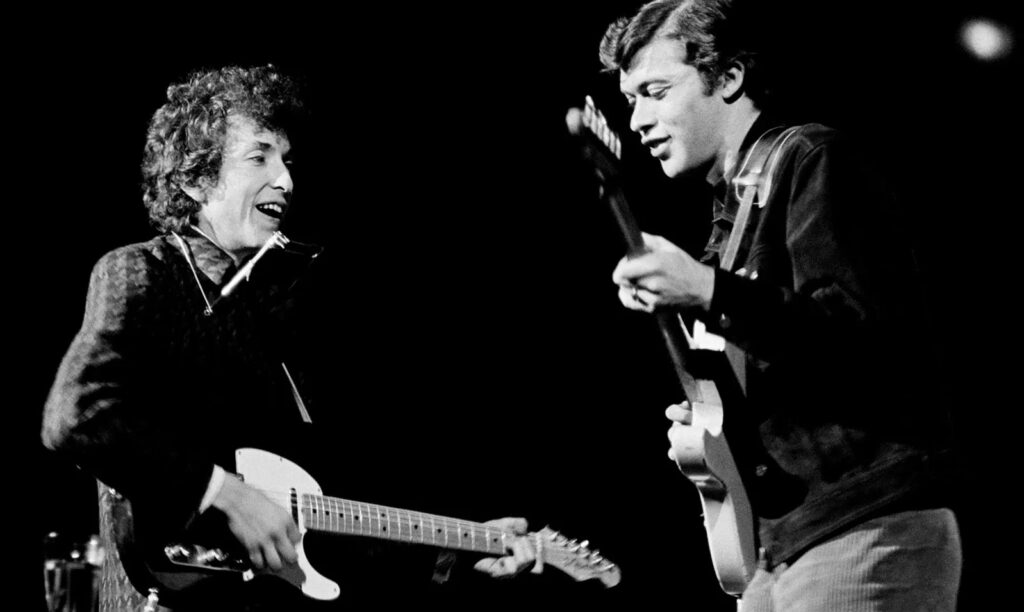 Robbie Robertson, lead guitarist for Ronnie Hawkins backing band, and then Bob Dylan's band before going from Bob Dylan and The Band to literally The Band, has passed away at the age of 80.
Robertson famously was Dylan's lead guitarist when Dylan toured in 1966 after having "gone electric," and it was Robertson who Dylan shouted "play fucking loud" for the final song, "Like a Rolling Stone" at a May 17, 1966 concert in Manchester, UK, after a concert-goer shouted "Judas!" at Dylan (Dylan first told the crowd, "I don't believe you… you're a liar" before giving Robertson the "play fucking loud" cue.
Besides being an amazing guitar player, though, Robertson was also a brilliant songwriter. He was the main songwriter of The Band (and The Band had a number of talented songwriters in it), writing iconic songs like "The Weight," "The Night They Drove Ol' Dixie Down," and "Up On Cripple Creek" (and so many other great tunes), and did strong solo work, as well, including "Broken Arrow" (a hit for Rod Stewart), before becoming mostly a movie scorer for his old friend, Martin Scorsese, for the past few decades.
Scorsese's statement on Robertson's passing was particularly beautiful.
Martin Scorsese's statement to @NBCNews on the death of his collaborator and friend Robbie Robertson:

"It goes without saying that he was a giant, that his effect on the art form was profound and lasting." pic.twitter.com/reSLs44RDN

— Daniel Arkin (@d_arkin) August 9, 2023
He was titan of the music industry, someone who I feel silly even trying to explain WHY he was so important, so I won't even bother. If you know, you know. He will be greatly missed.