The Origins of The Conjuring's Annabelle Doll Were Retconned Along the Way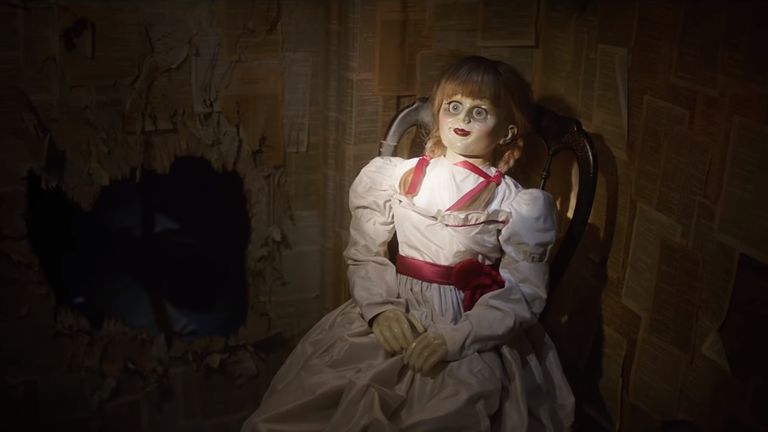 Today, we look at how the origins of the Annabelle doll in The Conjuring universe were retconned along the way.
In Abandoned an' Forsaked, we examine stories and ideas that were not only abandoned, but also had the stories/plots specifically "overturned" by a later writer (as if they were a legal precedent) with a retcon (retcon stands for "retroactive continuity," but we're specifically talking about retcons that contradict earlier stories).
In The Conjuring, before Ed and Lorraine Warren deal with a witch's curse at a farmhouse in Harrisville, Rhode Island, we first see them deal with a demonically possessed doll, Annabelle, haunting a pair of nursing students.
The Annabelle part of the film was so well-received that they quickly put out the first spinoff of The Conjuring called simply, Annabelle, in which we learn that the antique doll belonging to a married couple (John and Mia Form) becomes possessed by a demon after the Form's next door neighbors are murdered by their daughter, Annabelle Higgins, and she is then murdered by the police after breaking into the home of the Forms and trying to kill them, too. As she dies, though, she manages to allow the demon (who she summoned as she was part of a demon-worshipping cult) to possess a doll that John had purchased for Mia.
Well, for the second Annabelle film, Annabelle: Creation, that was all retconned, and now, the doll was ALREADY possessed by a demon a decade earlier, as a dollmaker, Samuel Mullins, lost his daughter, Annabelle, and he and his wife were do desperate to bring her back that they cut a deal with Satan and allowed a demon (they believed to be their daughter) to take possession of a doll (so that it could live forever). After more than a decade of turning themselves into recluses to protect the rest of the world from the demon, the Mullins opened their home up to be used as an orphanage, despite having a demonically possessed doll locked in a room in their house (what could go wrong, right?).
The demon ultimately possessed a young orphan, Janice, who later escapes and finds herself in another orphanage far away, adopted by the Higgins, who she then eventually murders after John Form purchased the Annabelle doll from the first film (which had been taken into custody as evidence in Annabelle: Creation, but I guess was eventually released and sold at a police auction).
Boy, that's some convoluted stuff, huh?
Honestly, though, I do think that the second origin is better. What's interesting is that the same guy, Gary Dauberman, wrote both movies, so he retconned his own work.
If anyone else has a suggestion for Abandoned an' Forsaked, drop me a line at brian@popculturereferences.com!