The Times Friends Poked Fun at How They Never Locked Their Doors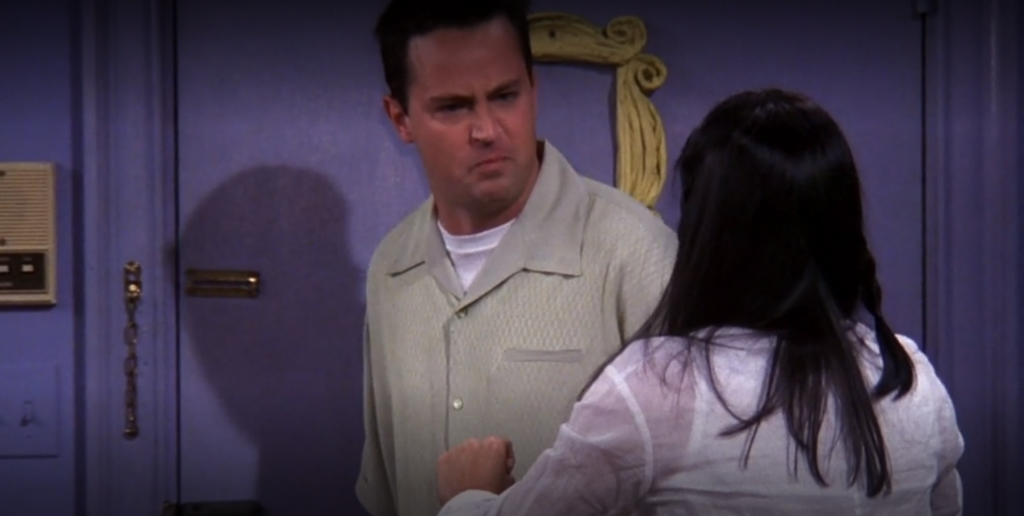 Today, we look at the times that Friends poked fun at how they never locked their doors.
In Meta-Messages, I explore the context behind (using reader danjack's term) "meta-messages." A meta-message is where a creator comments on/references the work of another creator (or sometimes even themselves) in their work. Each time around, I'll give you the context behind one such "meta-message."
As anyone who followed the blockbuster 1990s sitcom, Friends, recalls, the characters never seemed to actually lock their apartment doors. People would just waltz in and out of the apartments.
Not even before the first season ended, Ross was about to confess his feelings for Rachel in "The One Where the Monkey Gets Away" when suddenly, her former fiancee, Barry, bursts in to the front door and Ross exclaims, "We REALLY need to start locking that door."
Later, in Season 6's premiere, "The One After Vegas," after Chandler and Monica decided not to get married, Chandler instead asks Monica to move in together. Monica gives him a key to her apartment and asks him to go outside and let himself back in with the key to "christen" the apartment as their own, and he remarks that it is weird, since no one has ever used their lock in the time he's known her.
Cute bits.
If anyone has a suggestion for a good Meta-Messages, drop me a line at brian@popculturereferences.com!