Three's Company's Richard Kline on the 'Double Guilt' of Serving in Vietnam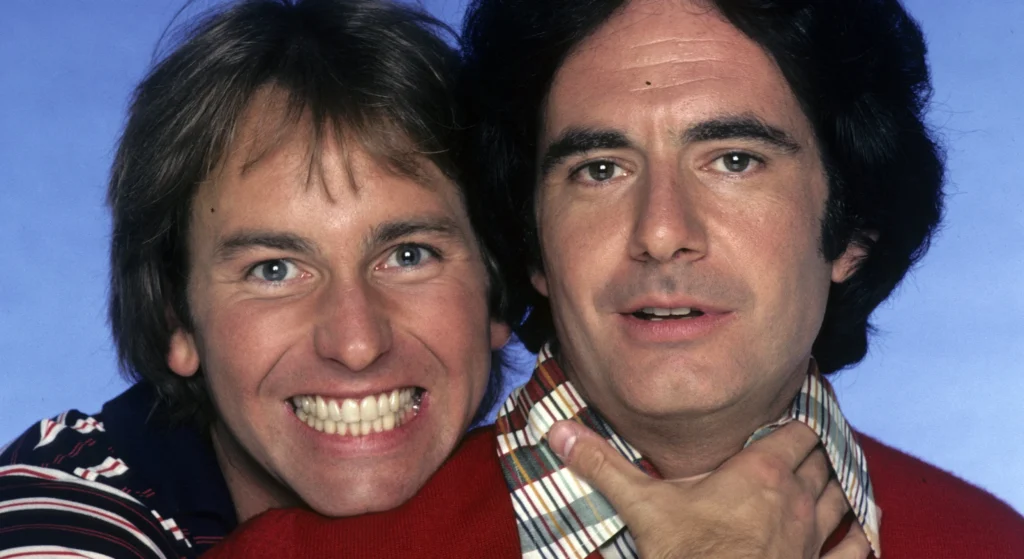 Today, I share the thoughts of Richard Kline (Larry on Three's Company) about the "double guilt" he felt serving in Vietnam as both a liberal actor and as a non-combat officer.
This is Quite a Story, a sort of catch-all feature where I share short, interesting anecdotes from interviews or books that don't really fit into any other feature.
Richard Kline is still acting to this day (and also teaching acting), but he will probably always be best known as playing Larry, the best friend of John Ritter's Jack Tripper on the long-running hit sitcom, Three's Company.
Back in 2017, after Kline, Joyce DeWitt, Jenilee Harrison and Priscilla Barnes all appeared on a TV special for Antenna TV about the 40th anniversary of Three's Company, they all then appeared on Priscilla Barnes' podcast to talk some more.
During the podcast, Barnes had some questions for her old castmate about his Vietnam War military service, and Kline filled her in, including some fascinating thoughts about the guilt he felt as both a liberal actor serving in a war, and as a non-combat officer. I've cleaned this up a lot, as this was obviously done in a more conversational tone in the actual podcast (Barnes also makes some fairly embarrassingly ignorant statements, so if you want to hear them, check out the podcast above. I'm concentrating on the important stuff).
Barnes: Where were you stationed during Vietnam?

Kline: I was North of Saigon. I was a Lieutenant in the Army assigned to the 101st Airborne Division.

Barnes: You were never in combat?

Kline: No, because for every soldier in the field, there was 13 in support. That could be, what I was, special service. Or they could be running the motor pool, or they could be cooks. I was running what they called Recreation, Welfare and Morale, making the troops happy.

Barnes: How long did you serve in Vietnam?

Kline: One year. I was honorably discharged.

Barnes: Did you enlist or were you drafted?

Kline: I was drafted.

Barnes: What was your lottery number?

Kline: This was before the lottery.

Barnes: Were you frightened to death to go?

Kline: Yes. Now that you bring it up, yes. What happened was that I was with the American Shakespeare Festival. My first equity job. I was two weeks into rehearsal when my draft notice came up. They would not let me complete the season. I had one of the top lawyers in New York, he was Albert Anastasia's lawyer (the big Mafia capo), try to get me out but he couldn't. So I went to basic training, then I went to (OCS) Officer Candidate School. I went to Fort Ord, California, in Carmel. I lived with a girlfriend off-campus, smoked a lot of dope, cranked up like you wouldn't believe. And then I got my orders for Vietnam, and I was a year in Vietnam.

I had what they called a sense of "double guilt," because I was in theater, and all my friends were extremely liberal and anti-war, and I was anti-war, by going into the Army, I felt guilty, and then, by not serving in combat, I also felt guilty, so go figure.

Barnes: Did they treat you differently after you came back?

Kline: Oh yeah, I didn't tell anybody that I was in Vietnam. I didn't tell a soul until they freed the hostages in Iran, and suddenly Vietnam vets became revered, so then I spilled the beans.

Barnes: Of all the films, which one captured Vietnam the best?

Kline: Apocalypse Now. Slam dunk. Everything about it was right. It wasn't a documentary, but it just captured the feeling of the horror.
Fascinating insights by Kline.
If you see any interesting anecdotes from interviews or books that you think would be worth spotlighting, drop me a line at brian@popculturereferences.com.