The Utterly Bizarre Racial Misstep in the Middle of Wedding Singer the Musical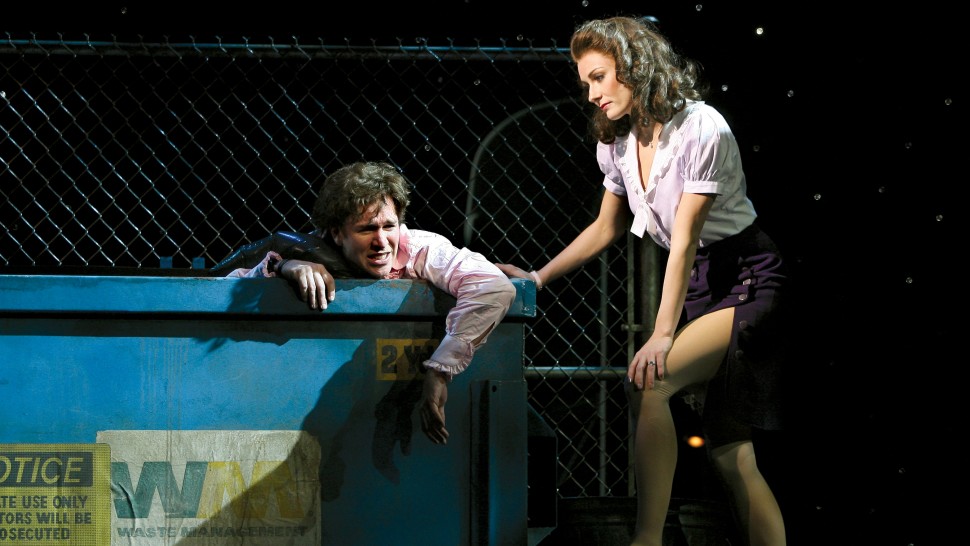 Today, we look at the bizarre racial misstep in the middle of the stage musical adaptation of Wedding Singer.
In Remember to Forget, we spotlight pop culture stories that I wish I could forget, but I can't, so I instead share them with you all, so you're stuck in the same boat as me!
The Wedding Singer is a slight, but fun adaptation of the, well, similarly slight and fun romantic comedy, The Wedding Singer.
The musical is a weird one, in the sense that so much of what made the original The Wedding Singer good at all was Adam Sandler, and he is obviously a distinctive performer. The Broadway answer was to hire another comedian to play Sandler's role, Stephen Lynch, who did comedy songs just like Sandler (his 2000 album A Little Bit Special still gets some laughs, despite it very much being of its time). For the Drew Barrymore role, the show netted Laura Benanti, fresh off Tony Award nominations for Best Featured Actress in a Musical for Sing! and the 2002 production of Into the Woods, but before she won the Tony in that category for Gypsy in 2008 (and started to also get a bunch of TV work as an actor). She's excellent in the musical and, again, it's a fun, slight musical (but she definitely stands out, as, well, she's Laura Benanti).
However, there's also this one song (that is pretty darn fun in and of itself) called "Not That Kind of Thing" that has a moment that stands out for all the wrong reasons. The song has Lynch's Robbie helping Benanti's Julia do some shopping for her wedding (as a wedding singer, he knows all of the vendors and how to get the best deals). The two became friends after Robbie was left at the altar by his fiance. The drama in the musical, of course, is that Julia's fiancee is a jerk and she and Robbie are obviously meant for each other, but they have to keep explaining to people that it is, well, you know, not that kind of thing.
It's done as a very 80s style song, with plenty of synth.
But anyhow, while they're registering for towels, they run into a Black couple. The woman tells her fiance to hold her purse and he says no and then she shouts, "I said HOLD it!" and he holds it. Julia then does the same with Robbie and when he says no, she says "I said HOLD it!" just like the Black woman, only, well, you know, in a "Black voice" (in other words, using AAVE, or African American Vernacular English)…
In the scene, the Black woman nods approvingly when Julia does it, but come on, it's such a bad idea. And it stands out in the musical that is otherwise pleasant. They clearly didn't realize why it was inappropriate for the joke to be this White lady doing AAVE for comedic effect and it is so cringeworthy.
One of the most fascinating things, though, is that this musical has become very popular with high school and college students because of it being such a fun musical that is simple to stage and so if you go on YouTube, you can see a number of high school and college (and even theater camp!) productions doing this song and it is interesting to see how the various students handle the AAVE section. Luckily, most of them avoid it….MOST of them (and even there, they avoid it by not casting Black actors period for the scene, which is not a great solution either).
It really IS a fun musical over all, but ooph, what a mistake (it's especially weird hearing such a major Broadway star like Laura Benanti doing the iffy reading).
If you have a suggestion for another pop culture plot or show or film that is probably best forgotten (but it is fun to revel in how much we can't help but still remember it), drop me a line at brian@popculturereferences.com!