When Studio 60 Went to Gilbert and Sullivan for Cutting Edge Comedy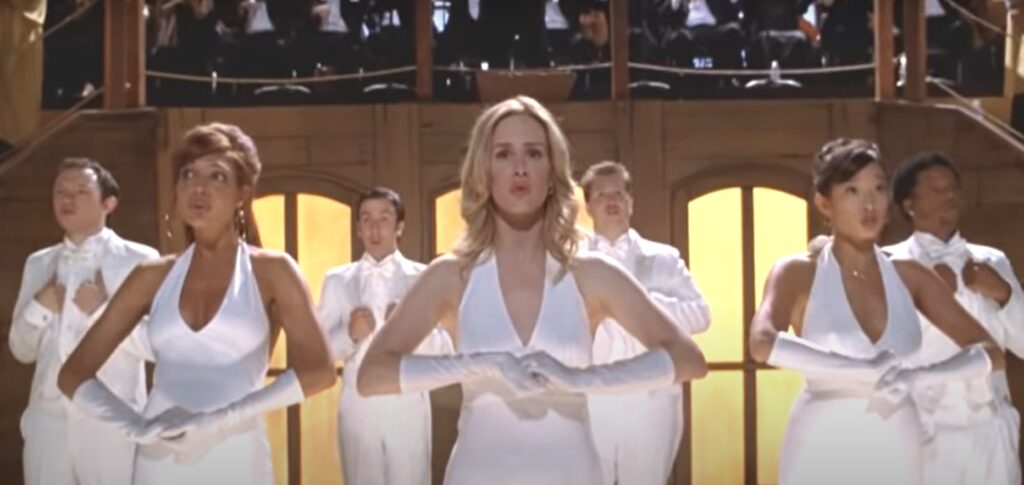 Today, we look at the bizarre comedic decision by Aaron Sorkin in the second episode of Studio 60 on the Sunset Strip.
In Remember to Forget, we spotlight pop culture stories that I wish I could forget, but I can't, so I instead share them with you all, so you're stuck in the same boat as me!
One of the biggest complaints about Aaron Sorkin's TV series follow-up to West Wing, Studio 60 on the Sunset Strip, was that for a show about a fictional version of Saturday Night Live (oh, any by the way, Saturday Night Live somehow EXISTS IN THAT UNIVERSE. One of the odder decisions I've seen. Studio 60 is a second-rate SNL in its own universe!) is that Sorkin constantly told us how funny and groundbreaking and edgy Studio 60 was on the series, but when it came time to actually SHOW it, it wasn't funny. Not only was it not funny, it was hacky.
And in one major moment, it was just inexplicable.
If you were a fan of The West Wing then you will know that Aaron Sorkin was a big fan of Gilbert and Sullivan, the Victorian era light opera dramatist and composer.
Lots of people like Gilbert and Sullivan, but Sorkin tries to convince us that it is BRILLIANT that the first cold opening of the sketch show on Studio 60 will be a parody of Gilbert and Sullivan's "I Am the Very Model of a Modern Major-General" from The Pirates of Penzance. That's not a TERRIBLE idea. Animaniacs did a fun Gilbert and Sullivan parody, after all, but not for your first cold opening after the head of the show was fired following a live breakdown on national TV and the former head writers returned to save the show (but one of them is revealed to have to be working on the show because he can't do movies due to being uninsurable for a year because of a lapse in his sobriety to his drug addiction).
The show wants us to believe that it is brilliant and edgy and it just…isn't.
There were definitely good parts of Studio 60 on the Sunset Strip, but this was such a big misstep that it made it glaringly obvious that there was no one there whose job was to tell Sorkin that maybe his ideas weren't all winners and as a lot of fans of creative folks in similar situations know, that way lies madness (and poor quality entertainment).
Feel free to suggest other topics for future Pop Culture Theme Times to me at brian@popculturereferences.com.