What Did the Real Life 'Ms. Jackson' Think of the Outkast Hit Song, 'Ms. Jackson'?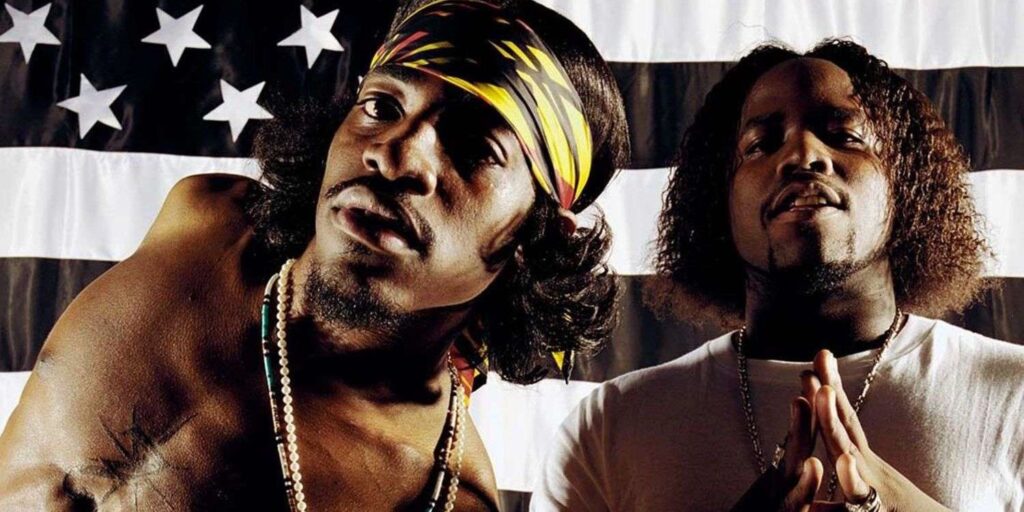 Today, we learn what the real life Ms. Jackson felt about the Outkast hit song, "Ms. Jackson" (here's a hint, she liked it a lot better than her daughter did).
This is "What It's All About," a new feature that explains what certain notable songs were written about, provided that the song wasn't written about the work of another famous person (in which case that'd be a Meta-Message).
As I've mentioned before, a tricky thing about "What's It All About" is when the topic is about the relationships of a famous person. They often date OTHER famous people. However, I think that still counts for this feature as opposed to Meta-Messages, because, again, that feature is really more about the WORK of another famous person. So Bob Dylan parodying Bruce Springsteen's music, that's a Meta-Message. Bob Dylan writing about his relationship with Joan Baez? That's a What's It All About.
In any event, I mention this, naturally, because the song I'm talking about today was written about a real life person. Andre 3000 from the legendary rap duo, Outkast, had been in a relationship with the excellent R&B singer, Erykah Badu, from 1995-1999. They had a son together, Seven Sirius Benjamin. After they broke up, Andre 3000 wrote the song "Ms. Jackson," directed at Badu's mother, Kolleen Maria Wright (nee Gipson), apologizing for the end of his relationship with her daughter.
Here's the thing, though, the song was mostly written by Andre 3000, but his partner, Big Boi, had his own verses, and interestingly enough, while Andre 3000's verses were all about forgiveness, Big Boi's verses were complaining about…if not Badu or her mother directly, then I guess some generic version of an ex-girlfriend and the ex's mother?
See an Andre 3000 verse:
Ten times out of nine, now if I'm lyin', find
The quickest muzzle, throw it on my mouth and I'll decline
King meets queen, then the puppy love thing
Together dream 'bout that crib with the Goodyear swing
On the oak tree, I hope we feel like this forever
Forever, forever ever? Forever, ever?
Forever never seems that long until you're grown
And notice that the day-by-day ruler can't be too wrong
Ms. Jackson, my intentions were good, I wish I could
Become a magician to abracadabra all the sadder
Thoughts of me, thoughts of she, thoughts of he
Asking what happened to the feeling that her and me had
I pray so much about it, need some knee pads
It happened for a reason, one can't be mad
So know this, know that everything's cool
And yes, I will be present on the first day of school and graduation

I'm sorry, Ms. Jackson, ooh, I am for real
Never meant to make your daughter cry
I apologize a trillion times
I'm sorry, Ms. Jackson, ooh, I am for real
Never meant to make your daughter cry
I apologize a trillion times
Okay, now look at a Big Boi verse:
"Look at the way he treats me"
Shit, look at the way you treat me
You see, your little nosy-ass homegirls
Done got your ass sent up the creek, G
Without a paddle, you left to straddle and ride this thing on out
Now you and your girl ain't speakin' no more
'Cause my dick all in her mouth
Know what I'm talkin' about?
Jealousy, infidelity, envy, cheating, beating
In the year 2G, they be the same thing
So who you placin' the blame on?
You keep on singin' the same song; let bygones be bygones
And you can go on and get the hell on, you and your mama
Soooo….kind of weird messaging, right?
Badu addressed this a while back on the Rap Radar podcast, noting, "It hit kind of a sore spot. I didn't wanna hear that, especially when I heard Big Boi's verse. When I heard Andre's verse, I felt very good because his verse was really, really inspiring. He just said how he felt and it was his honest feelings and I always respected that and listened to what he felt and appreciated it."
As for her mother's reaction to the song? Badu explained, "How did my mama feel? Baby, she bought herself a 'Ms. Jackson' licence plate. She had the mug, she had the ink pen, she had the headband, everything. That's who loved it."
Too funny.
Okay, folks, if you have any suggestions for more What's It All About installments, drop me a line at brian@poprefs.com!