What Was the First Backdoor Pilot of a TV Series?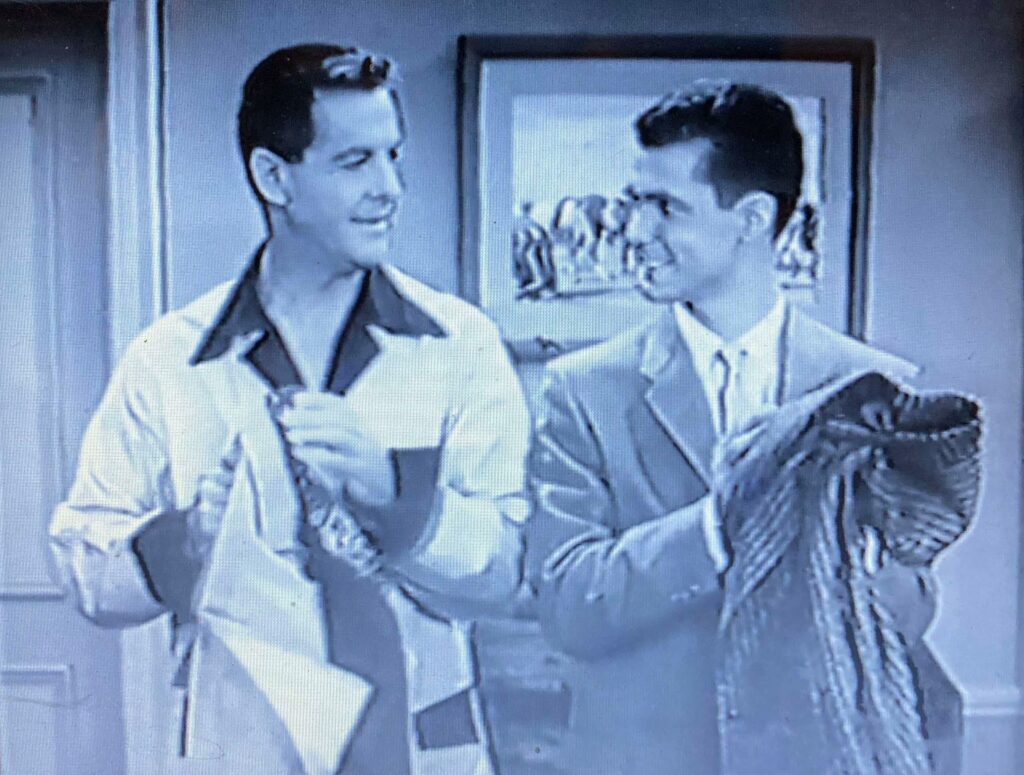 Today, we see how The Bob Cummings Show gave us the first backdoor pilot in TV history.
This is a special edition, mixing in TWO featured, both "When We First Met", where I spotlight the various characters, phrases, objects or events that eventually became notable parts of pop culture lore, like the first time that JJ said "Dy-no-MITE" or the first time that Fonzie made the jukebox at Arnold's turn on and off by hitting it AND Back Door Blues, a feature about "backdoor pilots." Backdoor pilots are episodes of regular TV series that are intended to also work as pilots for a new series. Sometimes these pilots get picked up, but a lot of times they did not get picked up. I'll spotlight examples of both successful and failed backdoor pilots.
CONCEPT: Chuck at College, Dwayne Hickman's Chuck, well, you know, attends college.
SERIES IT AIRED ON The Bob Cummings Show
The Bob Cummings Show, which ran from 1955-59, was ahead of times, in the sense that its basic format (single professional guy that dates a lot) would be used by a lot of other sitcoms over the years, but when Cummings did it it was still relatively novel. Cummings plays Bob Collins, a womanizing photographer in Hollywood. His assistant, Schultzie, played by a pre-Brady Bunch Ann B. Davis, was in love with Bob and tried to foil his various romantic entanglements. Bob lived with his widowed sister and her teenage son. The son, played by Dwayne Hickman, became a bit of a teen star at the time and left the series before it ended in 1959 to star in his own series, The Many Loves of Dobie Gillis.
Hickman was SUCH a hot commodity that the show's creator, Paul Henning, decided that THEY should get the benefit of Hickman's rise to fame, so in February 1957, they did an episode called "Chuck At College," where Chuck and his best friend, Jimmy Lloyd (Jeremy Silver), start college, while Chuck's steady girlfriend, Carol Henning (Olive Sturgess) attends a nearby women's college. Hilarity ensued.
DID THE PILOT GO TO SERIES? No. Despite heavily shopping the show to multiple networks, it didn't get picked up, so Hickman remained on the series until he got the Dobie Gillis gig.
SHOULD IT HAVE? The Many Loves of Dobie Gillis was a hit, and Hickman was great, so yes, it should have. However, it is worth noting that Chuck's friend, Jimmy, would have had to have been recast (or replaced with a new character), as Silver enlisted in the military a month before this episode aired.
Okay, that's it for this installment of Back Door Blues! Thanks to my pal Jesse F. for asking the question of the first backdoor pilot. I KNOW the rest of you have suggestions for other interesting backdoor pilots, so drop me a line at brian@popculturereferences.com (don't suggest in the comments, as this way, it'll be a surprise!). Also, if you have questions about TV firsts, same deal, e-mail me!