When Did Fonzie First Control the Arnold's Jukebox By Hitting It?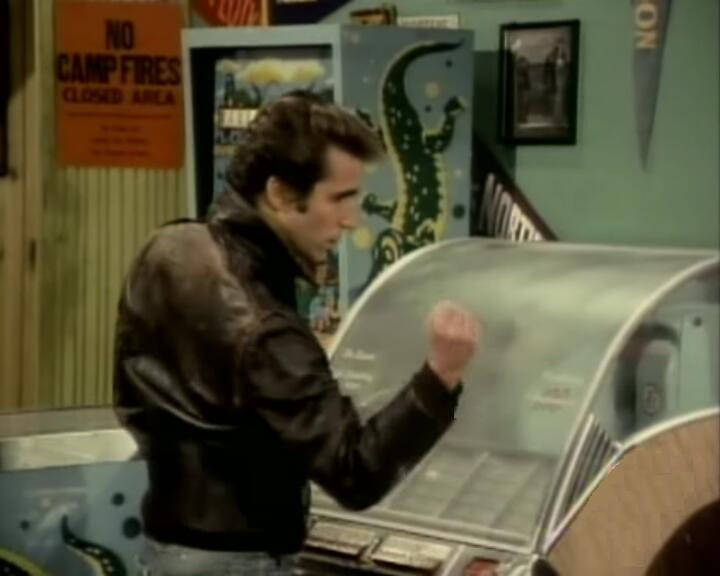 Today, we look at the first time that Fonzie controlled Arnold's jukebox by hitting it.
In "When We First Met", we spotlight the various characters, phrases, objects or events that eventually became notable parts of pop culture lore, like the first time that JJ said "Dy-no-MITE" or the first time that Fonzie made the jukebox at Arnold's turn on and off by hitting it.
I just figured I might as well wrap up both examples that I use in the description of the feature!
As you likely know, the breakout character of the long-running hit TV sitcom, Happy Days, was Henry Winkler's Arthur Fonzarelli, better known as Fonzie or The Fonz.
Fonzie was a street tough who served as a sort of big brother to Ron Howard's Richie Cunningham and Richie's friends, a guy who could give them advice about girls and life. Of course, it was all colored through Fonzie's life experiences, so the advice was not always necessarily GOOD advice, but Fonzie was so cool that they always wanted to hear it. Over time, Fonzie grew close to them and was softened as a character and he was basically just one of the gang (while still remaining cool, of course).
Fonzie was so popular that he was the de facto star of the series by mid-Season 2, but Ron Howard maintained his top billing until Howard left the series.
In any event, one of the examples of how cool Fonzie was was his ability to control the jukebox at the local teen hangout, Arnold's, by hitting it with his fist. Over time, that ability took on absurd degrees (like he could hit a file cabinet and force it to open, stuff like that).
The first time occurred in the Season 2 episode, "Fonzie's Getting Married" (interestingly enough, also the first episode taped live in front of a studio audience), where he wanted to announce the news, so he hit the jukebox to turn it off so that everyone could hear his big news about him getting married…
He then hit it again to turn it back on (his marriage plans fail when he discovers that his "innocent" fiancee is actually a stripper. To his credit, he still seems like he wants to marry her, but it turns out that she was not just lying to Fonzie, she was lying to herself. She didn't WANT to settle down. She LIKED being a stripper and didn't want to get married).
An interesting aspect of the episode is that Fonzie had not yet moved into the Cunningham apartment over their garage, but he still brought his fiancee over to their home for dinner because he was already feeling like the Cunninghams were a second family to him after they had let him spend Christmas with them two episodes earlier.
Okay, now both examples are finished!
If anyone else has a suggestion for a future When We First Met, drop me a line at brian@popculturereferences.com.