How Did Three's Company Send The Ropers Off to Their Own Show?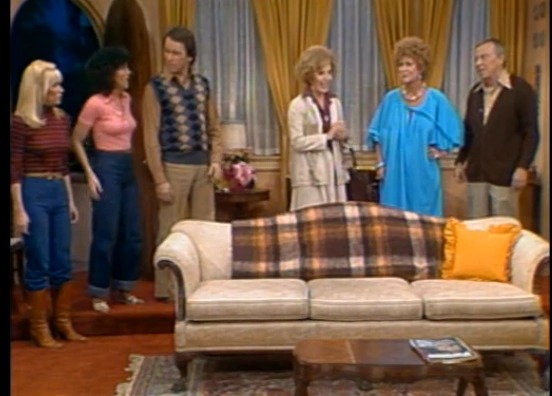 Today, we look at how Three's Company sent the Ropers off to their own TV series.
This is Back Door Blues, a feature about "backdoor pilots." Backdoor pilots are episodes of regular TV series that are intended to also work as pilots for a new series. Sometimes these pilots get picked up, but a lot of times they did not get picked up. I'll spotlight examples of both successful and failed backdoor pilots.
CONCEPT: The Ropers – The Ropers move into a luxury townhouse
SERIES IT AIRED ON Three's Company
In the third season of Three's Company, the TV series about a man living with two female roommates (back when something like that would have been seen as quite…if not scandalous, then certainly not normal), the producers decided that they wanted to spin off the bickering couple who owned the building that the three friends lived in, Stanley and Helen Roper.
Stanley only allowed the man, Jack Tripper (John Ritter), to live with the two girls because they all convinced him that Jack was gay. Helen was in on the gag, though, and kept it from her husband. So everyone trying to hide Jack's sexuality from Mr. Roper was a big plot point, as well as Mr. Roper getting mad at the gang for various other reasons. In any event, they were popular enough that the network wanted them to star in their own spinoff. As I noted in an old bit, Norman Fell (Stanley Roper) didn't want to ruin a good thing, and thus didn't want the spinoff, but his TV wife, Audra Lindley, wanted the spinoff. Fell was promised that they would bring him back if the show didn't get a full second season. It did, but they canceled it right after that and he wasn't allowed back.
In any event, the 20th episode of Season 3, "An Anniversary Surprise," has Stanley acting really suspicious and everyone assuming that he is having an affair with the attractive middle-aged woman that he kept secretly spending time with. Things get crazier when he tells the gang that "someone is moving out," and they all thought that that meant that he was leaving his wife and moving out (as I wrote here, everyone always thought the worst of everyone else on the show).
After a big confrontation, it turned out that the other woman was a real estate agent, and Stanley had just sold the building and he and Helen were retiring to live in a fancy town house! It was an anniversary surprise for his wife!
The first episode of The Ropers, showing them moving into their new home, aired right after this episode.
DID THE PILOT GO TO SERIES? This was one of those times that the spinoff was already picked up for a series before it aired as a backdoor pilot.
SHOULD IT HAVE? The Ropers wasn't really all that bad of a show, and the replacement for the Ropers, Ralph Furley (Don Knotts), was a success, so I guess it should have happened. I dunno, though, I liked the Ropers better, so I think it was ultimately a bad call. Also a bad call? Moving the Ropers to a different night in Season 2.
Okay, that's it for this installment of Back Door Blues! I KNOW the rest of you have suggestions for other interesting backdoor pilots, so drop me a line at brian@popculturereferences.com (don't suggest in the comments, as this way, it'll be a surprise!).