How Did Bob Dylan Show Up on Dharma & Greg?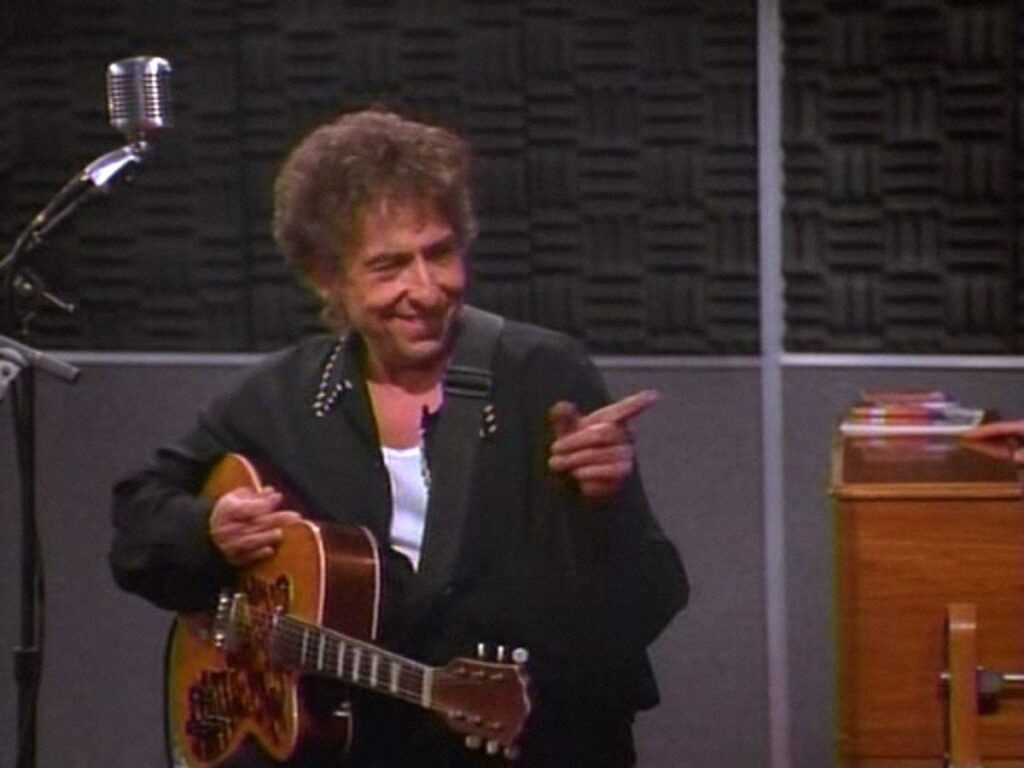 Today, we look at Bob Dylan's bizarre (but charming) cameo appearance on Dharma & Greg.
This is "Took Me By Surprise," about surprising cameos in TV shows, movies and songs and we try to figure out why the famous people made the cameos in question. So not stuff like appearing on The Simpsons or on Sesame Street, where celebrities regularly make appearances, but cameos that are, well, surprising.
Dharma & Greg was a Chuck Lorre sitcom (created by Lorre and Dottie Dartland) starring Jenna Elfman and Thomas Gibson as the title characters, a free spirit and a conservative lawyer who meet, fall in love and impetuously get married.
In Season 3 of the series, there is an episode called "Play Lady Play," where Dharma decides to become a drummer in a garage band, but they're teenagers, so it is really weird (the main kid's parents are played by Jane Lynch and the late, great J.D. Walsh). The episode was written by Eddie Gorodetsky & Fred Greenlee.
Elfman had recently been taking drum lessons, so she asked the show's producers if they could write a bit into an episode where Dharma might play the drums and instead, they wrote a whole episode and, to boot, at the end of the episode, after Dharma decides she needs to leave the band, she gets offered a try out for ANOTHER band and that band, of course, was Bob Dylan's!
The whole thing is improvised and Elfman and Dylan are charming as heck in the scene (T. Bone Burnett is there, as well. He put together the band for the scene)…
Gorodetsky, who co-created Mom with Lorre, was a longtime writer for Lorre and was also a friend of Dylan's (Gorodetsky produced and was responsible for a good deal of the brilliant Dylan radio show, Theme Time Radio Hour), so he set the whole thing up.
Here's Elfman discussing the experience on Harry Connick's short-lived talk show…
Also, thanks to Ray Padgett's awesome series where he looks at Dylan live shows, here is part of an account of the performance by John Fields, the organist in the scene:
T-Bone [finally] said, "Oh, the gig is over at the Fox Lot. It's with Bob Dylan. I put together a little group to jam. It's this show 'Dharma & Greg.' We don't know what it's really going to be, but just show up at five o'clock." I was thinking it was something a lot smaller time, let alone a televised gig with no rehearsal. I'd never even been on a national TV show before.

It's not that I have a history with Bob; it's just that everyone does if you're from Minneapolis. I'm a Jewish kid, and my mother was from St. Paul. She went to camp with Bob at Herzl. His mother and my grandmother were best friends in the '80s at this assisted living apartment complex in St. Paul. I'm sure I had met his mom back then. It was just a little bit of extra electricity when I met him. The last thing I'm going to say is, "Do you remember my mom from camp?"

When we got there, there was a bunch of gear set up. It was Tony Gilkyson from X, Joe Henry played acoustic, I played organ, T-Bone played bass, Bob played guitar. I think it was T-Bone's guitar that he was playing. And then Jenna Elfman, who wasn't really a drummer. She'd been taking drum lessons for the last several months. She had one beat she knew; you can hear her playing it on every song. She wasn't versatile, but she had this one beat, so we worked with that.

I didn't know what we were going to play. There was no vocal mic, so it wasn't like he was going to sing. We just jammed. He'd say something like, "Let's play a Memphis blues." You would just watch his hands. Luckily, I also play guitar and could decode what he's playing. I'm a huge Al Kooper fan and there's this interview with him where he talked about the "Like a Rolling Stone" organ session and how he didn't know the song. Al would let the chord hit first so that he wouldn't make a mistake and then follow in on bar two. Now I'm playing organ in the same situation. It was really cool.
Go to Ray's site for the full account!
Okay, folks, if you're curious about or have a suggestion for a good surprise cameo in a TV show, film or song, drop me a line at brian@popculturereferences.com and we'll see if we can get to the bottom of it!