Classic 1950s TV Christmas #11 – Wanted: Dead or Alive "Eight Cent Reward"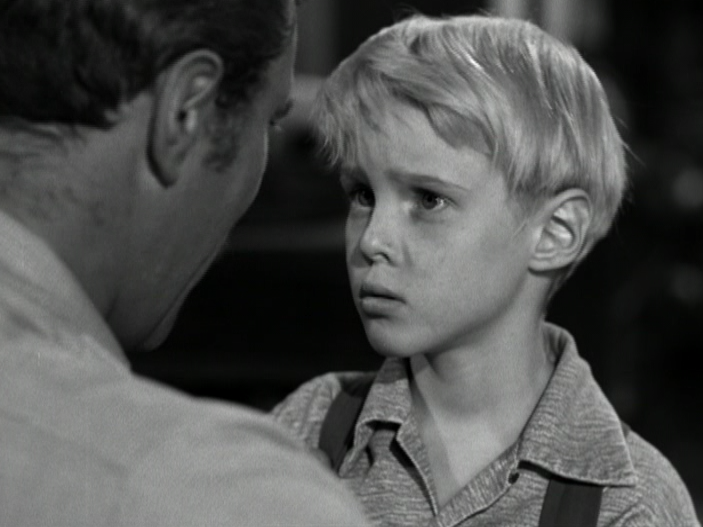 We continue our countdown of my favorite 1950s Christmas TV episodes with 1958's "Eight Cent Reward" from Wanted: Dead or Alive.
In case you're unfamiliar with the series, Wanted: Dead or Alive was a Western drama that launched Steve McQueen into stardom as a bounty hunter named Josh Randall.
In this episode, Jay North, making his TV debut (right before being cast as Dennis the Menace) plays a little boy who has saved up eight cents to hire Randall to find Santa Claus. Some drunk jerks tell the kid that of COURSE Randall can find Santa for him.
Randall feels terrible and visits the boy's family, who own a sheep ranch that has been devastated by wolf attacks in the last two years. The kid's parents think Josh was a jerk, too, but he insists that it wasn't his intention. He comes up wit ha plan where he will hire a wino to pretend to be Santa Claus and the kid can tell "Santa" what he wants to badly and Randall will help him get it, as he feels obligated.
However, the Wino plan shockingly fails. A snowstorm was coming, though, and the family allows a traveler to stay in their home during the storm. Randall feels awful, but when he wakes up on Christmas, he hears a rifle. The boy believes Santa Claus finally did come as the boy had wanted Santa to bring his father a rifle to fight off the wolves!
Clever stuff. But, of course, who left the rifle?
DOES IT DO ONE OF THOSE "MAYBE SANTA CLAUS IS REAL?" BITS THAT YOU HATE?
Yes, the traveler is missing and the only way out of the house (that was snowed in over night) was either the front door or the chimney. When they look to the chimney, it has a bell in the soot. A JINGLE BELL?!?! Ooph. Let's just say that the traveler left the rifle as a thank you, okay?