Classic 1960s Christmas #16 – Hazel "Hazel's Christmas Shopping"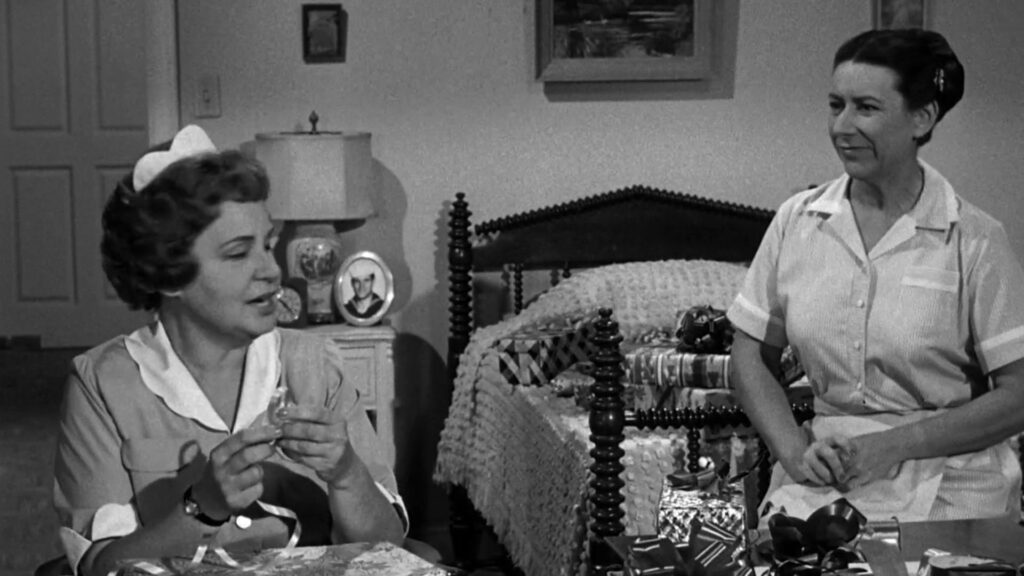 We continue our countdown of Brian's favorite 1960s Christmas TV episodes with 1961's "Hazel's Christmas Shopping" from Hazel.
Hazel is one of the weirdest TV sitcoms that I can think of, mostly because the general concept of the series is so…ordinary. Shirley Booth plays Hazel, the live-in maid for the Baxter family, consisting of father George ((Don DeFore), wife Dorothy (the great Whitney Blake) and son Harold (Bobby Buntrock), or as Hazel refers to them, Mr. B, Missy and Sport.
Okay, so that's really it – it's just the story of a hard-nosed, but loving maid (who had worked for Dorothy's family when Dorothy was growing up, so their bond is the strongest) and the various misadventures of any given week. The series was based on Ted Key's one-panel comic in the Saturday Evening Post.
So, again, very basic concept…and yet….it is just so darn well-written! And Booth is EXCELLENT in the role (she won two Emmys for Best Actress in a Comedy Series). It's almost a cliché of a role, but in part because Booth is so good that she basically CREATED the cliché that other actors then followed in other series (sort of like how Milburn Stone's cantankerous Doc Adams on Gunsmoke was so iconic that multiple other doctor characters were all basically based on Doc Adams).
Don't get me wrong, I often bristle at people who think that 1960s sitcoms created cliches, because they very rarely did so, as most sitcom cliches had been around since the days of radio (and some TV maid cliches are leftovers from movie maids), and so Booth's Hazel didn't truly CREATE the TV maid cliché, but she came pretty darn close to doing so! And she WAS a pretty iconic ideal of the TV maid.
In any event, Season 1's "Hazel's Christmas Shopping" had such a simple set-up, but the writers of the episode, William Cowley & Peggy Chantler Dick, pretty much put on a master class of sitcom writing in this episode. Nothing extraneous was used, everything served the plot, and it was filled with bits that so effortlessly introduced that you wouldn't think that they WERE going to tie into later plots, but they ALL do. It's just masterful writing.
The concept is that Hazel wants to buy a special present for Dorothy, while Dorothy wants to buy a special present for Hazel. George, meanwhile, has had his mind blown upon learning that he gets purses as presents for all of the women in his life, including one for Dorothy's previous Christmas gift AND her birthday this year, and so he has bought another purse for her, but strives to replace it with something new.
Through some shenanigans, Hazel ends up getting a part-time job at the department store to get the money for Dorothy's present, and she inadvertently is a terrible store employee, but her earnest (yet terrible) behavior ends up catching a thief who has been getting more and more brazen as the episode continued (dude walked out with an entire television set!).
The really cool bit is that we never see anyone actually exchange presents in the episode, and yet the writers have everything so well set up that we know how it'll go, and who'll get what. The economy of storytelling is excellent. Just excellent television.