Classic 1960s Christmas #17 – The Patty Duke Show "The Christmas Present"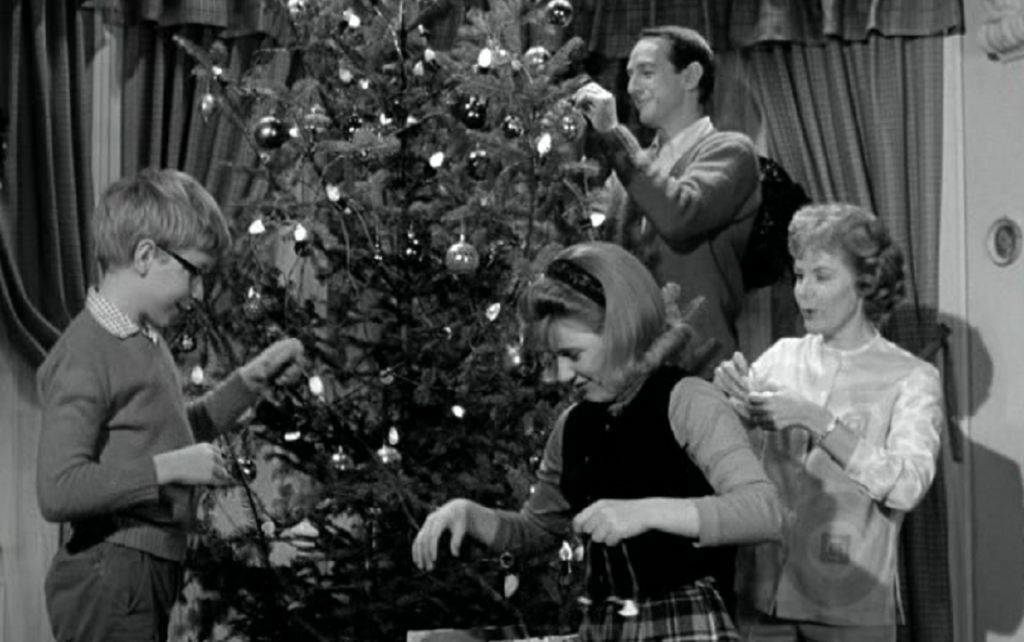 We continue our countdown of Brian's favorite 1960s Christmas TV episodes with 1963's "The Christmas Present" from The Patty Duke Show.
If you're familiar with The Patty Duke Show at all, you'll know that it was a star vehicle for the talented young actor, Patty Duke, who played identical cousins Patty and Cathy Lane. Patty Lane was a typical teen girl from Brooklyn Heights, while her cousin Patty, was a word traveler who had a generic "European" accent. Cathy's father was an intrepid international reporter, and since he was on assignments all of the time, it was determined that Cathy would attend high school in Brooklyn with her father's twin brother's family (the fact that the brothers were identical twins, both played by William Schallert, was used to explain why Cathy and Patty were identical cousins).
In Season 1's "The Christmas Present," Cathy's father, Kenneth, is arrested while covering a revolution in a European country. Despite his various adventures, Kenneth had never missed a Christmas with Cathy, even if it was only to spend a few minutes with her while he was on the run from bad guys or whatever. However, since he was in prison in Europe, Martin (who was his brother's editor at the newspaper) fretted over the fact that Kathy was finally going to be disappointed by her father not being there.
However, since, as noted, Kenneth would sometimes only get to spend a few minutes with Cathy, Martin, Patty and Martin's wife decided that Martin should impersonate his brother for a few minutes to give Cathy a Merry Christmas. He leaves to go change into his disguise.
"Kenneth" then shows up and explains some bizarre story of how a general helped him escape and sent him on a jet so that he could there in time. Cathy is over the moon. But then "Kenneth" shows up, and we learn that the absurd story WAS true! The first "Kenneth" actually was the REAL Kenneth! Cathy was right, her father would always find a way to be there for her!
It's a fun episode, and Duke was such a good actor that she really sold the pathos of Cathy slowly getting more and more worried about her father missing Christmas (while trying to keep up a stoic "I'm sure he'll be here" approach in front of everyone else). It's pretty funny, watching the show, how rarely they had Patty and Cathy interact. I know it's hard to arrange the trick photography, but, I mean, come on, people!