Five Good Songs That Were Surprisingly Left Off of Albums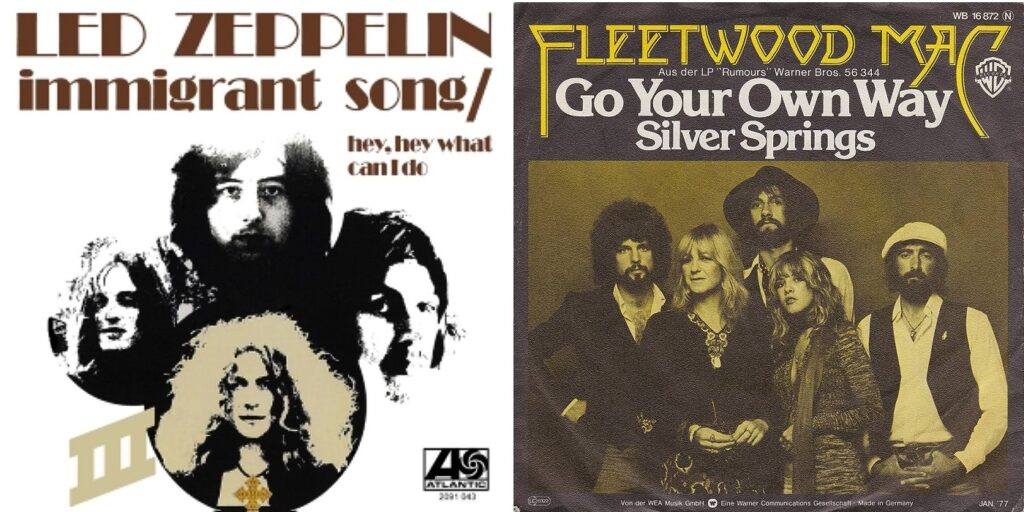 Today, we look at five good songs that were surprisingly left off of albums.
In Drawing Crazy Patterns, I spotlight at least five things from pop culture that fit under a specific theme (basically, stuff that happens frequently enough to be worth pointing it out). Note that these lists are inherently not exhaustive. They are a list of five examples (occasionally I'll be nice and toss in a sixth). So no instance is "missing" if it is not listed. It's just not one of the five examples that I chose. You can always feel free to suggest ANOTHER example that fits the theme, if you'd like, but nothing is "missing" from this list.
September is a month of Drawing Crazy Patterns!
Often, when musicians are putting together the songs for their albums, they have to make some difficult choices about what songs to use. Sometimes, they make choices that surprise us. You know, "Wait, why would you leave THAT song off of the album?" Here, then, are five good songs that were left off of albums.
NOTE 1: I'll probably do a whole other Drawing Crazy Patterns for just Bob Dylan and Bruce Springsteen, so no Dylan or Springsteen on this one.
NOTE 2: This is important. For years, albums were treated very differently than they are now, where music was often singles-centric, so there were a number of artists who released songs as singles rather than having them on an album. There are some VERY famous songs that were only released as singles. I am not going to count any of them for this, as obviously, if you choose to release a song as a single, that means you very much DO "believe" in the song. So leaving it off an album is meaningless. However, if you put it as a B-SIDE of a single and also leave it off of an album, obviously you DON'T think as highly about that song, so that song will count (and most of these songs are precisely that, B-sides of singles).
"HEY, HEY WHAT CAN I DO"
Zed Zeppelin's classic tune, "Immigrant Song," was released as a single supporting Zeppelin's hit album, Led Zeppelin III. The B-side on the album single was another classic song, "Hey, Hey What Can I Do"…
And yet, "Hey, Hey What Can I Do" was not included on III. I don't know why, as it is a great song. Zeppelin at least allowed their record label to included "Hey, Hey What Can I Do" on an Atlantic Records compilation in 1972.
"SILVER SPRINGS"
As you likely know by now if you know anything about pop music (although, amusingly, I talked to my father about Fleetwood Mac recently, and he had never heard of any of this, but, well, you know, he doesn't know anything about pop music), the blockbuster Fleetwood Mac album, Rumours, was written and produced while the various members of the group were going through breakups, so some of the subject material was kind of sensitive. Stevie Nicks wrote the song, "Silver Springs" about her breakup with Lindsey Buckingham…
It's an amazing song, but I'll admit, she goes after Buckingham pretty hard on the tune, so it was likely awkward for him to perform on it, but, well, come on, dude, it's a great song. Buckingham, though, successfully argued for the song to be kept off of the album (arguing it was too long and its tempo didn't match the rest of the album – total cop out, right?), but it WAS included as the B-side of the hit single, "Go Your Own Way" from the album. "Go Your Own Way," of course, was BUCKINGHAM'S version of his breakup with Nicks. Huh, funny that.
Years later, when Fleetwood Mac reunited for a hugely successful tour, they released a live album, The Dance, and "Silver Springs" was done on the tour and released as a single, finally getting its due more than twenty years later.
"YELLOW LEDBETTER"
"Yellow Ledbetter" was one of the first songs that Pearl Jam ever wrote as a band, but for whatever reason, it didn't make their first album, Ten. The band's lead guitarist, Mike McCready, later recalled, "That was written around the time of the first record. I think that was the second thing Ed and I wrote together. It came out of a jam in the studio and Ed didn't really have any lyrics. He came up with some ideas right there on the spot, and that's what we recorded. For some reason, it didn't make it on Ten. I was kind of bummed at the time. I really wanted it to be on our first record. But at the time, I was really young and just happy to be around this situation, so I did whatever."
"Yellow Ledbetter" was then released as the B-Side to the lead single on Ten, "Jeremy." Amusingly, it was so well received that it became a moderate hit on its own, hitting the Top 25 of modern rock airplay.
"AUGUST AND EVERYTHING AFTER"
I'll admit, I'm not some huge fan of the Counting Crows' song, "August and Everything After."
I think it's a fine song, but it isn't a favorite song of mine or anything like that. So why include it as one of the five songs? It just amuses me so much that Counting Crows had a song called "August and Everything After," and then decided to not include it on their debut album, which was titled…August and Everything After. That's simply hilarious.
"THE HARROWED AND THE HAUNTED"
My wife is a big Decemberists fan, and Colin Meloy of The Decemberists often writes a lot more songs than are released on the band's albums. So the band will often release EPs with songs that didn't make their official albums, so I thought it would be nice to let her pick her favorite of those songs. She chose "The Harrowed and the Haunted," a song that didn't make What a Terrible World, What a Beautiful World, and ended up on the EP Florasongs, instead…
Here is why she likes it, "To me, it feels like one of Colin Meloy's more pop-y song, with a simple chord structure, but it also is a very dark heaviness to it, as well, so it has this interesting dichotomy to it."
Okay, folks, if you have suggestions for a future Drawing Crazy Patterns, drop me a line at brian@poprefs.com! I don't have 30 topics just yet, so I could use the suggestions!