Five Great Gloria Foster Guest Appearances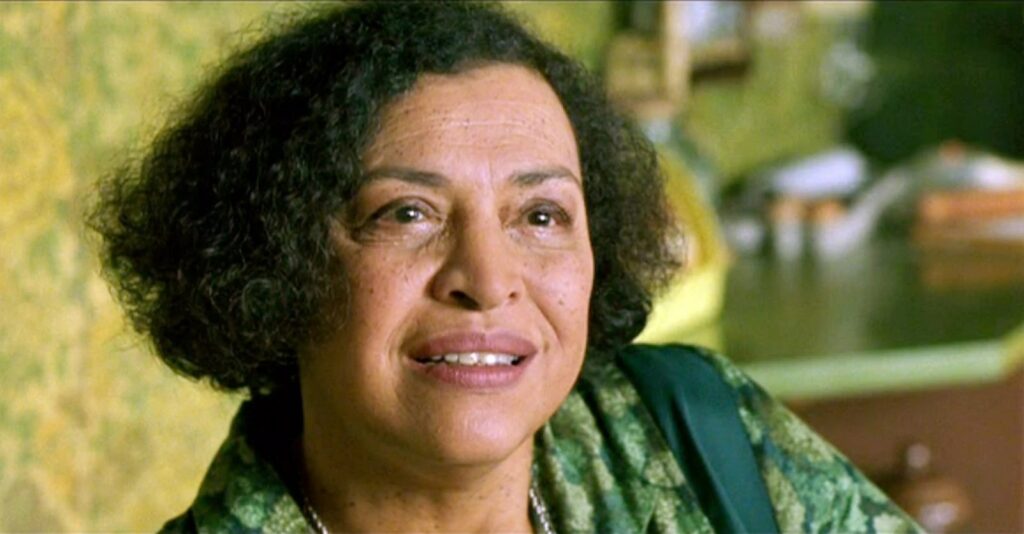 Today, we look at five great guest appearances by Gloria Foster.
This is "Following a Star," a new feature where I spotlight five great guest spots by an actor who frequently did/does guest spots on TV series in their careers. It doesn't mean that they've NEVER been regulars on shows, but obviously I'm not looking to spotlight people who are best known for their regular TV roles (like no Jason Alexander or Florence Henderson, for instance).
Since this is Black History Month, I'll specifically spotlight Black character actors this month.
The more I do of these, the more it really becomes instead of great TV character actors, it's really "amazing stage actors that the general public barely knows because the general public barely recognizes achievements on the stage." Gloria Foster is definitely an example of this. She was such a revered stage actor, and yet because she rarely did film or television, she is really mostly known today for her final role, as the Oracle in The Matrix, with Foster passing away before she could reprise the role in the sequels. She's excellent in that role, so it's not a big deal ("Boo hoo, people only know this actor from a great performance in a beloved blockbuster film"), but it's still a bit of a shame. In any event, due to her unusual career path, when she DID do TV roles, they were mostly spotlight roles, because she typically didn't bother otherwise. So her guest spots are particularly notable.
I Spy (Shana)
In I Spy Season 3's "Shana," Foster gets a spotlight role as a beautiful woman working with the bad guys to help her brother, a US agent, be released from behind the Iron Curtain. She's willing to work with the bad guys to do so. There's an excellent sequence where a different group of bad guys decide to torture her for the location of the experimental rocket fuel she was planning to trade, and Scotty and Kelly (Bill Cosby and Robert Culp) have been monitoring the bad guys, so when she eventually breaks and they radio their contact, Scotty and Kelly will be able to scoop the fuel up. They know that that is the smart play. Let her be tortured, get the information, go home, but obviously, Scotty and Kelly just can't live with the "smart play," and so they rescue Shana. She's arrested in the end, of course, but at least she's not dead. She gives Scotty a kiss before being taken into custody, asking him if he's ever been kissed by a traitor before. Good stuff.
The Mod Squad (Janny Wells)
In The Mod Squad Season 1's "Hint of Darkness, Hint of Light," Foster co-starred with her husband at the time, Mod Squad star Clarence Williams III (Linc Hayes), who she had previously starred with in her first major film role, 1963's The Cool World (an acclaimed look at Black gangs). In this episode, she is a blind woman who the bad guys THINK can identify them (because they don't know she's blind), so they plan to kill her and Linc must protect her. It's some intense stuff. She later returned for a sequel episode in Season 3.
The Bill Cosby Show (Dolores Winters)
In The Bill Cosby Show Season 2's two-part "The Deluge," Cosby's Chet Kincaid has to help a pregnant neighbor deliver her baby in her home because of a storm making it impossible to make it to the hospital. Since there were so few characters in the episodes, Foster was given a lot of room to just vamp, and she was excellent (she has this great monologue early on where she is walking around, claiming that it is good to keep active in the early stages of labor. She has such great presence).
The Cosby Show (Dr. Barbara Bracy)
In The Cosby Show Season 3's "Hillman," after Foster only did some TV movies and miniseries in the 1980s and no guest spots, she reteamed with Cosby to play the new President of Hillman College in the Season 3 finale of The Cosby Show. She literally just goes up and gives a speech as a fictional character. It's pretty badass.
Law and Order (Satima Tate)
In Law and Order Season 3's "Conspiracy," she played basically Betty Shabazz in a fictionalized version of the assassination of Malcolm X. She later returned for a sequel to the episode, but she didn't do much in the sequel. In the original 1992 episode, she got some good monologues, especially when it turns out that it is possible that her husband was killed by his own associates, and she notes that the cause is more important than her husband, so she wasn't going to help the cops turn the organization apart trying to prove a conspiracy.
If you folks have any other actors you'd like to suggest for this feature, drop me a line at brian@poprefs.com! I have my 28 for this month, but A. feel free to suggest people for the future and B. maybe you'll suggest someone for this month that I like better than the 12 remaining actors I've already chosen.