Five Times Roseanne Poked Fun at Their Two Beckys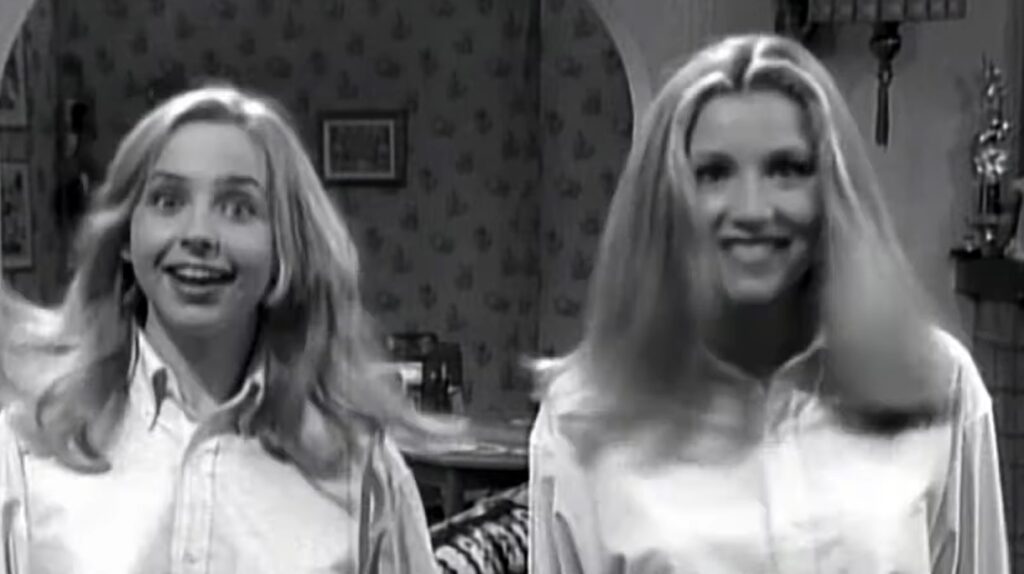 Today, we look at five instances of Roseanne poking fun at the fact that there were two Beckys on the show.
In Drawing Crazy Patterns, I spotlight at least five things from pop culture that fit under a specific theme (basically, stuff that happens frequently enough to be worth pointing it out). Note that these lists are inherently not exhaustive. They are a list of five examples (occasionally I'll be nice and toss in a sixth). So no instance is "missing" if it is not listed. It's just not one of the five examples that I chose. You can always feel free to suggest ANOTHER example that fits the theme, if you'd like, but nothing is "missing" from this list.
This is a special Meta-Message edition of Drawing Crazy Patterns! In Meta-Messages, I explore the context behind (using reader danjack's term) "meta-messages." A meta-message is where a creator comments on/references the work of another creator (or sometimes even themselves) in their work. Each time around, I'll give you the context behind one such "meta-message."
Occasionally this month, I'll do some Drawing Crazy Patterns that will consist of a few Meta-Messages. This first time, we look at how Roseanne handled the transition from Lecy Goranson playing eldest daughter, Becky Conner, on the series, to Sarah Chalke taking over the role (and then Goranson returning for extra hilarity).
What happened was Goranson wanted to attend college. So during the fifth season, Becky elopes with her boyfriend, Mark, and they're effectively written off of the series. However, the writers wanted to use the characters again, so Sarah Chalke was recast in the role, which leads to our first moment…
SARAH CHALKE'S DEBUT BECOMES A BEWITCHED JOKE
Famously, the TV series, Bewitched, about a witch (Elizabeth Montgomery as Samantha) and her mortal husband, Darrin, saw the original Darrin, Dick York, replaced by Dick Sargent after five seasons. It's quite possibly the most famous recasting in TV history, and so sure enough, in Sarah Chalke's first episode as Becky, Roseanne jokes about how she hated how they recast Darrin, while Chalke-as-Becky says she liked the second Darrin better…
Chalke then played Becky for almost all of Season 6 and then all of Season 7. Goranson, though, believed that her college schedule would allow her to return to the role for Season 8.
EVERYONE WANTS TO KNOW WHERE BECKY HAS BEEN
In Season 8's premiere, "Shower the People You Love with Stuff," characters keep asking Goranson-as-Becky, "Where the hell have you been?"
The problem was that Goranson overestimated her ability to return to the show, so Becky was temporarily written out again, and the show turned to Chalke to fill in for Goranson in some episodes where Becky was needed.
SARAH SHOWED UP AT THE RIGHT TIME
One of the episodes Chalke filled in for Goranson as Becky was an episode where the Conners go to Disney World, so after first doing a joke based on the way that soap operas (which had CONSTANT recasting) used to announce cast changes with a brief note from an announcer "The role of ___ will be played by ___," Roseanne jokes that Chalke is lucky that she was here this week.
THE TWO BECKYS CAUSE PROBLEMS FOR DJ
One episode showed DJ in the future (played by John Goodman) dealing with a mental health crisis by virtue of his sister being two different people…
THE TWO BECKYS FINALLY OFFICIALLY MEET
There was a cute parody of The Patty Duke Show in an episode tag, but that was out of continuity so it doesn't count, but the two Beckys didn't officially meet until Roseanne was revived for a tenth season over a decade after the show originally went off the air. Now, Chalke played a woman who was paying Goranson's Becky to be her surrogate. They got to do a good bit about how much they looked alike…
There were some other jokes here and there, but that's the five I'm spotlighting here today!
Thanks to COZI TV for the useful video.
Okay, folks, if you have suggestions for a future Drawing Crazy Patterns, drop me a line at brian@popculturereferences.com!