Groucho Marx Builds a Scene Around a Pulitzer Prize-Winning Play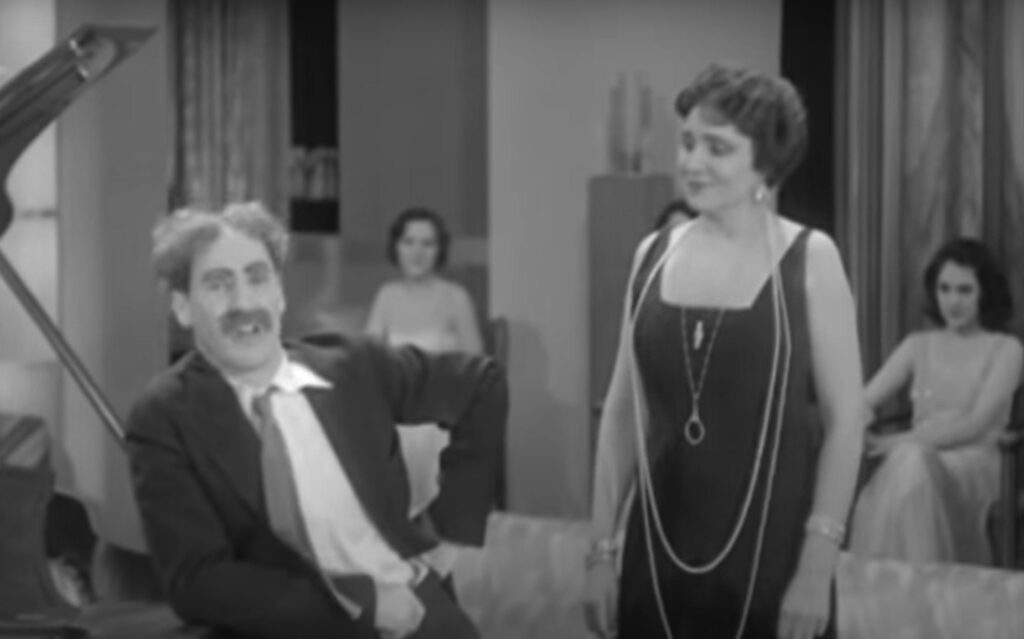 Today, we look at a fascinating scene in the Marx Brothers classic film, Animal Crackers.
This is Foggy Ruins of Time, a feature where I give you the cultural context behind once-topical references that have faded into the "foggy ruins of time." To wit, twenty years from now, a college senior watching episodes of Seinfeld will likely miss a lot of the then-topical pop culture humor (like the very specific references in "The Understudy" to the Nancy Kerrigan/Tonya Harding scandal).
There's a fascinating sequence in 1930's Marx Brothers film, Animal Crackers, when Groucho Marx's character, Captain Spaulding, says the following:
Capt. Spaulding : If I were Eugene O'Neill, I could tell you what I really think of you two. You know, you're very fortunate the Theatre Guild isn't putting this on. And so is the Guild! Pardon me while I have a "Strange Interlude".
[Walks forward, speaks directly to the camera]
Capt. Spaulding : Why you, couple of baboons. What make you think I'd marry either one of you. Strange how the wind blows tonight.
This is a reference to a then-new Eugene O'Neil play, Strange Interlude, which won the Pulitzer Prize for Drama but was never a particularly popular play (it was only revived twice on Broadway, for brief runs in 1963 and 1985) due to its unique, experimental style, including a heavy emphasis on soliloquies where characters express their inner thoughts, like Spaulding's scene in the film (here is an example of one of the soliloquies from the play, where a character is explaining how much he is pining for another character in the play:
"but there is a public to cherish them, evidently … and I can write! … more than one can say of these modern sex-yahoos! … I must start work tomorrow … I'd like to use the Professor in a novel sometime … and his wife … seems impossible she's been dead six years … so aggressively his wife! … poor Professor! now it's Nina who bosses him … but that's different … she has bossed me, too, ever since she was a baby … she's a woman now … known love and death … Gordon brought down in flames … two days before the armistice … what fiendish irony! … his wonderful athlete's body … her lover … charred bones in a cage of twisted steel … no wonder she broke down … Mother said she's become quite queer lately … Mother seemed jealous of my concern … why have I never fallen in love with Nina? … could I? … that way … used to dance her on my knee … sit her on my lap … even now she'd never think anything about it … but sometimes the scent of her hair and skin … like a dreamy drug … dreamy! … there's the rub! … all dreams with me! … my sex life among the phantoms!")
It's a super clever then-topical reference to a play that likely few people remembered a DECADE after Animal Crackers was released, let alone 91 years after the film came out!
Okay, folks, if you have suggestions for a future Foggy Ruins of Time, feel free to drop me a line at brian@popculturereferences.com!