A Spotlight on Jason Robert Brown's Five 'Love Duets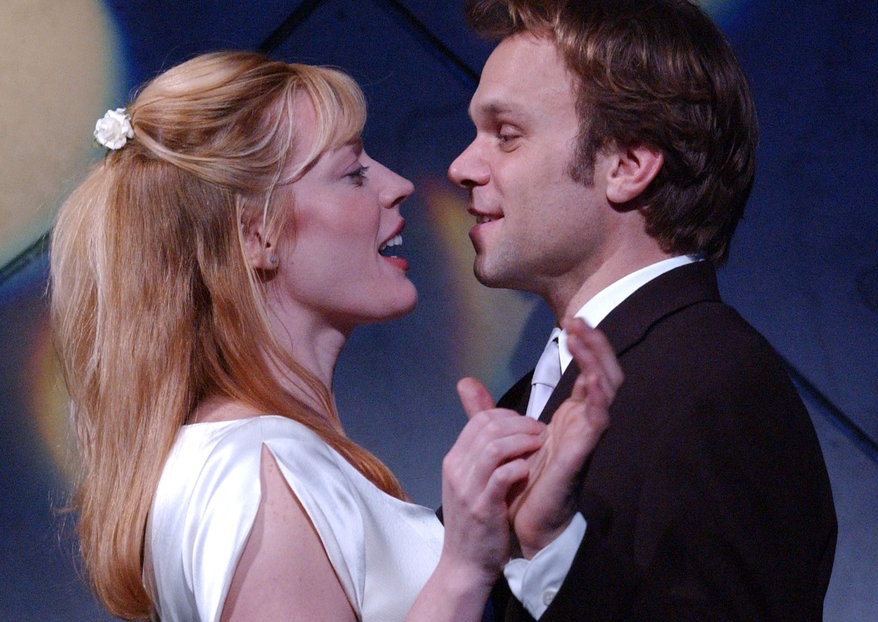 The two-time Tony Award winning composer, Jason Robert Brown, is one of the great modern Broadway songwriters (he won Best Score in 1999 for Parade and then again in 2014 for The Bridges of Madison County), and one of the fascinating things about his oeuvre is that there are five so-called "love duets" that stand out among his work as being very evocative of each other, despite the very different musicals that they each belong in. So let's take a look at the five of them.
In Drawing Crazy Patterns, I spotlight at least five things from pop culture that fit under a specific theme (basically, stuff that happens frequently enough to be worth pointing it out).
This is an interesting use of the Drawing Crazy Patterns approach, as it's all just one artist, but I think it fits, as these are five examples by Brown that fit a certain theme, the aforementioned "love duet."
"I'D GIVE IT ALL FOR YOU"
Brown's first major work, 1997's Songs for a New World, was an Off-Broadway musical that basically put together various songs that Brown had written for different shows or projects that had all been unrealized. So rather than connecting in a narrative sense, each of the songs connected in that it was set during a moment where a character made a major decision.
That's the case for the song, "I'd Give It All for You", sung by Brooks Ashmanskas and Andrea Burns (as Man 2 and Woman 1), which, while not LITERALLY following a narrative path, still FIGURATIVELY follows one, as Burns' Woman 1 has a song earlier, "The World Was Dancing," about being spurned in a relationship and now this song is about a couple getting back together…
Brooks Ashmanskas was also the other singer in that earlier song, so it really works as a thematic journey. The song is basically about how much difficult relationships are but that, in the end, they're worth it.
"ALL THE WASTED TIME"
Brown won his first Tony for Best Original Score for 1998's Broadway musical, Parade, about how Leo Frank was railroaded in a murder trial in Georgia in 1913 and then, after having his death sentence commuted to life in prison by the governor of Georgia (since Frank was so obviously innocent despite being convicted of the murder of a young worker at the plant the Jewish Frank worked as a foreman), a lynch mob broke Frank out of prison and hung him.
"All the Wasted Time" is about Brett Carver's Leo Frank and Carolee Carmello's Lucille Frank (both actors were nominated for Tony's) and how Leo realizes just how much he loves his wife as she rededicates her devotion to her husband, despite his apparent fate to spend life in prison (tragically, we know that soon after this song, he is then murdered).
It's such a powerful message of love from a man who is able to look past his horrible circumstances and just appreciate his wife, while also acknowledging that he has underestimated her strength, as well (a strength that will persevere long after Leo's murder, as Lucille remained in Georgia the rest of her life and kept her married name. She released one statement after her husband's murder, I am a Georgia girl, born and reared in this state, and educated in her schools. I am a Jewess; some will throw that in my face, I know, but I have no apologies to make for my religion. I am also a Georgian, and American, and I do not apologize for that, either…I only pray that those who destroyed Leo's life will realize the truth before they meet their God–they perhaps are not entirely to blame, fed as they were on lies unspeakable, their passion aroused by designing persons. Some of them, I am sure, did not realize the horror of their act. But those who inspired these men to do this unlawful act, what of them? Will not their consciences make for them a hell on Earth, and will not their associates, in their hearts, despise them?).
"THE NEXT TEN MINUTES"
Perhaps Brown's most famous work (it was adapted into a film in 2014), The Last 5 Years, appeared Off-Broadway in 2002, starring Norbert Leo Butz and Sherie Rene Scott as Jamie and Cathy, a novelist and theater actress who fall in love, marry and divorce in the span of five years. The musical is designed so that Jamie's songs are told in chronological order (from his early courtship of Cathy to his determination that his relationship with her is over) while Cathy's songs are told in REVERSE chronological order (from her devastation over their marriage failing to her hopeful outlook on the future of their relationship).
They only meet together in the middle, in "The Next Ten Minutes," where Jamie proposes to Cathy and she accepts…
Even mixed into this happy song (the featured image for this piece is Butz and Scott singing the song), there are some melancholic aspects to the story, especially since we already know by the opening song of the musical (the brilliant "Still Hurting") and Jamie's romantic gesture shows just how uncertain he is about it all, as he asks her to be with him for the next ten minutes (and then the next ten minutes and then the next ten minutes, etc.).
"TELL HER"
13 was an ambitious 2008 Broadway musical by Brown that starred actual teenagers singing songs about life at 13. The casting of the musical was astounding, as the lead, Graham Phillips, went on to become a regular on The Good Wife among many other acting roles, and one of the secondary female leads was Elizabeth Gillies, who has gone on to work on a number of different shows (currently starring the Dynasty revival). Oh, and one of the members of the ensemble was a young teen by the name of Ariana Grande (I think she found work after the show, as well).
However, at the end of the day, while the show has become a cult classic for teens, it has been a bit harder for adults to latch on to and the show didn't last long on Broadway.
Still, you can definitely see the similarities in to the other songs in "Tell Her."
Phillips' duet with Allie Trimm shows the young protagonist realize that he overlooked his female best friend and the two make up.
"ONE SECOND AND A MILLION MILES"
2014's Bridges of Madison County is a fascinating Broadway musical, in that it totally flopped, and the subject matter isn't exactly the sort of thing you would normally expect to see inspire a great score, but nevertheless, Brown delivered a hell of a score, winning the Tony Award that year for Best Original Score (some of the other top musicals that year were jukebox musicals, like the Carole King bio musical, Beautiful).
Brown's "One Second and a Million Miles" is one of his best songs he's written yet, a powerful love duet between star-crossed lovers Kelli O'Hara's Francesca and Steven Pasquale's Robert…
It's a straightforward enough emotion being expressed, but HOW it is expressed (and the striking music) make this song really stand out. It's one of those instant standards that you know will be regularly sung at cabaret shows for the next fifty years.
Jason Robert Brown isn't quite a household name outside of Broadway fans (but really, what composers are?), so hopefully this sampling of his songs give you an idea of why he is so well-regarded (and why he has two Tony Awards for Best Original Score. The same amount as Lin-Manuel Miranda).
If anyone else has a suggestion for a future Drawing Crazy Patterns, drop me a line at brian@popculturereferences.com!