The Practice's Final Season Totally Destroyed the Show…on Purpose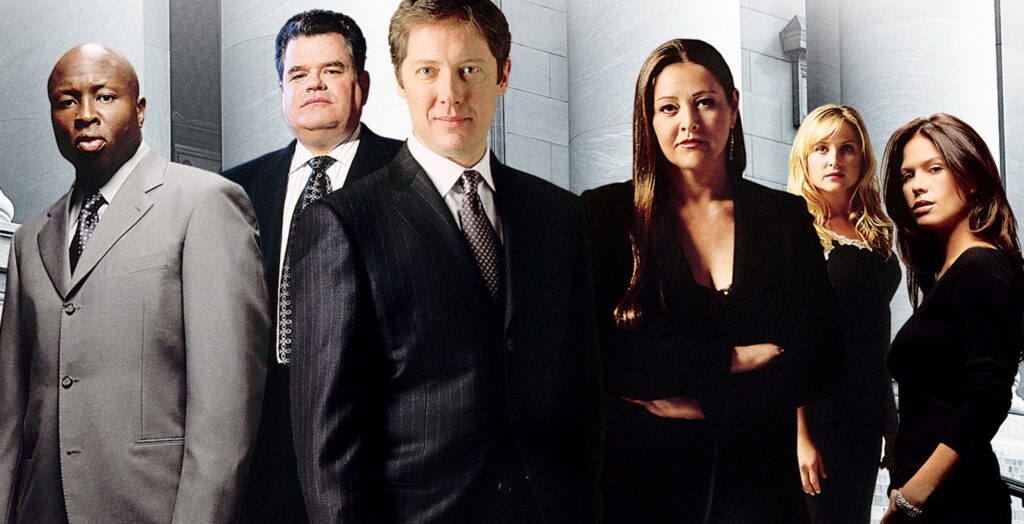 Today, we look at how The Practice's final season essentially destroyed the show, but on purpose!
This is "Gonna Make a Change," a feature where I spotlight shows that underwent major revamps during their runs to avoid cancellation. Note that I mean MAJOR revamps, not, like, M*A*S*H getting more serious as it went on or Cheers becoming more of an ensemble comedy once Shelley Long left.
Generally speaking, a major cast overhaul doesn't automatically merit a "Gonna Make a Change." To wit, ER turned over its entire cast, but it was still the same show in Season 14 that it was in Season 1 (just, you know, worse). However, often, a major cast change leads to a dramatic change in the show overall, and that's ultimately what happened on The Practice.
Original Concept: The Practice initially was about Donnell and Associates, a "down in the trenches" law firm that specialized in criminal law. If you were a drug dealer or a prostitute, Donnell and Associates was your firm. However, Bobby Donnell (Dylan McDermott) was such a talented criminal lawyer that the firm began to get higher and higher profile criminal cases (which, in turn, showed how good his associate, Eugene Young, played by Steve Harris, was as as a criminal lawyer, as well), while new associate, Lindsay Dole (Kelli Williams), was such a good civil litigator that now the firm was getting high profile corporate cases, so eventually, Donnell made the firm Donnell, Dole, Young and Frutt (Frutt, played by Camryn Manheim, was another long term associate, Ellenor Frutt, a fine lawyer, as well, just not as high profile as the other three partners). So from Season 2-7, the show was about an accomplished Boston defense firm that had various interesting cases. Lara Flynn Boyle played Helen Gamble, Lindsay's best friend and Bobby's ex-girlfriend, who showed us the District Attorney side of things.
Revamped Concept: After Season 7, show creator David E. Kelley had to cut a LOT of cast members to keep the show on the air (shows get expensive as they get older). Gone was the lead actor, McDermott, as well as Williams, Boyle and a few other cast members, including the great LisaGay Hamilton (as Rebecca Washington, Bobby's secretary who became a lawyer herself in Season 3). The Practice Season 8 saw the firm as now Young, Frutt and Berluti (longtime associate, Jimmy Berluti, played by Michael Badalucco, finally became a name partner), while the new star of the series was James Spader as Alan Shore, an old friend of Ellenor's who needs a job after he got fired by his previous firm for embezzling. Okay, now, if the show was just "The Practice, only with less lawyers," then I wouldn't call it a format change, but Alan Shore was on a WHOLE different show than the other characters. They were still on The Practice while Alan was on this dark comedy where Alan would commit various ethical violations every episode, including impersonating an airline official to trick a client into settling a lawsuit (for their benefit, of course), hiding a weapon (to help a client) and stealing classified information from an opposing lawyer (and then selling it back to him for $8 million, all to help a client). Eventually, senior partner Eugene fires Alan, but Alan takes them to trial when he argues he was owed over two million dollars because he had become a de facto partner due to how much money he brought in. Alan wins a multi-million dollar judgement. So the firm dissolves and Alan joins the firm that represented him at trial, Crane, Poole and Schmidt (Denny Crane, the outlandishly bizarre senior partner, prone to saying his own name frequently, was played by William Shatner, who won a Best Guest Actor Emmy for the role).
Did it get the show more than one last season?: No. Alan's new firm became the basis of a new series, Boston Legal, which ran for five seasons of its own. In other words, Kelley liked Spader's character so much that he destroyed the show to give Spader his own, much more comedic, show (Spader won the Best Actor Emmy for both the last season of The Practice and the first season of Boston Legal). Shatner won another Emmy for Best Supporting Actor for the first season of Boston Legal.
Okay, that's it for this installment of "Gonna Make a Change," please send in suggestions for other good revamps to my e-mail address of brian@poprefs.com!