When Charles in Charge Made Fun of Chachi From Happy Days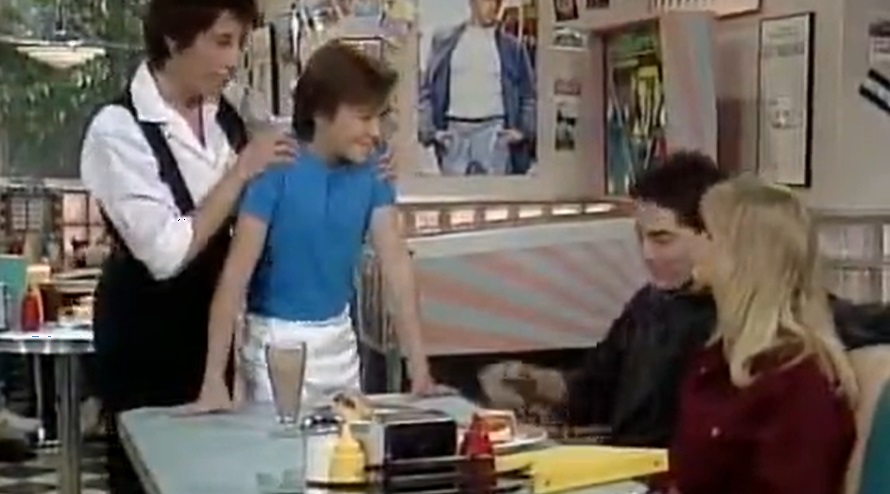 Today, we look at the time that Charles from Charles in Charge made fun of Chachi from Happy Days (both characters, of course, played by Scott Baio).
In Meta-Messages, I explore the context behind (using reader danjack's term) "meta-messages." A meta-message is where a creator comments on/references the work of another creator (or sometimes even themselves) in their work. Each time around, I'll give you the context behind one such "meta-message."
Recently, I wrote about how Chachi's "Wa wa wa" catch phrase was the perfect example of how Happy Days foolishly began to rely more and more on catchphrases for its stories and less on, you know, character development.
Chachi's "Wa wa wa" was clearly an attempt to force a catchphrase when it didn't make sense at all…
Chachi just looks like a little creep in these scenes, and it is noteworthy that as soon as Chachi became a more important character on the series, the show dropped the use of the "Wa wa wa" catchphrase, because it didn't make sense for someone who was now basically a co-lead of the series, because, you know, it was STUPID.
In any event, it is likely that Scott Baio was not a fan of it either, as years later, on his sitcom, Charles in Charge, the show had introduced a new character, Charles' young cousin, Anthony, who was very similar to Chachi, just, you know, for the late 1980s and not the early 1960s.
In the Season 4 episode, "Fatal Obsession," Charles is being stalked by a girl, Fatal Attraction-style, and he is trying to keep this news from his girlfriend, Stephanie (a young Erika Eleniak). He is on a date with Stephanie at his mom's diner talking about their plans this weekend, and Stephanie wants to rent Fatal Attraction, which freaks Charles out due to the coincidence of it all. Anyhow, his mom (Ellen Travolta played Chachi's mom on Happy Days, and Baio brought her over to Charles in Charge to play his mom there, as well) comes over with Anthony and Anthony is very impressed with how attractive Stephanie is. He then says, "Wa wa wa," to which Charles rebukes him, saying, "'Wa wa wa'?! What kind of talk…nobody says 'wa wa wa'!" Anthony replies, "What are you talking about, that kid on Happy Days says it all the time." Charles responds, "What did he know? He was a weenie!"
Self-deprecation humor typically lands really well.
If anyone has a suggestion for a good Meta-Messages, drop me a line at brian@popculturereferences.com!