Who Was the First 'Fictional' Band to Have a #1 Hit Song?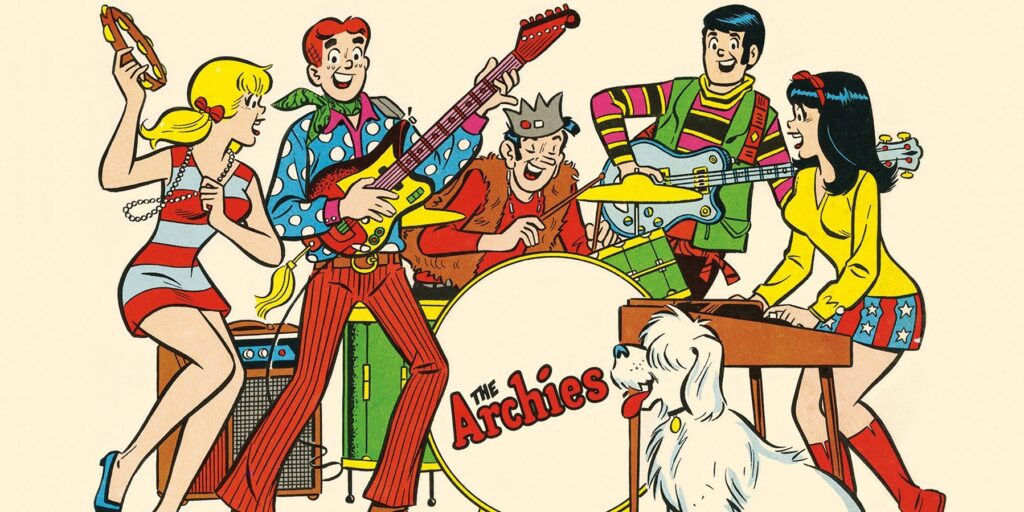 Today, we figure out who was the first fictional band to have a #1 hit song.
In "When We First Met", we spotlight the various characters, phrases, objects or events that eventually became notable parts of pop culture lore, like the first time that JJ said "Dy-no-MITE" or the first time that Fonzie made the jukebox at Arnold's turn on and off by hitting it.
June will be When We First Met Month!
Okay, here's the thing, for many years, songs were just released as sheet music that people would sing on their own. So bands in general just weren't a thing period. Of course, there WERE bands, but they were "just" performers. As recorded music became a big deal in the 20th Century, then at least the IDEA of a fictional band began to make more sense, but still, in general, if you're doing a song on the radio, there's not a whole lot of reason to have a fictional band behind it, as you're not seeing them anyways, so might as well play it straight.
Now, when TV became big, suddenly there was a legit reason to have a "fake" band, because you could have a fictional band star in, say, a cartoon, and then have them release songs for the radio.
That was done perhaps most famously by the #1 hit song, "Sugar, Sugar," in 1969, by the fictional band, The Archies, on the cartoon series featuring the comic book characters in their own series.
However, that was a DECADE after the first fictional band to have a #1 hit, and interestingly, this band WASN'T even intended for a cartoon, not at first, at least. Ross Bagdasarian Sr. had a hit song in 1958, "Witch Doctor," a novelty song where he would sing using his normal voice (under the stage name, David Seville), and then when the "Witch Doctor" sang, that would be Bagdasarian's voice, just sped up, resulting in a squeaky, amusing voice…
After the song was a hit (and a follow-up, "The Bird on my Head," done with the same set-up, was also a Top 40 hit), Bagdasarian was asked by his record label to come up with another novelty song, so he came up with the idea of having the sped-up voice be chipmunks, and thus created a fictional band, Alvin and the Chipmunks, who would play with David as David and the Chipmunks. The resulting tune, "The Chipmunk Song (Christmas Don't Be Late)", went number one, the first Christmas song to hit #1 on the Billboard Hot 100 (and the only one until Mariah Carey's recent dominance of the Christmastime charts).
So Alvin and the Chipmunks would be the first fictional band to have a #1 hit.
If anyone else has a suggestion for a notable pop culture first that you'd like to see me spotlight, drop me a line at brian@poprefs.com