Wonder Woman Managed a Dramatic Revamp While Still Keeping Its Leads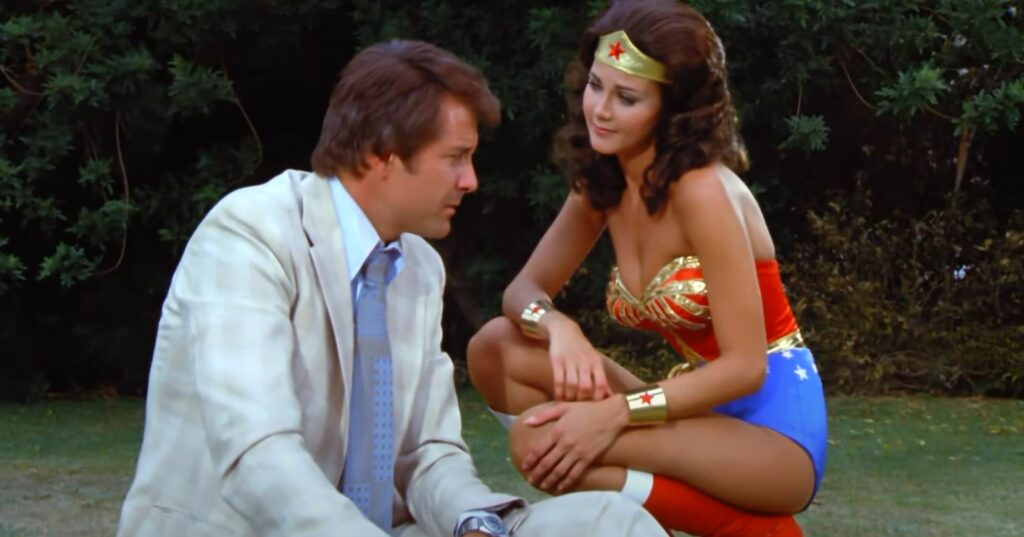 Today, we look at how Wonder Woman's dramatic timeline change on the series handled not wanting to lose its male lead, Lyle Waggoner.
This is "Gonna Make a Change," a feature where I spotlight shows that underwent major revamps during their runs to avoid cancellation. Note that I mean MAJOR revamps, not, like, M*A*S*H getting more serious as it went on or Cheers becoming more of an ensemble comedy once Shelley Long left.
It's interesting to see how certain concepts just keep getting revisited by networks until they actually get it on the air. Wonder Woman was given a shot by ABC as a TV movie starring Cathy Lee Crosby in 1974. Crosby's version of Wonder Woman was very different from the comic books, although it bore some resemblance to the so-called "Diana Prince" years, where Wonder Woman lost her superpowers and stopped wearing her costume, and got by on martial arts alone. It didn't do well enough to be picked up as a series.
However, ABC didn't give up, and two years later, gave the concept another go, this time with a more comic book-accurate take on the character, with Lynda Carter as Wonder Woman. This TV movie was called The New Original Wonder Woman (just rolls off the tongue, right?), and it was a hit! So it launched into a Wonder Woman TV series.
Original Concept: Wonder Woman essentially retold the original comic book version of Wonder Woman by William Marston and H.G. Peter, right down to the concept of Wonder Woman leaving Paradise Island to help the world of Man fight against the evil Nazis.
Revamped Concept: The big problem that ABC had with Wonder Woman was that, while it was fairly popular, it was also quite expensive to produce, especially when you factored in the fact that it was a period piece. ABC was wavering on renewing it or not, so the production studio of the series, Warner Bros. TV, started talking with other networks, and CBS said it would take the show if the setting was changed from World War II to modern day. The producers agreed, and the show moved to CBS for Season 2, with the show now being quasi-renamed The New Adventures of Wonder Woman.
Lyle Waggoner was the male lead on the first season as Major Steve Trevor. With the show moving into modern times, the solution to not wanting to lose Waggoner was a simple one. Waggoner would now play Steve Trevor JUNIOR, a colleague of Diana Prince/Wonder Woman at the Inter-Agency Defense Command (IADC). Here's Wonder Woman meeting Steve Trevor Jr. and dropping a bunch of exposition about her more than three decade-long absence
Did it get the show more than one last season?: Yep, the new version of Wonder Woman ran for two seasons, but was cancelled after Season 3 (the end of Season 3 was actually setting up a NEW revamp of the series, so maybe I'll feature that, as well, someday).
Okay, that's it for this installment of "Gonna Make a Change," please send in suggestions for other good revamps to my e-mail address of brian@poprefs.com!