B Positive Positively Swapped the Two Leads of the Series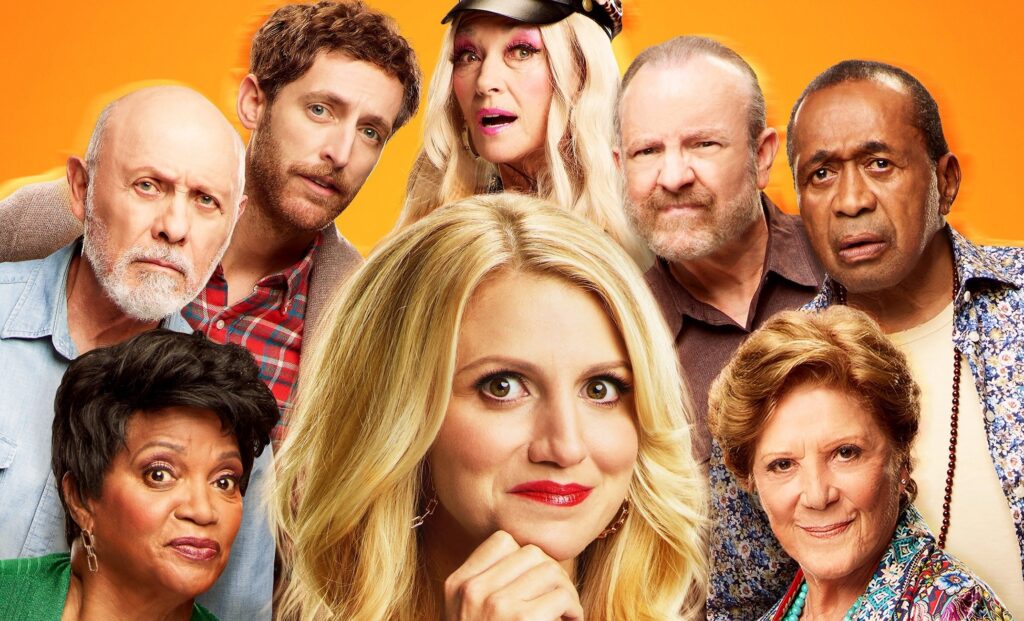 Today, we look at how B Positive switched the centerpiece of the show from one of its two leads in Season 1 to another in Season 2.
This is "Gonna Make a Change," a feature where I spotlight shows that underwent major revamps during their runs to avoid cancellation. Note that I mean MAJOR revamps, not, like, M*A*S*H getting more serious as it went on or Cheers becoming more of an ensemble comedy once Shelley Long left.
April is a month of Gonna Make A Change!
Show: B Positive
Chuck Lorre is still one of the most successful sitcom creators around, but until CBS decided to drop an hour of comedies in 2022, Lorre was literally supplying four of the six comedies that CBS was airing in the 2021-22 TV season. This is the story of B Positive, one of the shows that got the cut (so that Lorre is now "only" supplying two of the four CBS comedies on the air in the 2022-23 TV season and, since they were all renewed, the 2022-23 TV season, as well).
Original Concept: A therapist named Drew (Thomas Middleditch) discovers that his kidneys are failing. At a wedding, he runs into Gina (Annaleigh Ashford), a girl he knew in high school. On the spur of the moment, Gina agrees to donate her kidney to Drew. She doesn't realize that this means that she can't drink or do drugs until the surgery. Drew goes on dialysis, and so the show is centered around him, as his ex-wife and his daughter are cast members of the show, as are the other members of his dialysis group (a former NFL player, a middle-aged dentist and a brusque career woman) and the nurse who is in charge of their dialysis. The first season ends with Drew receiving Gina's kidney as Drew realizes that he has fallen in love with Gina.
Revamped Concept: The show got rid of the guy who officially created it, Marco Pennette (who based the show on his real life experience receiving a kidney transplant), and decided to retool the show around Gina instead of Drew. Gina, who worked at a retirement home in Season 1 with her best friend, Gabby (Kether Donohue), and had a nice friendship with one of the residents there, played by Linda Lavin, inherited a fortune from one of the other residents who was a recurring character in Season 1. She then purchases the retirement home, and so the new cast was the various residents of the retirement home (since there isn't a whole lot of work out there for older actors, the show was able to get a whole pile of excellent actors, like Hector Elizondo, Ben Vereen, Jane Seymour and Jim Beaver, to go with the returning Lavin). The dialysis group was dropped, although Gideon (Darryl Stephens), the nurse in charge of the dialysis, comes to work for Gina at the retirement home and one of the other patients, Joe (David Anthony Higgins), moves into the retirement home due to some health issues he needs monitoring.
Drew's ex-wife and daughter were dropped from the cast, and Drew became basically a background character on the show that once centered around him. To make it clear that the show was now an Ashford starring vehicle, the theme song for the show was retooled to star Ashford and her excellent voice (she's an acclaimed Broadway musical actor)…
Drew ends up selling his house and buying an RV and oh man, his plots are so stupid in Season 2. It's this big ol' "Well, I guess we have this guy under contract, so we can't just fire him, so let's work him in somehow?" Season 2 ends on a cliffhanger of Gina realizing that she actually DOES love Drew (after turning him down at the start of the season when he professed his love for her). Drew had just left on a cross-country trip at the time, though (while the retirement home was in danger of being put out of business by a larger competitor).
Did it get the show more than one last season?: Nope, but honestly, like I said, CBS dropped an hour of comedies, so it probably wasn't so much of a shot at B Positive than it was simply "We think a comedic drama makes more sense here," and the show that got the time slot, So Help Me Todd, has been successful for CBS, so I guess they knew what they were doing.
Okay, that's it for this installment of "Gonna Make a Change," please send in suggestions for other good revamps to my e-mail address of brian@poprefs.com!