Carrie's Sister on King of Queens Had a Delayed Case of Chuck Cunningham Syndrome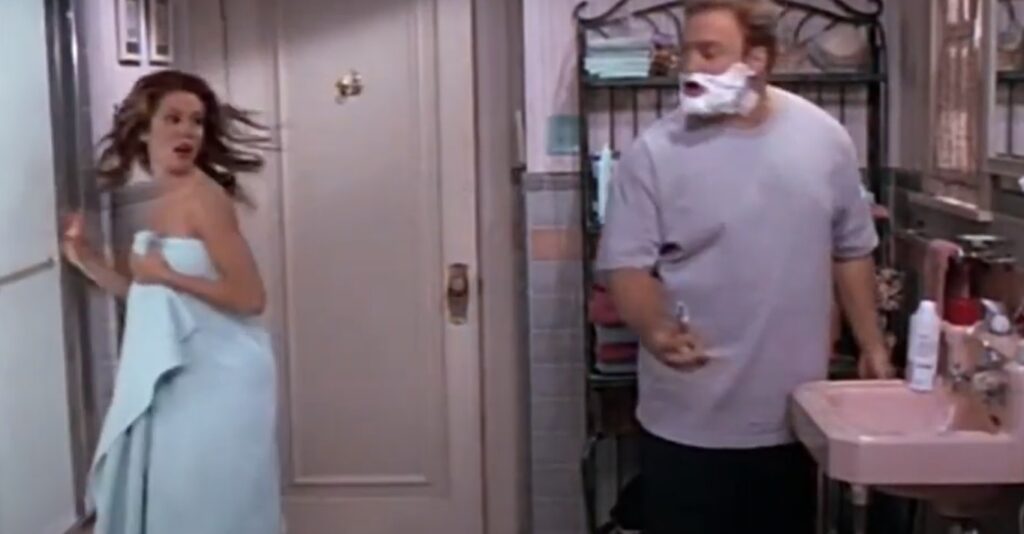 Today, we look at how Carrie's sister on The King of Queens disappeared after the first six episodes of the series, but wasn't actually retconned out of the series until much later.
In Abandoned an' Forsaked, we examine stories and ideas that were not only abandoned, but also had the stories/plots specifically "overturned" by a later writer (as if they were a legal precedent) with a retcon (retcon stands for "retroactive continuity," but we're specifically talking about retcons that contradict earlier stories).
August is Abandoned an' Forsaked month! All month long, I'll be looking at notable pop culture retcons.
This week will all be examples of a specific type of retcon – Chuck Cunningham Syndrome, where a relative (who was actually shown on screen) is retconned out of the show because they aren't necessary to the story anymore (named after Chuck Cunningham from Happy Days, Richie and Joanie's older brother who was retconned out of the show). Note that I don't mean examples where characters simply aren't mentioned again, I mean instances where they actively refer to the new state of affairs (you know, like saying someone who had a sister is an only child, stuff like that).
As you may or may not know, the central concept of The King of Queens is that the lead character, Doug (the "king of Queens"), played by Kevin James, has to deal with his bizarre father-in-law, Arthur Spooner (Jerry Stiller) moving in with Doug and Doug's wife, Carrie (Leah Remini). In the first episode, Arthur insists on living on his own after his third wife dies. His youngest daughter, Sara (Lisa Rieffel), his daughter with the aforementioned third wife (so Carrie's half-sister) lives with him. Arthur then accidentally burns his house down, causing him and Sara to move in with Doug and Carrie (and Doug loses his newly finished "man cave" basement to his father-in-law). Sara is a flaky, aspiring actor.
There's an amusing sequence in the first episode where Sara takes a shower while Doug is shaving, to comedic effect when her silhouetted body distracts Doug while he is shaving…
Sara is not living with them by the second episode, and she is gone from the show after appearing in five of the first six episodes (after having a sizable role in the pilot, she's barely in the other four episodes she's in before she was let go). They clearly didn't have any clear role for her on the show, so they let her go.
Since she's a grown adult AND an actor, it makes sense that she simply moved away for work (perhaps to Los Angeles?) and they just don't mention her. As I've noted before, simply writing a character off of a show doesn't mean that they were retconned out of existence.
In fact, in Season 3's "Roast Chicken," Doug is trying to get out of having to go to a roast for his boss, Mr. Fisker, since he will be expected to roast his boss and Doug really doesn't want to risk doing so and getting his boss mad at him. Doug and Fisker have the following exchange when Doug tries to back out of it:
Doug: Uh, well, you see, I forgot that we have a thing this weekend. My wife's sister, as it turns out, is having her roast tomorrow.

Fisker: What?

Doug: Well, it's really more of a wedding, but we're probably gonna make fun of her a little. She stutters.

Fisker: What's going on, Doug? Do you really have a wedding or are you just jerking my chain?

Doug: No, no, no. Hey, look, if I was gonna jerk your chain, I would have done it the other day in the men's room, right? Wa-bang!

Fisker: If you don't want to come to my banquet, then don't come, but don't make a fool of me, Doug.

Doug: Uh, Mr. Fisker, you know what? Uh, I don't know if I really have to go to the wedding. She's just a half-sister. Bottom line, I will
see you at the roast!

Fisker: All right.
So Sara was very much still in the continuity of the show years after she was written off. However, that was the last time that she was mentioned, and Carrie was repeatedly referenced as an only child in later seasons, so while it took a while, Sara DID get retconned out, and thus fell prey to Chuck Cunningham Syndrome.
If anyone else has a suggestion for Abandoned an' Forsaked, drop me a line at brian@poprefs.com!