Classic 1960s Christmas #10 – Family Affair "Christmas Came a Little Early"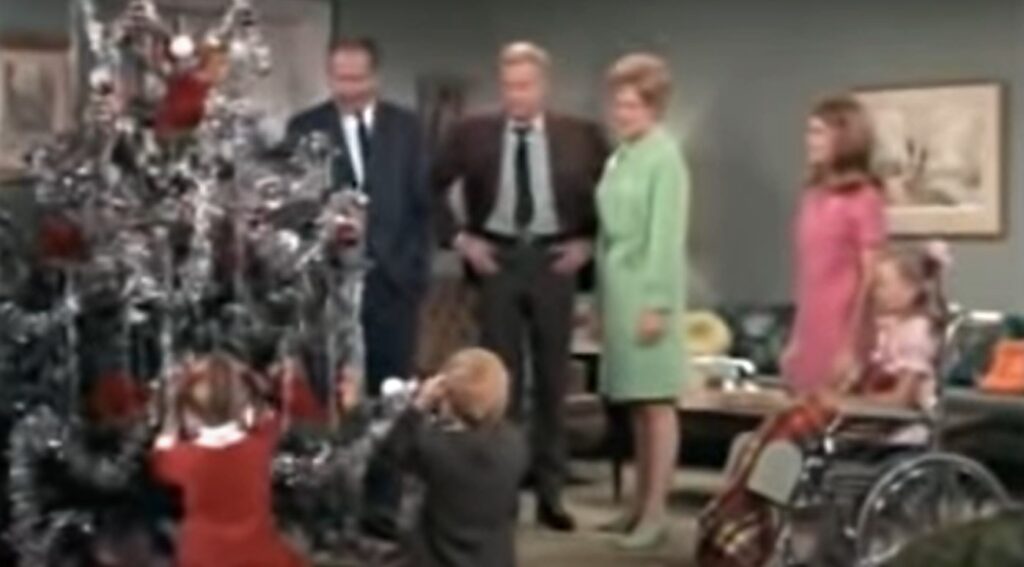 We continue our countdown of Brian's favorite 1960s Christmas TV episodes with 1968's "Christmas Came a Little Early" from Family Affair.
This is a tough one. This is an absolute classic episode, but it's also dark as all heck, and I just can't rank an episode THIS dark that high on a Christmas countdown. Schools, like, did talkbacks about this episode when it came out, that's how big of a deal this was. It definitely stuck in the brains of a LOT of kids who watched it at the time.
In case you're unfamiliar, Family Affair was about Bill (Brian Keith), a very successful engineer who is forced to take in his dead brother's three kids, 15-year-old Cissy (Kathy Garver) and five-year old twins, Jody (Johnny Whitaker) and Buffy (Anissa Jones). He has a butler (or whatever you call a "gentleman's gentleman) named Mr. French (Sebastian Cabot) who helps him raise the kids.
In this Season 3 episode, Buffy befriends a girl in her class, Eve (played by Eve Plumb one year before the launch of The Brady Bunch, which made her an icon as middle child Jan Brady) who is too sick to come to school, so their teacher uses an intercom system to teach her.
Buffy boasts about her Uncle Bill can fix anything, so he'll be able to fix Eve's illness. Bill WAS really rich and connected, so he actually gets Eve the best doctors available and they all come down with the same answer – she's going to die very soon, probably before the end of the year. Bill is very sad that the girl is probably not even going to live to see Christmas, so he comes up with the idea of telling the kids that since he has an assignment coming up, he will likely not be home for Christmas (Bill's engineering projects took him all over the globe, in part to explain Keith intentionally trying to appear on the show as little as possible). He then suggests that they have an early Christmas this year and, hey, why not invite Eve over for it, too? Buffy excitedly notes that Eve will have TWO Christmases this year and Bill is, like, "Uhh…yeah, sure."
Eve is pumped, and her parents are grateful for the gesture. Everyone has a great time, with Mr. French dressing up as Santa Claus, surprising Eve with a very fancy doll.
The episode ends with Bill and French talking about how it all went according to plan, and how they were so happy that the kids were none the wiser about the real point of the party. But then they hear Buffy crying, and Bill comes to her in her room, and she's bawling, as she obviously DID know the whole time, and was humoring Eve just the same way Bill was. The episode ends as Bill consoles the crying Buffy.
HOLY MOLEY, PEOPLE! That's a CRAZY dark ending! But damned if it wasn't done really well.
Just too dark to be higher than #10.