Classic 1960s Christmas #13 – My World and Welcome to It "Rally Round the Flag"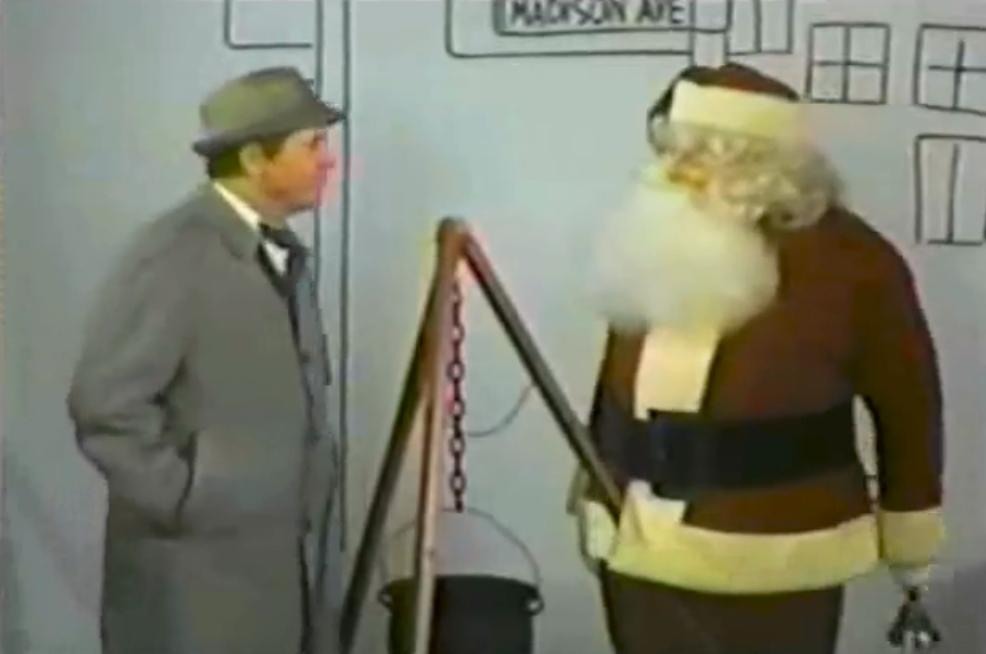 We continue our countdown of Brian's favorite 1960s Christmas TV episodes with 1969's "Rally Round the Flag" from My World and Welcome to It.
My World and Welcome to It was an unusual TV show. Named after the James Thurber book, My World and Welcome to It, the series starred a cartoonist named John Monroe (played by William Windom), his wife, Ellen (Joan Hotchkis) and his daughter, Lydia (Lisa Gerritson). It's sort of a mixture of being based on Thurber himself (with John being a cartoonist) and Thurber's famous character, Walter Mitty (who was featured in the book), a noted daydreamer. In the TV show, some of the sets would be cartoon depictions of life, depicting Monroe's imagination.
One of the most unusual things about the show is that it only lasted a single season, and yet won the Emmy for Best Comedy Series.
Its Christmas episode was highly unusual, as well. Typically, Ellen buys Lydia's Christmas present, but this year, she insists that John do so, because she feels that John hasn't really connected with his daughter in a while. John agreed, but he doesn't go shopping until late on Christmas Eve, and in the end, all he can find to buy for Lydia is an American flag.
He lies and pretends that he picked it out for her special, having purchased it all the way back in the spring. She believes her father and proudly hangs the flag from their flagpole.
This then becomes a hilarious problem, as the other homes in the neighborhood approach John and try to get him to take the flag down, as there are no holidays in December where the flag would be flown, and it is making them look less patriotic. Meanwhile, Lydia is mocked by the other kids for her present, but she stands by it, noting how unique it is, which the other kids go from begrudgingly acknowledging until they are soon JEALOUS of her.
By the time John comes clean and apologizes (with Lydia noting that she really DOES like the flag), she asks that could they at least get a wreath for their door. She notes that they should be cheap now, as it's after Christmas. He happily agrees, but when they leave, they see that the entire block is now covered with houses flying their American flags!!
Very clever stuff, although John is a bit too much of a jerk to Lydia for my liking. Episode writers, Laurence Marks and Danny Arnold, went on to great critical success in the 1970s, Marks as a writer on M*A*S*H and Arnold as the creator of Barney Miller!