Classic 1960s Christmas #20 – Here Come the Brides "A Christmas Place"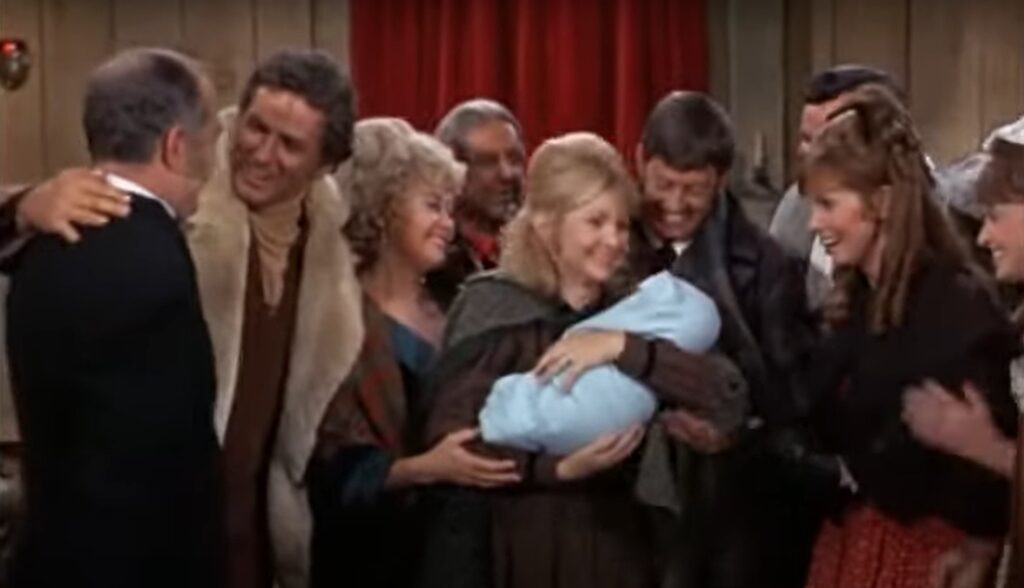 We continue our countdown of Brian's favorite 1960s Christmas TV episodes with 1968's "A Christmas Place" from Here Come the Brides
Here Come the Brides was a weird concept for a show, but it seriously did work. While nominally based on the film, Seven Brides for Seven Brothers, mostly the show was based on the actual real life story of how a Washington State pioneer, Asa Mercer, brought a bunch of women from the East Coast to come settle in Seattle so that the men working at the lumber mills could have some theoretical female companionship.
That's the concept of Here Come the Brides, as a lumbermill owner, Jason Bolt (Robert Brown), decides to bring out 100 women from the East Coast to hopefully settle down and marry the men of Seattle. A local saloon owner, Lottie (Joan Blondell), agreed to host the women, while rival local businessman, sawmill owner Aaron Stempel (Mark Lenard) makes a bet with Bolt that the plan will fail. Early on, part of the conflict of the series is Stempel trying to get the women to give up and go back home (eventually, the bet concept was mostly dropped, as it was weird to have a major town figure be this total jerk).
David Soul and Bobby Sherman played the brothers of Jason Bolt.
Okay, so this episode sees a woman (who had come to Seattle with her husband a few years earlier) soon to give birth. A local man with two little girls (Michael Bell plays the man in a guest spot. This one didn't make my Top Five Michael Bell Guest Appearances, but he's fine in the episode) doesn't realize that his little girls believe that if the baby is born on Christmas, that it will be like Jesus, and thus will be killed on Easter. So…yeah, the plot is based on two kids being unbelievable morons, so that part (when the kidnap the baby) is bad.
However, the rest of the episode is strong, as the others don't know that it is two idiot kids who kidnaped the baby, so they naturally think of all sorts of things, and the women are taking it as a sign to go back home (Stempel is surprisingly not a jerk here, saying he'll gladly give them reasons to leave Seattle any time they ask, but this isn't one of them). So there's a lot of good pathos, just like earlier in the episode when a delivery comes in and the women are all homesick, reconsidering their lives out west in their first Christmas in Seattle.
The show had a lot of great character work. Blondell was nominated for Best Actress in a Drama Series for both seasons the show ran. So it is still worth watching, despite the little girls being way too stupid.