Classic 1960s Christmas #8 – The Real McCoys "The Diamond Ring"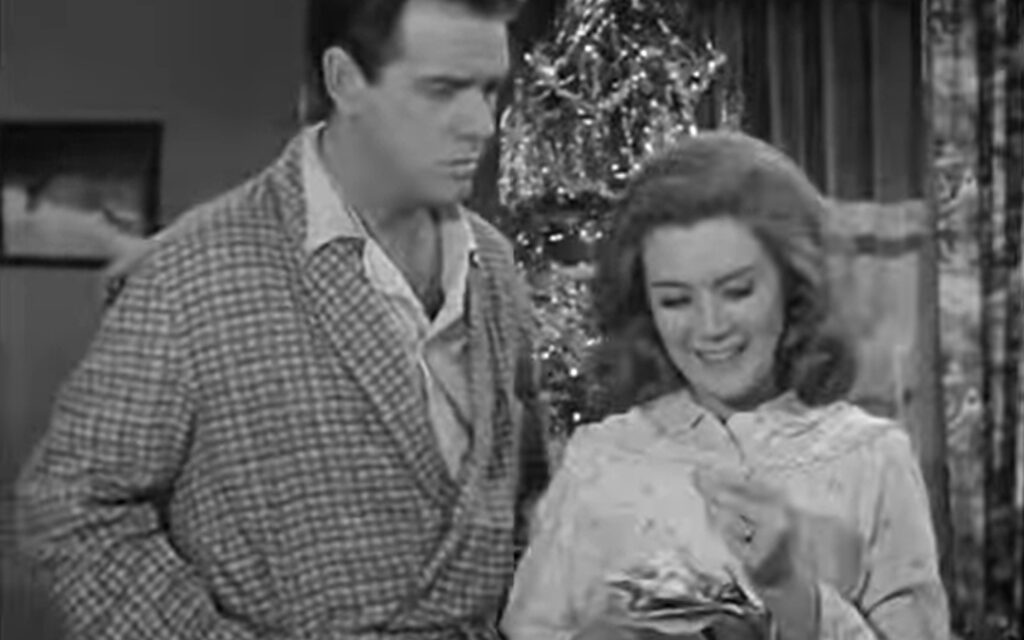 We continue our countdown of Brian's favorite 1960s Christmas TV episodes with 1961's "The Diamond Ring" from The Real McCoys
The Real McCoys really shows the unpredictable nature of television. Walter Brennan was an Academy Award-winning film actor, but he was VERY much a character actor. One of the best in the business, but still, VERY much a character actor. However, guess what? Television series are ALL about characters, and so Walter Brennan became a beloved institution on TV as Grandpa McCoy on The Real McCoys, about a family from West Virginia that inherited a farm in California. The family consisted on Grandpa and his three grandchildren, the eldest, Luke (Richard Crenna, hot off of Our Miss Brooks), having just been married to his wife, Katie (Kathleen Nolan).
The series told pretty much standard sitcom tales, but they were well-told, and the leads were all excellent. Crenna grew into being a leading man by the time the series ended.
In any event, in Season 5's "The Diamond Ring," Luke reveals that he has been saving up money for quite some time so that he can buy Katie a diamond ring. His $75 can only afford a very small diamond ring, but it's enough. Katie, however, discovers that he has bought her a diamond ring, so he then returns it at the local store so that she can buy nice presents for everyone and just replace the ring with a cubic zirconium ring. Okay, all good, but then Katie gets sick, and so Luke and Grandpa are forced to sell the ring to pay for her surgery, only to find out that it's a fake. When they go to confront the store owner, he reveals the truth. The store owner agrees to front them the money, as he is so touched by their actions, and they'll pay him back at the next harvest.
However, it turns out that Katie had taken out a local form of insurance, and that had paid for the surgery. She reveals that on Christmas, and then when Luke notes that they can now go buy her a real diamond ring, she insists that she loves the cubic zirconium one, and what it symbolized with all of them willing to sacrifice for the good of the others. Very touching, well acted stuff.
It was like "The Gift of the Magi," but to the nth degree!