Five Great Rosalind Cash Guest Appearances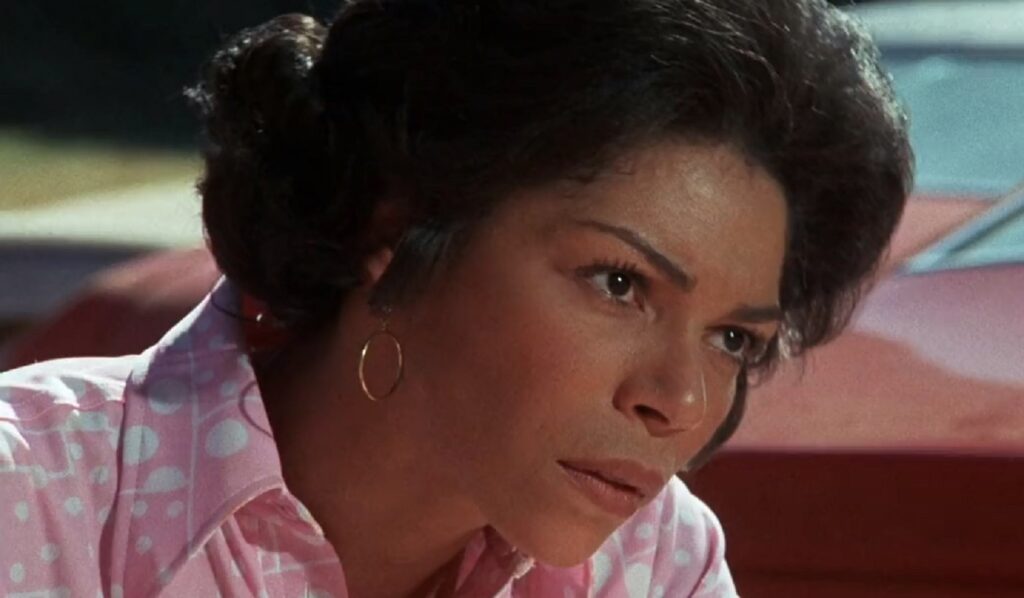 Today, we look at five great guest appearances by Rosalind Cash.
This is "Following a Star," a new feature where I spotlight five great guest spots by an actor who frequently did/does guest spots on TV series in their careers. It doesn't mean that they've NEVER been regulars on shows, but obviously I'm not looking to spotlight people who are best known for their regular TV roles (like no Jason Alexander or Florence Henderson, for instance).
Since this is Black History Month, I'll specifically spotlight Black character actors this month.
Like so many other actors featured this month, Rosalind Cash first made her mark on acting on the stage, specifically in New York, first on Broadway and later as one of the inaugural members of the Negro Ensemble Company. She did Shakespeare with James Earl Jones, she was all over the place. She broke into film in a big way with her role in The Omega Man, probably still her best known role. However, she did many TV guest spots over the years.
Good Times (Jessica Bishop)
In Good Times Season 4's "J.J. and the Older Woman," Cash plays a teacher of JJ's sister, Thelma, who becomes enthralled with JJ when Thelma invites her over to the Evans' apartment, despite her being a good 15 years older than him. Flo worries about Jessica taking advantage of JJ, but in the end, it is JJ who turns out to hurt Jessica, as he clearly isn't as serious about her as she is about him (while he tries to coach it in terms of him not being able to concentrate on her because he has to take care of his family in wake of his father's death). Now, I really don't mean to knock Jimmie Walker, as he obviously had a ton of charisma, but boy, when you get to the dramatic scenes, you see a lot of stuff like this, where Cash is essentially creating all of her own drama, because Walker can't provide any…
https://www.youtube.com/watch?v=76eCIIJ78nI
Barney Miller (Carolyn Slade)
In Barney Miller Season 5's "Dog Days," Cash gets a much more appropriate acting partner in the great Ron Glass, as Cash plays a woman who comes into the station to report her missing husband. He's obviously a philandering jerk, but she loves him. Glass' Detective Harris is captivated by Mrs. Slade, and he teaches her that not all men are jerks, but at the same time, as much as they clearly are drawn to each other, she is still committed to her husband…for now, at least. Glass and Cash say so much with so little in this excellent episode of an excellent series.
Highway to Heaven (Eleanor Marcelle Livingston)
If we're talking great scene partners, though, it is hard to match who Cash is paired with in Highway to Heaven Season 3's "A Song of Songs," as she is a pastor at a church whose daughter is rebelling against her widowed mother HARD, but things take a turn when her former boyfriend, a blues musician played by Cash's former Shakespearean stage partner, James Earl Jones, comes back into town. Cash and Jones are electric on the screen together, with Cash's Eleanor being so caught up in her righteousness that she is about to lose both a daughter and a possible love of her life. Luckily, that reliable angel Jonathan (Michael Landon) is there to put her on the right path.
Golden Girls (Lorraine Wagner)
There's possibly better options for Cash guest spots, as she's amazing, but I couldn't help but spotlight this Season 3 episode of The Golden Girls, where she is the much older woman AGAIN. It's almost literally the plot of the Good Times episode, only here, she's obviously even older, and she is engaged to marry Dorothy's son, Michael. As it turns out, her mother is a very wealthy Black woman (the amazing Virginia Capers, who was THIS close to also getting a spotlight this month) who doesn't want her daughter marrying a White man, while Dorothy is really centered on the age gap. In the end, it turns out that Lorraine is pregnant, and so the wedding occurs by the end of the episode. Michael is dumped by Lorraine by the following season. Dorothy's grandson from Lorraine and Michael is never shown on the series.
A Different World (Dean Hughes)
Cash's Dean Hughes first appeared on The Cosby Show as one of Denise's professors, but by A Different World, she was a dean, and made a few appearances. Cash was excellent as the straight-shooting, but compassionate, dean. Her best appearance was definitely in Season 2's "Radio Free Hillman," where radio host Dwayne plays a rap song that has been banned at other radio stations, and his show is canceled. He and others have a sit-in protest in the dean's administration building, and Dean Hughes, while not bending to their demands, is impressed by Dwayne acknowledging that he should have at least listened to the song first and not just played it for the sake of playing it, and only suspends his show, and makes an exception for a tribute special he had planned for Dr. Martin Luther King.
If you folks have any other actors you'd like to suggest for this feature, drop me a line at brian@poprefs.com! I have my 28 for this month, but A. feel free to suggest people for the future and B. maybe you'll suggest someone for this month that I like better than the 8 remaining actors I've already chosen.