Playing TV Bingo With 21 Jump Street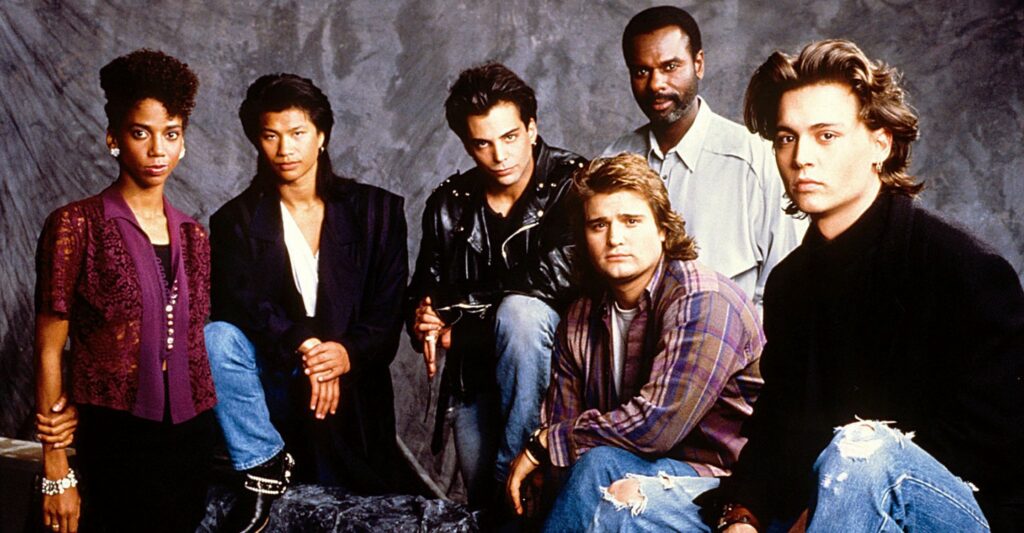 Today, as part of TV Bingo Tuesday, we play TV Bingo with 21 Jump Street!
You know the concept, I use a TV Bingo card (one for dramas and one for sitcoms) and I'll go through the episodes in order and see how quickly I hit a bingo. In case you don't know how bingo works, the idea is that you mark off a box (in traditional bingo, someone will draw ping pong balls with numbers and letters on them like a lottery machine) and when you check off five boxes in a row (whether left to right, up and down or diagonal) then that counts as a "bingo." Here, we'll be going episode-by-episode and seeing whether they match any of the boxes on our bingo card. When we hit five in a row, that's a "bingo"!
My pal Bill Walko and I went over the TV drama bingo card and came up with the current (I think improved) version of the card. Here it is…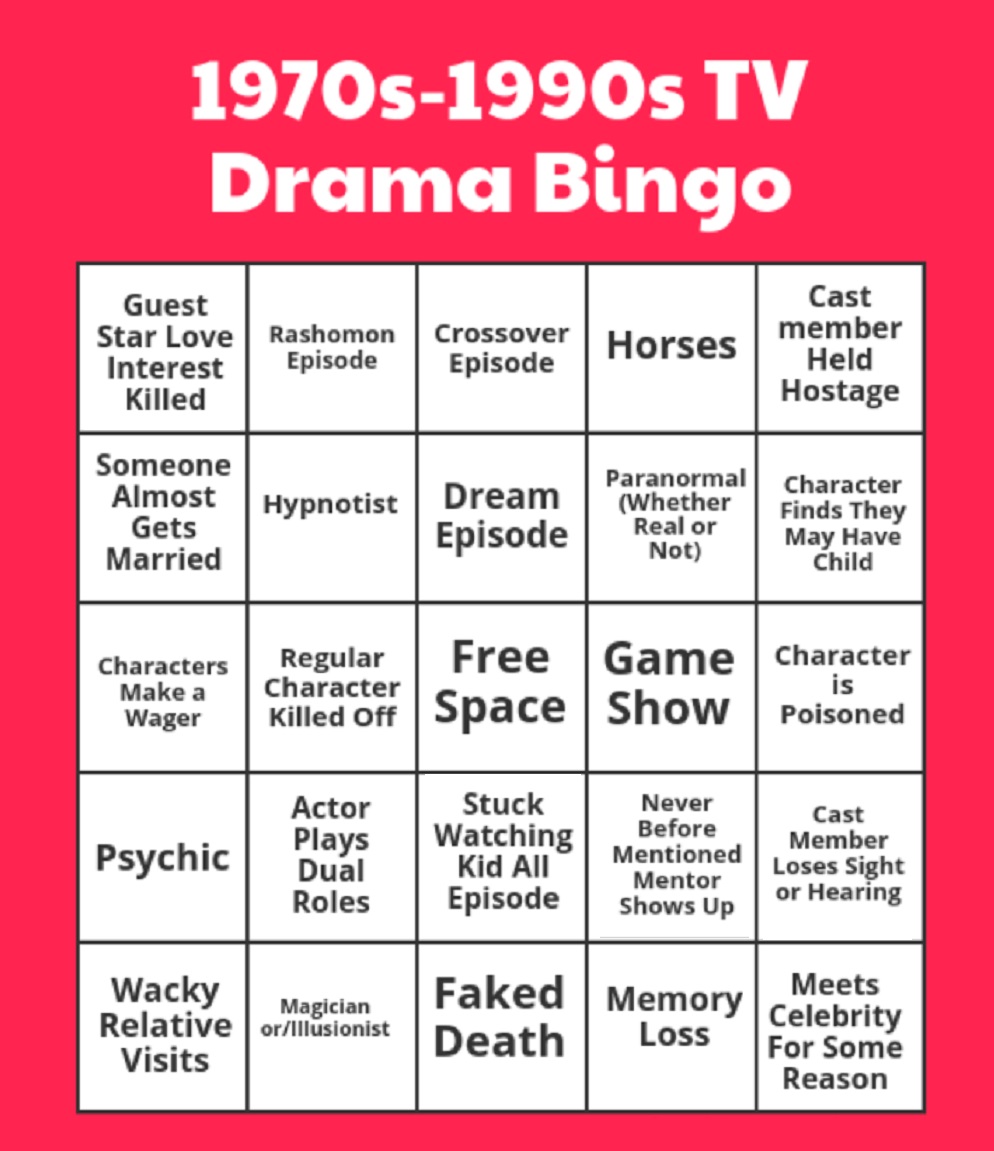 Today, we're looking at the late 1980s police drama, 21 Jump Street, about a group of young-looking cops who would go undercover as high school students or college students. The series made Johnny Depp a star.
Let's take a look!
The very first episode, "Pilot," involves a kid getting poisoned by some drug dealers.
Season 1's "The Worst Night of Your Life" wrote off their initial commander by having him killed in a drunk-driving accident.
Season 2's "Higher Education" sees Ioki discover that he might be a father.
Season 2's "Orpheus 3.3" sees Tom Hanson's guest star girlfriend murdered in front of him during a robbery.
Season 2's "Cory and Dean Got Married" sees Hoffs taken hostage.
Season 4's "Old Haunts in a New Age" involves a teen pyschic.
Season 4's "Wheels and Deals, Part Two" is a crossover with the show's spinoff, Booker.
Season 4's "How I Saved the Senator" is a Rashomon episode.
I think Season 5's "Number One with a Bullet" counts as both a dream episode AND a paranormal episode (Doug is shot and is stuck in limbo).
I don't think we hit a bingo…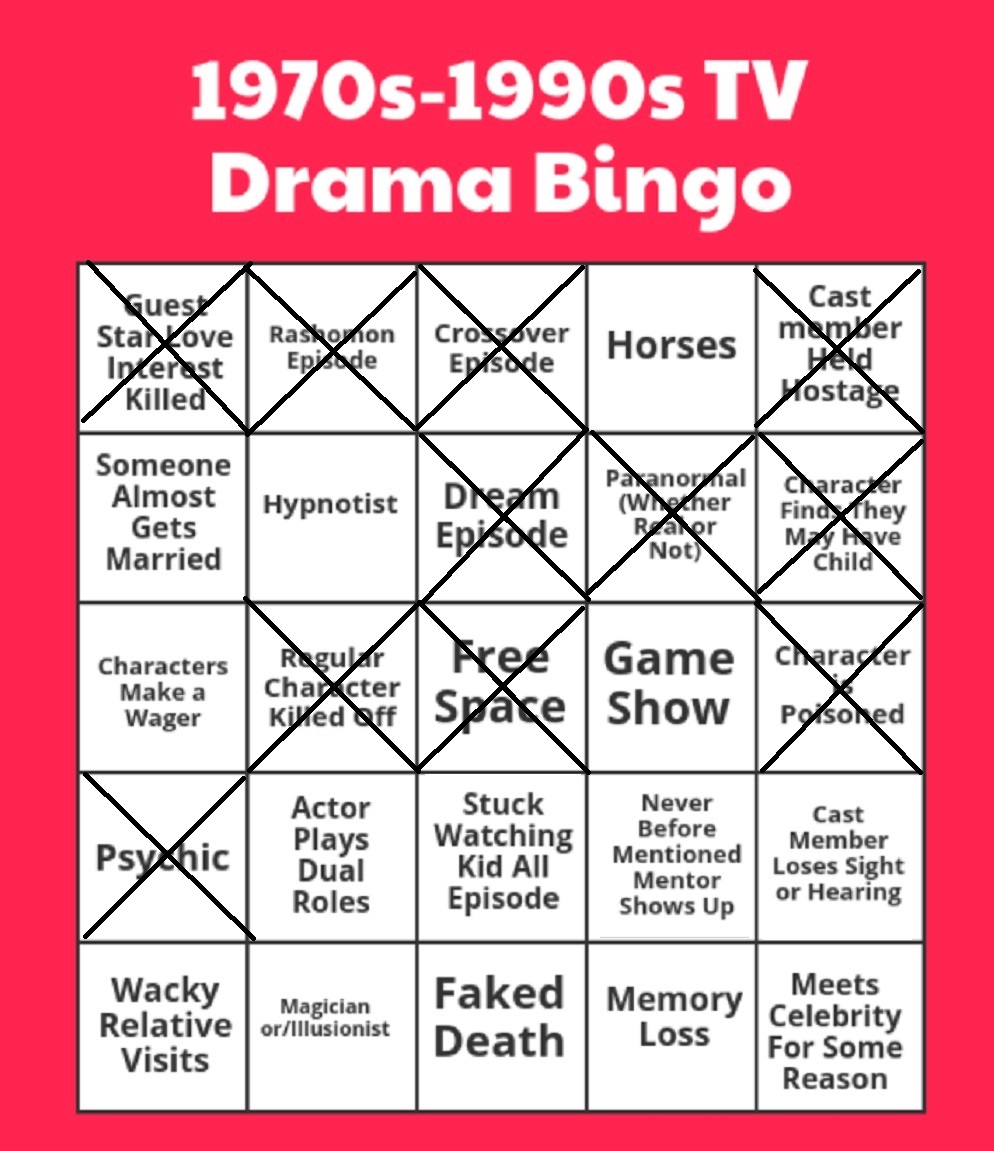 I think the format of the show was just slightly too narrow (as they were always going undercover at high schools or stuff like that) to get TOO many other cliches in there.
Feel free to make suggestions for other shows you'd like to see me use the current bingo cards for! Just e-mail me at brian@popculturereferences.com.