Playing TV Bingo With All in the Family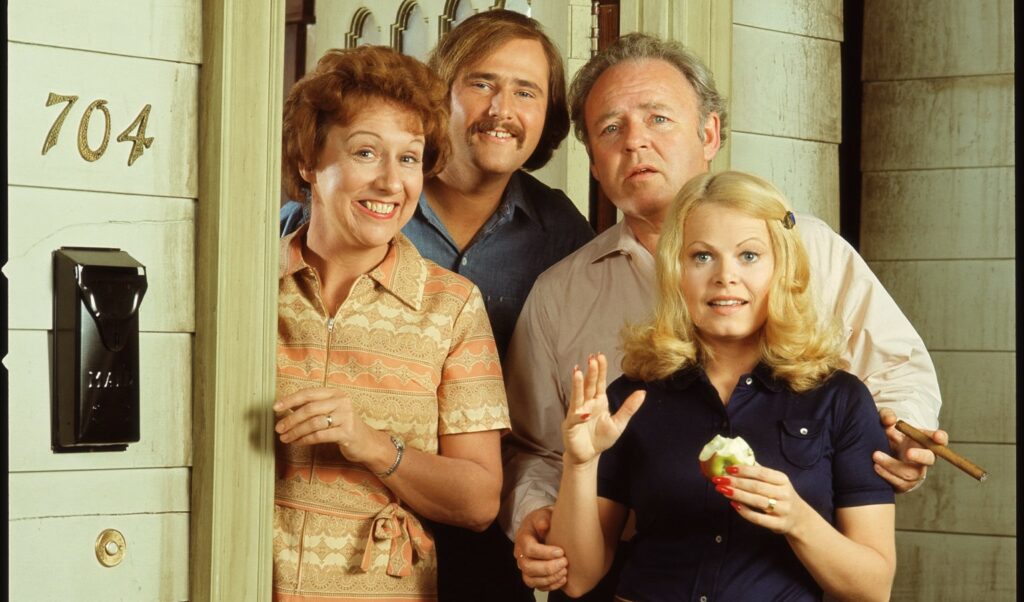 Today, we play TV Bingo with All in the Family!
You know the concept, I use a TV Bingo card (one for dramas and one for sitcoms) and I'll go through the episodes in order and see how quickly I hit a bingo. In case you don't know how bingo works, the idea is that you mark off a box (in traditional bingo, someone will draw ping pong balls with numbers and letters on them like a lottery machine) and when you check off five boxes in a row (whether left to right, up and down or diagonal) then that counts as a "bingo." Here, we'll be going episode-by-episode and seeing whether they match any of the boxes on our bingo card. When we hit five in a row, that's a "bingo"!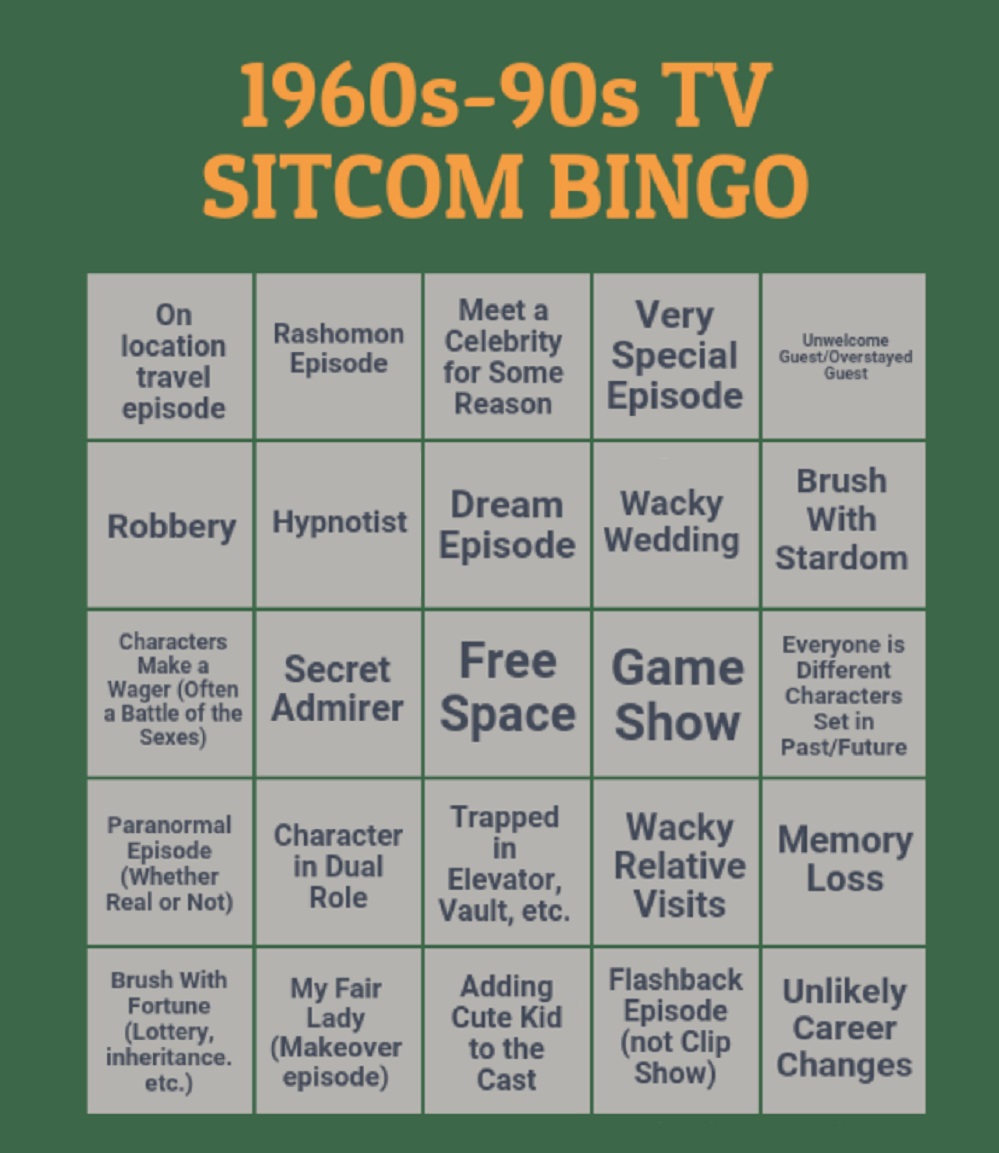 The first sitcom we're doing is All in the Family, the 1970s TV sitcom about a conservative Queens man, Archie Bunker, living with his "dingbat" wife, Edith, and his liberal daughter and son-in-law, Gloria and Mike Stivic.
Let's look!
"Very Special Episodes" are tricky with All in the Family, as they happened so often on the show. Let's pick Season 1's "Gloria's Pregnancy," where Gloria suffers a miscarriage, as the first one.
The opening episode of Season 2, "The Saga of Cousin Oscar," is a bit of an unusual take on an overstayed guest, since Cousin Oscar dies off camera and all of the overstaying occurred before the episode started, but I think it still counts.
Season 2's "Edith Writes a Song" has the Bunkers robbed (but the robbers change their minds after hearing the song Edith wrote).
The next episode, "Flashback: Mike Meets Archie," is a flashback to when Archie and Edith first met Mike.
"The Man in the Street" I think counts as a "Brush With Stardom" episode, even though the "stardom" in this instance is just Archie being interview on the evening news.
"Cousin Maude's Visit," featuring the first appearance of Bea Arthur's Maude, counts as a "Wacky relative visit," I think.
"The Elevator Story" is a classic "trapped in an elevator" episode.
The classic Season 2 episode, "Sammy's Visit" saw Archie meet Sammy Davis Jr.
Season 3's "Flashback: Mike and Gloria's Wedding – Part 1" features Gloria's wacky wedding.
Later that episode, "Edith's Winning Ticket" is a brush with fortune episode.
"Everybody Tells the Truth" is a Rashomon episode.
Season 5's "No Smoking" has Archie and Mike betting each other on who can go longer without caving in on their respective vices.
I think Season 8's "Archie Gets the Business" counts as an unlikely career change.
Later that season, I think "Love Comes to the Butcher" counts as a "Secret Admirer" episode.
Season 9 opened with "Little Miss Bunker," where they added a cute kid to the cast.
Finally, "A Girl Like Edith" in the final season has Jean Stapleton playing a dual role. That's a bingo!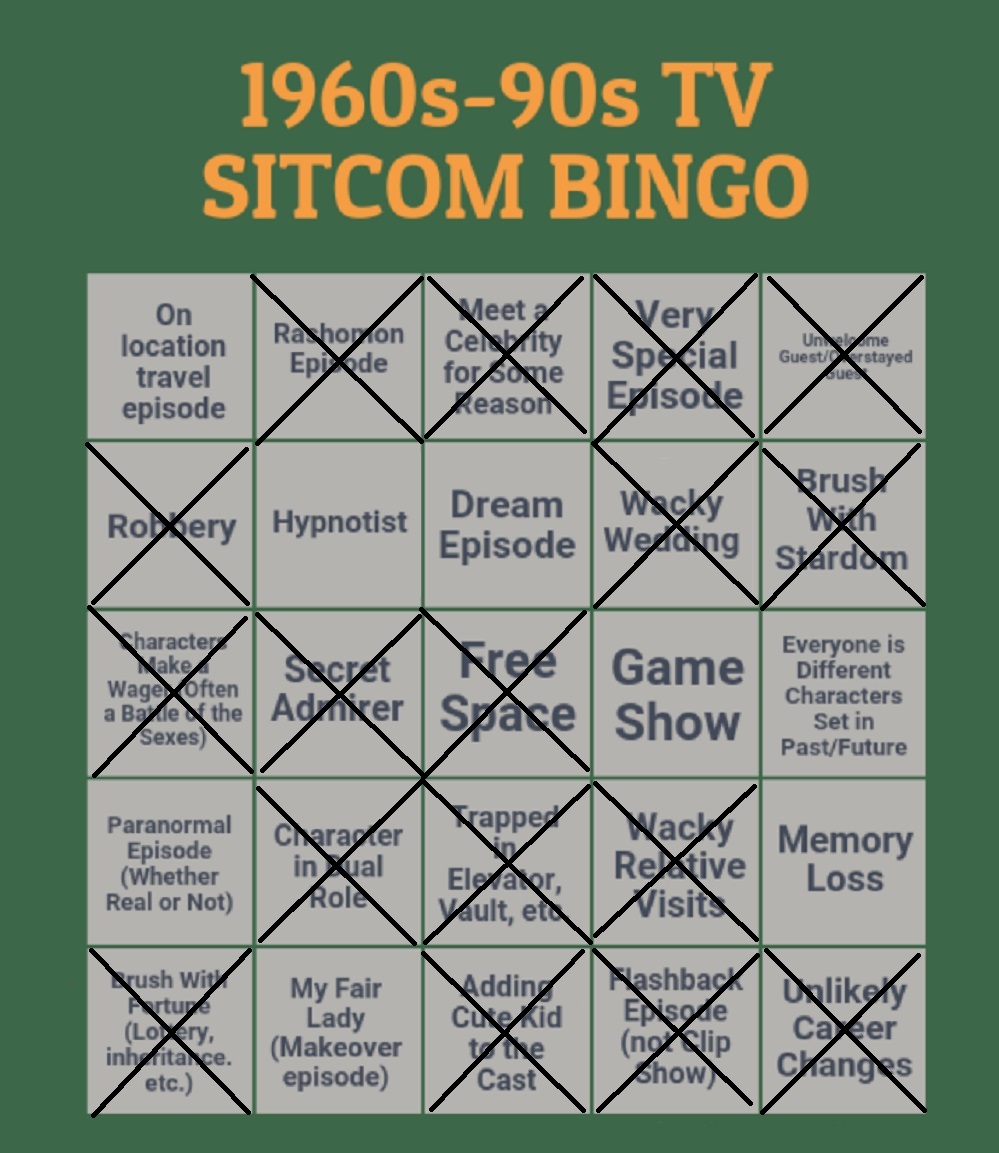 Like I said earlier, I figure this'll be a Tuesday TV Bingo thing, so I'll do two more next week!
Feel free to suggest other shows you'd like to see us play TV Bingo with by e-mailing me at brian@popculturereferences.com