Playing TV Bingo With Beverly Hills, 90210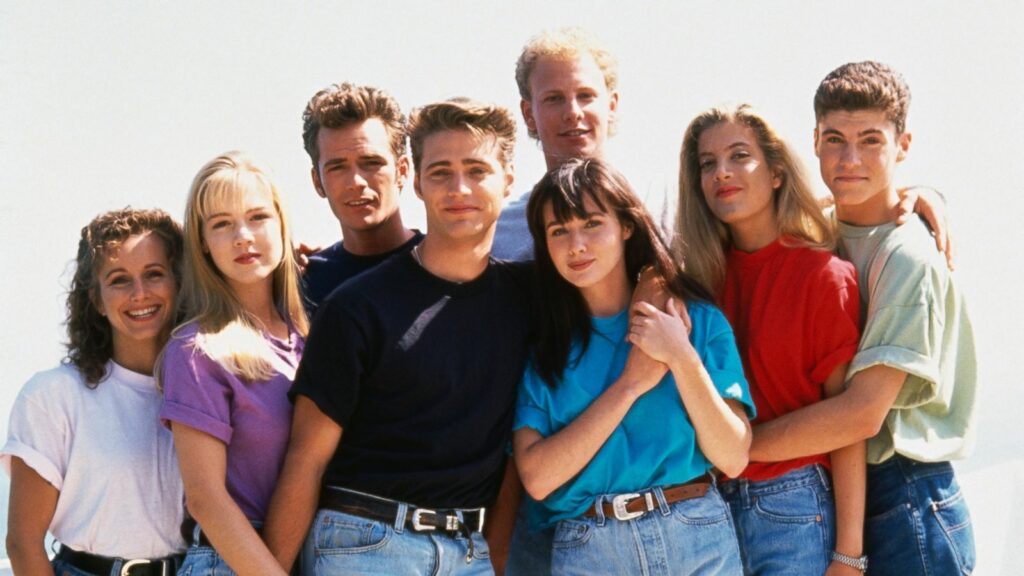 Today, as part of TV Bingo Tuesday, we play TV Bingo with Beverly Hills, 90210!
You know the concept, I use a TV Bingo card (one for dramas and one for sitcoms) and I'll go through the episodes in order and see how quickly I hit a bingo. In case you don't know how bingo works, the idea is that you mark off a box (in traditional bingo, someone will draw ping pong balls with numbers and letters on them like a lottery machine) and when you check off five boxes in a row (whether left to right, up and down or diagonal) then that counts as a "bingo." Here, we'll be going episode-by-episode and seeing whether they match any of the boxes on our bingo card. When we hit five in a row, that's a "bingo"!
My pal Bill Walko and I went over the TV drama bingo card and came up with a new version (I applied the new one to Simon & Simon, which had previously not hit a bingo with the old card. It still didn't hit a bingo with the new card) that we think is better. Here it is…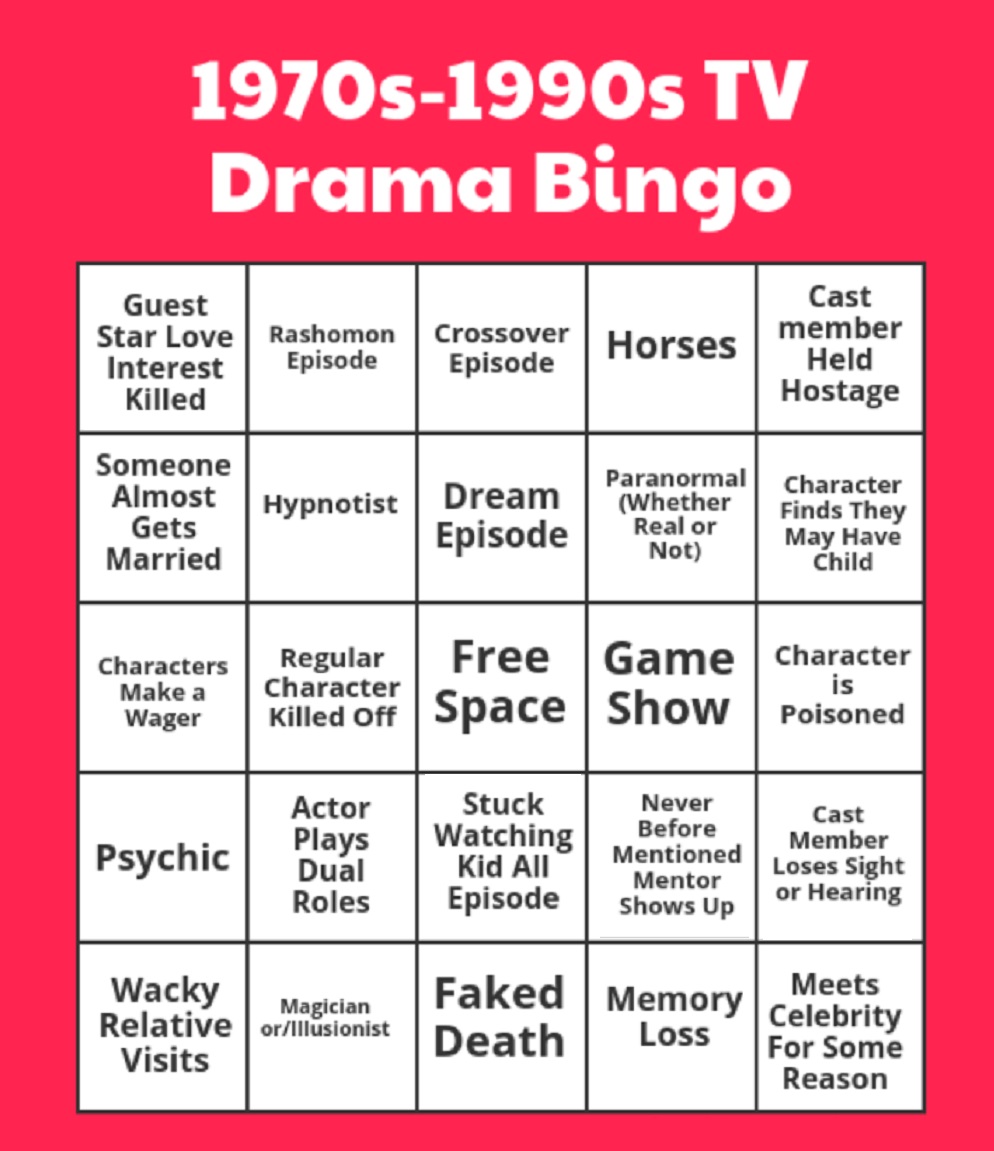 The first show we'll use the new bingo card on is Beverly Hills 90210, the loooooooong-running teen drama about two siblings who move from Minnesota to Beverly Hills and the culture shock that accompanies that move.
Let's take a look!
Season 1's "One Man and a Baby" has Brendan watching his girlfriend's kid for the whole episode, making him rethink his relationship with her.
Season 2's "Necessity is a Mother" is the first of many visits from wacky relatives, as Dylan's mom comes into town.
Season 2's "The Next 50 Years" sees Scott accidentally killed.
Season 2's "Things to Do on a Rainy Day" sees the gang meet Color Me Badd.
Season 3's "Wild Horses" sees Dylan meet a woman who owns a horse ranch.
Season 3's "It's a Totally Happening Life" involves guardian angels. I'd say that counts as paranormal, right?
Season 3 has a whole plot about Brendon becoming a gambling addict, but when we say "make a wager," we mean with each other as a plot point. Just making that clear.
Season 3's "Perfectly Perfect" sees Steve and David both compete on a dating show.
Season 4's "And Did It… My Way" sees Brenda and Stuart almost get married.
Season 4's "Take Back the Night" is a Rashomon episode where Steve is accused of date rape.
I think that this is tricky, but I think Season 4's "Somewhere in the World it's Christmas" revealing that Jack McKay had a secret daughter counts as "character finds out they may have a child," even though Jack had been killed off by then.
Season 5's "The Dreams of Dylan McKay" is a dream episode.
Season 5's "Love Hurts" sees Donna held hostage.
Season 5's "A Song for My Mother" has Dylan undergo hypnotherapy.
And we FINALLY hit a bingo! That was WAY too long for a show that seemed to hit every single cliche along the way!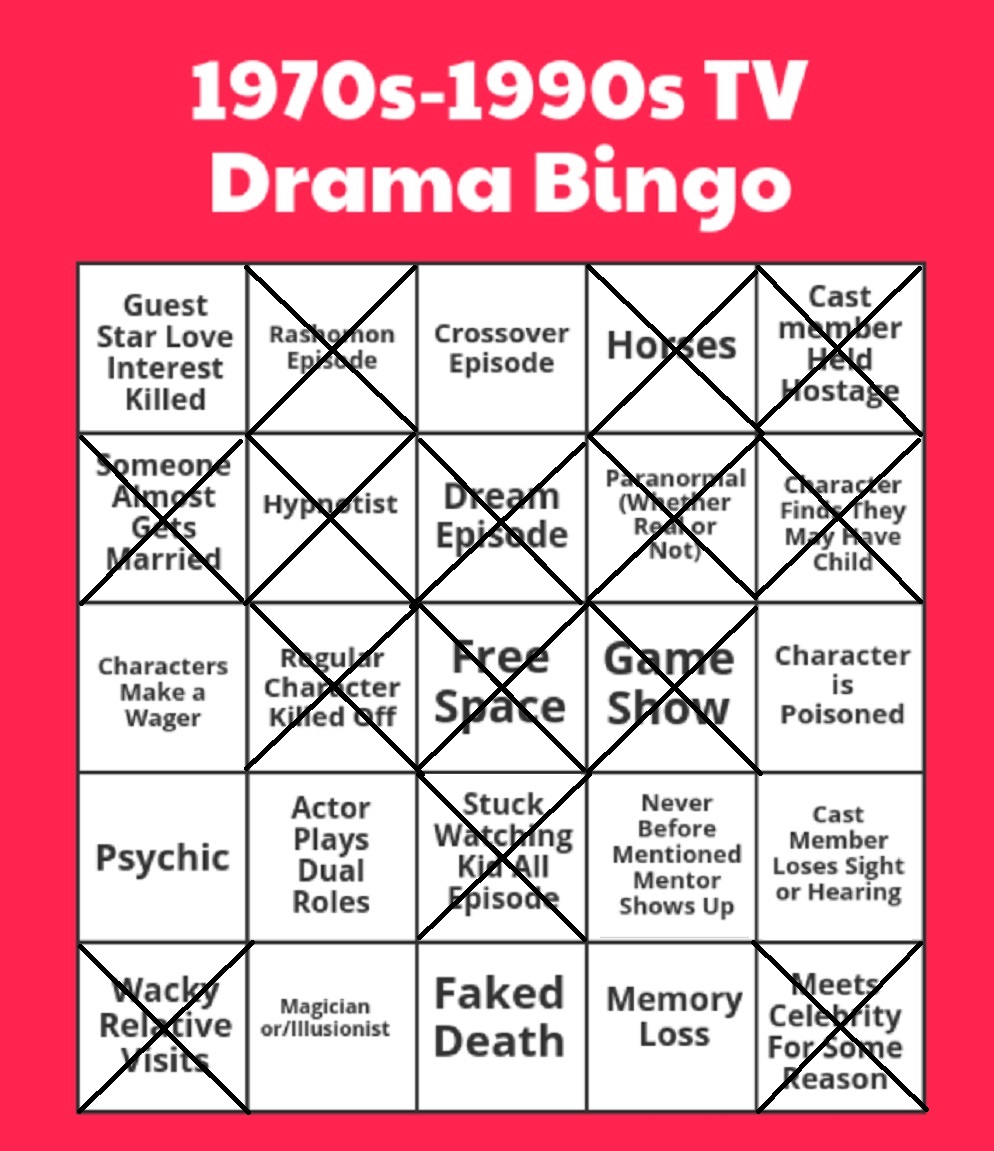 Feel free to suggest other shows you'd like to see us play TV Bingo with by e-mailing me at brian@popculturereferences.com
Thanks again to Bill for helping to refine the bingo card!