Playing TV Bingo With The Dick Van Dyke Show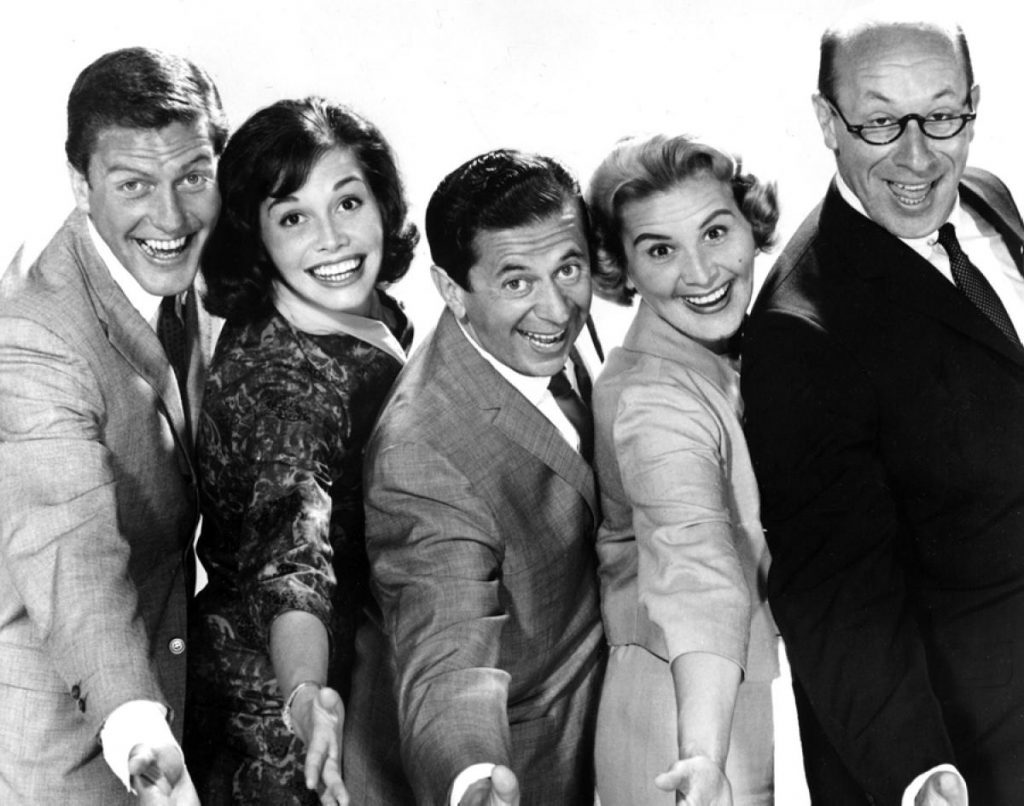 Today, as part of TV Bingo Tuesday, we play TV Bingo with The Dick Van Dyke Show!
You know the concept, I use a TV Bingo card (one for dramas and one for sitcoms) and I'll go through the episodes in order and see how quickly I hit a bingo. In case you don't know how bingo works, the idea is that you mark off a box (in traditional bingo, someone will draw ping pong balls with numbers and letters on them like a lottery machine) and when you check off five boxes in a row (whether left to right, up and down or diagonal) then that counts as a "bingo." Here, we'll be going episode-by-episode and seeing whether they match any of the boxes on our bingo card. When we hit five in a row, that's a "bingo"!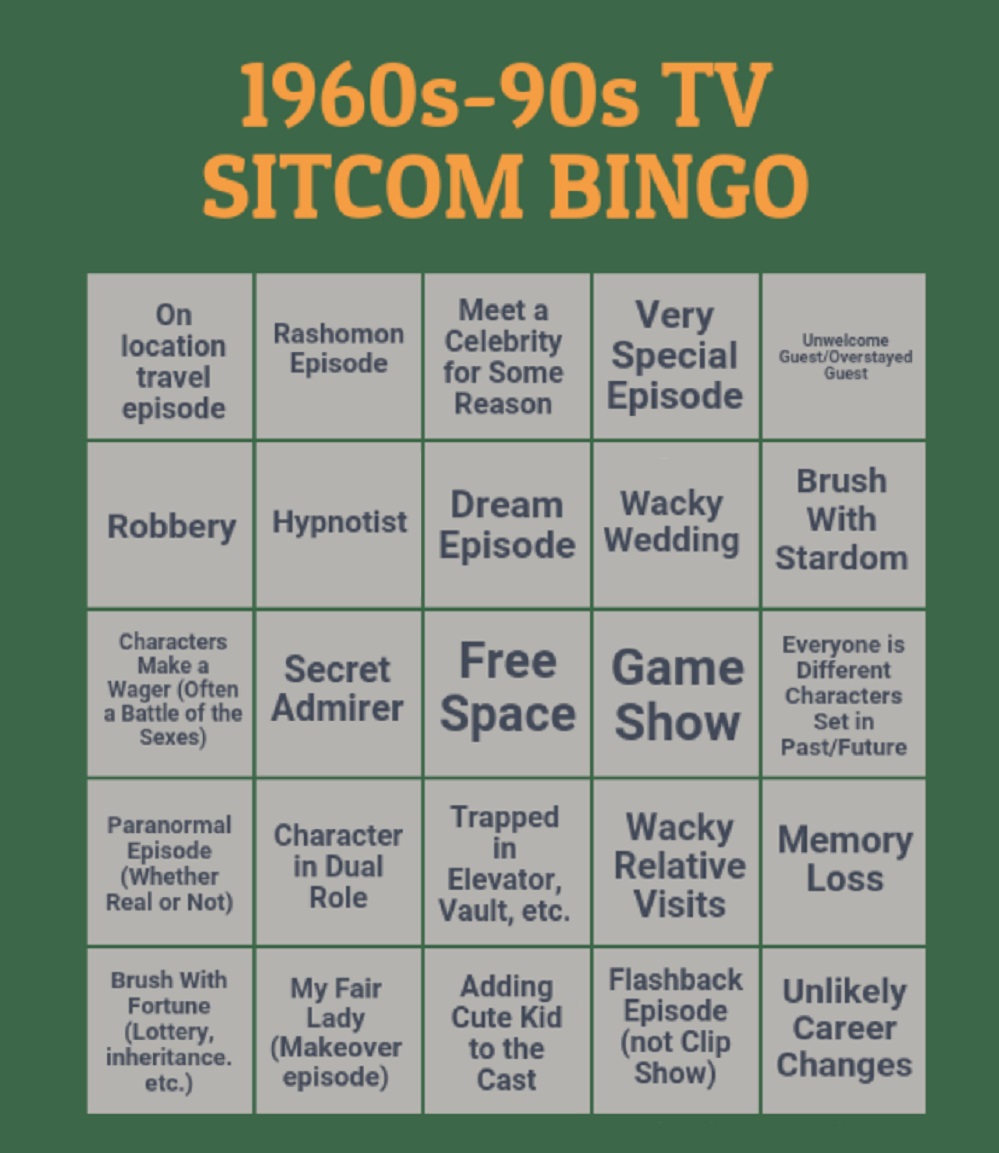 Today, we'll be looking at The Dick Van Dyke Show, the classic TV sitcom sitcom where, like, everyone involved in the show in one capacity or another was amazing (except for the kid, but luckily, we barely saw the kid).
Let's take a look!
I think the basic concept of Season 1's "My Blonde-Haired Brunette" (where Laure dyes her hair blonde to be more appealing to Rob) counts as a makeover episode.
Just five episodes in, we already had a flashback to when Rob and Laura first met in "Oh How We Met on the Night That We Danced"
Season 1's "The Boarder Incident" is about Buddy being an unwelcome guest.
Season 1's "I Am My Brother's Keeper" involved Rob's wacky brother (played by Van Dkye's real brother, Jerry) tying to make it as a comedian despite seemingly only being funny while he is sleepwalking.
Season 1's "The Bad Old Days" is both a dream and an episode where the actors all play different characters set in the past.\
Season 2's "The Attempted Marriage" shows Rob and Laura's wacky wedding.
Season 2's "My Husband is Not a Drunk" involves a hypnotist.
Season 2's "The Night the Roof Fell In" is a Rashomon episode.
Season 2's "The Cat Burglar" is a robbery episode.
Season 2's "It May Look Like a Walnut" was a paranormal episode.
Season 3's "Who and Where Was Antonio Stradivarius?" involves Rob getting amnesia.
I think Season 3's "The Third One From the Left" counts as a secret admirer episode.
I also think Season 3's "The Pen is Mightier Than the Mouth" counts as a "brush with stardom" episode as Sally becomes a regular cast member on another TV show and stops writing for The Alan Brady Show.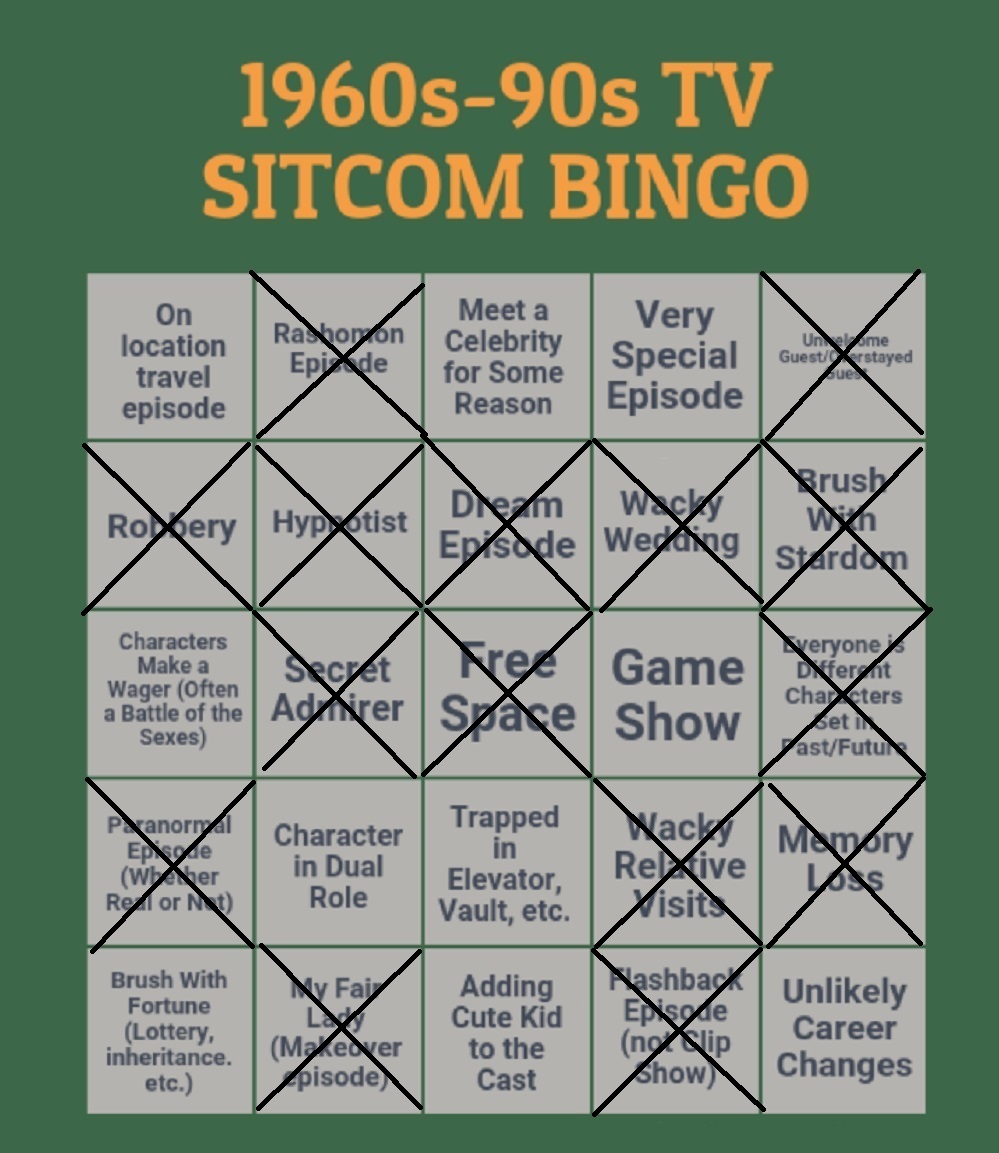 So that's a bingo! That was a quick one! They sure did rack up the cliches quickly, but they, of course, did their own twist on them all, making them still feel fresh!
If anyone has a suggestion for a future show to play TV Bingo with, drop me a line at brian@popculturereferences.com!