Playing TV Bingo With The West Wing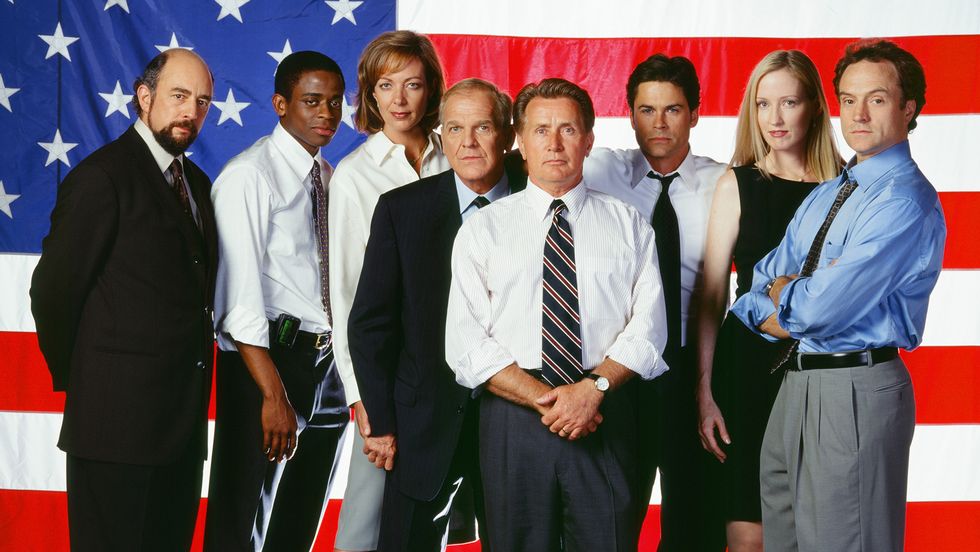 Today, as part of a very delayed TV Bingo Tuesday, we play TV Bingo with The West Wing!
You know the concept, I use a TV Bingo card (one for dramas and one for sitcoms) and I'll go through the episodes in order and see how quickly I hit a bingo. In case you don't know how bingo works, the idea is that you mark off a box (in traditional bingo, someone will draw ping pong balls with numbers and letters on them like a lottery machine) and when you check off five boxes in a row (whether left to right, up and down or diagonal) then that counts as a "bingo." Here, we'll be going episode-by-episode and seeing whether they match any of the boxes on our bingo card. When we hit five in a row, that's a "bingo"!
My pal Bill Walko and I went over the TV drama bingo card and came up with the current (I think improved) version of the card. Here it is…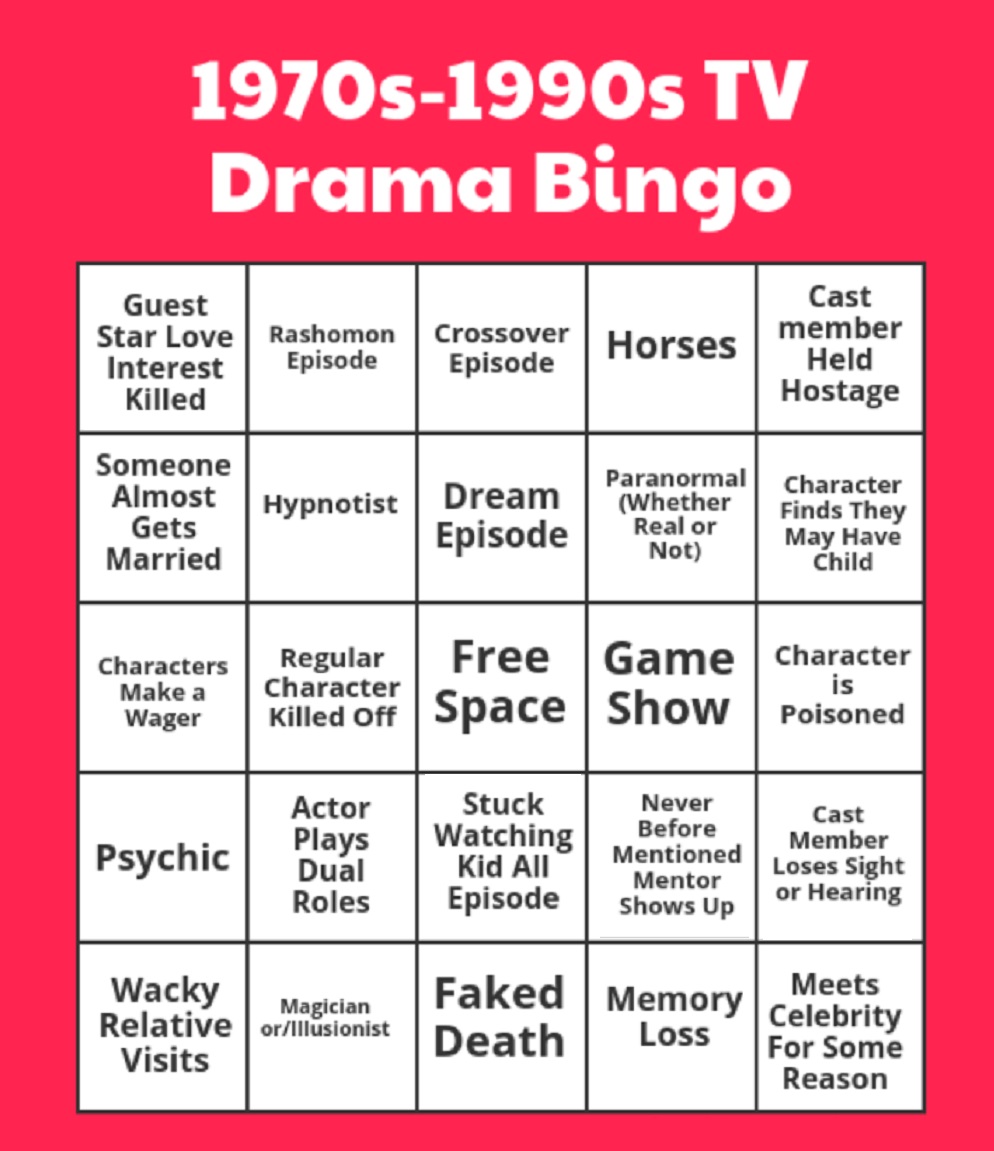 I specify the 1990s, because I think the 2000s saw dramas generally go away from most of the cliches on the card, but I wondered about a show like West Wing, the award-winning series which followed a fictional President and his White House staff, that launched in the late 1990s, so still technically qualifies for this game. Let us take a look!
Season 1's "20 Hours in L.A." has a few celebrities in it.
Season 2's "18th and Potomac" kills off Mrs. Landingham.
Season 3's premiere (not counting the 9/11 special), "Manchester," involved the President on a horse farm.
Season 3's finale, "Posse Comitatus," involves CJ's Secret Service love interest being killed.
Season 4's "Debate Camp" sort of kind of includes someone almost getting married, as Toby tries to get his ex-wife to remarry him.
Season 4's "Game On" sort of involves a wager.
Season 4's "Commencement" sees Zoey Bartlet held hostage.
Season 6's "In the Room" involves magicians Penn and Teller.
And I think that's it, so no bingo!
If you think I missed a bingo, let me know, but I don't believe I did.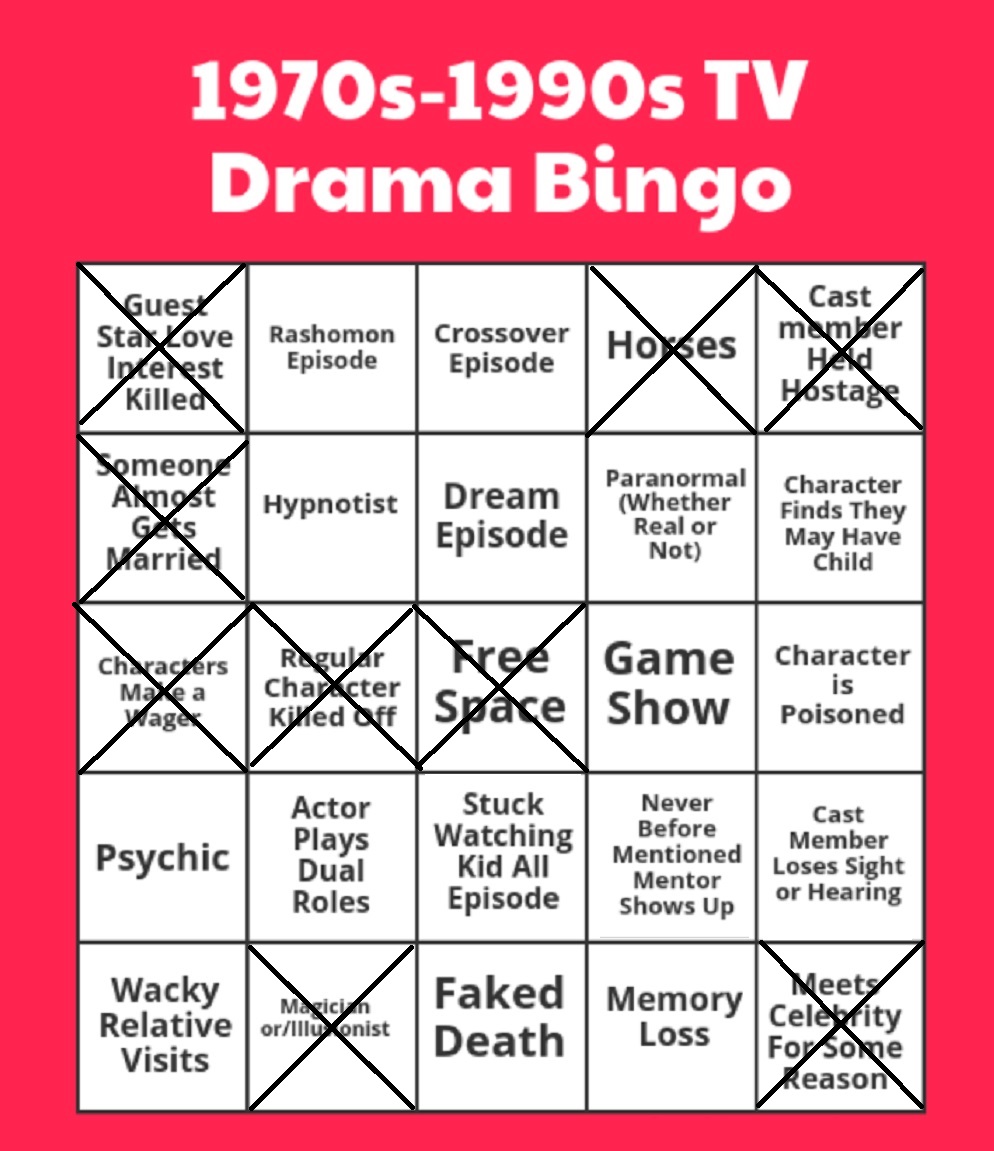 I'm actually kind of glad, honestly, as A. I didn't think it would hit a bingo and B. This explains why I ended this game at the 1990s. Shows in the current century tend not to hit these same cliches (you could argue that they hit OTHER modern cliches, and if people would like me to try doing a 21st Century Bingo card…hmmm…that might be a good idea).
For now, though, feel free to make suggestions for other shows you'd like to see me use the current bingo cards for! Just e-mail me at brian@popculturereferences.com.